We had yet another gorgeous weekend out here, so I took Boo for a spin on some country roads devoid of cars where I could open up the throttle a little bit. Along with experiencing some wind in my chest and the type of acceleration I last enjoyed since the Z3, I enjoyed the views of the snow-capped Rockies beyond the honey-colored grasslands of the Front Range.
At one point, some words of advice from the Buell's previous owner, Beth, came to mind. She warned me that "after 100 miles, you should start thinking about getting gas." After all, the Buell's gas tank is only two gallons, after which I'd have to switch to reserve. And Boo had already gone 100 miles since leaving her previous home in Boulder, the location of her last fillup.
So I stopped in Wellington for some gas. Below is a photo of how much it cost to fill up the tank.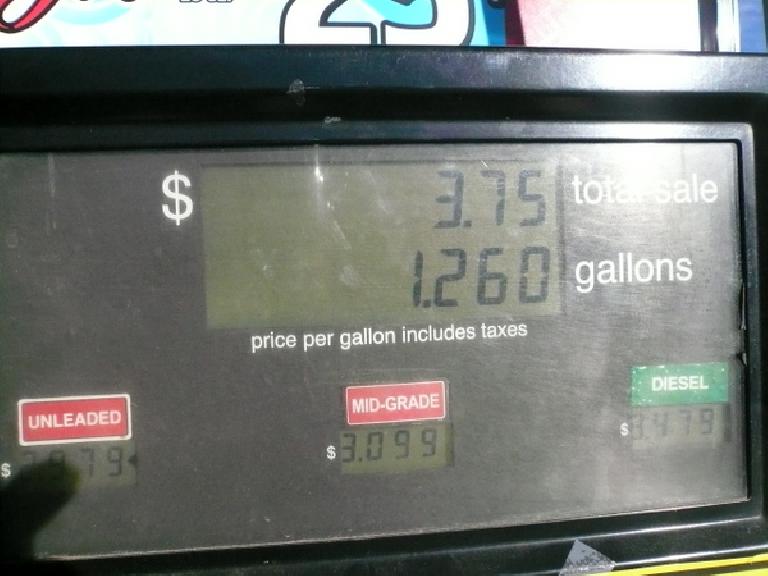 Just $3.75! Or actually, $3.71, because the cashier swiped his King Cooper's card to give me a $0.03/gallon discount when I went inside the store to pay (since the outside credit card swiper wasn't working).
Hmmm, so by my calculations, the Buell was getting 79 mpg. Or maybe a little less, because Beth mentioned she had overfilled the tank a little bit. In any case, the bike is getting around 70 mpg, or more than three times the gas mileage of my former MGB. The Buell is also the first vehicle I have ever owned that uses regular-octane fuel.
This episode reminded me of Vietnam, when Kristy and I pulled off at a gas station on her Honda Wave, and the gas station attendant spent ten seconds filling up the gas tank for about 20 dong (or <$1). I'm not sure how many miles per gallon that motorbike gets, but I'd guess it gets even better mpg than my Buell. It's not nearly as fast, though.