Puma H-Street Running Shoes, 1000 Miles Later
Many running experts and shoe companies recommend replacing your running shoes after, say, 400 miles, but that is for shoes with support and cushioning that degrade over time. For runners like myself who prefer to run in glorified socks in order to mimic barefoot running—which has been proven to cause less impact than running in cushioned shoes—shoes can be replaced less often as there is no cushioning or support to break down to begin with.
At least that is my theory. And to their credit, my ultra-light Puma H-Streets and Salohs (5.8 and 6.7 ounces each, respectively) did wear like iron, even after hundreds of miles on rutted, rocky trails and repeat cycles through the washing machine.
How many miles, you ask? Well, before their first visible tears, I got 1064 and ~700 miles off the H-Streets and Salohs, respectively.
The H-Streets finally started to fall apart in Oaxaca, Mexico. The first couple days I was walking around in heavy leather boots, but on Day 3 and for trekking through Teotitlan del Valle, I switched over to the vastly more comfortable Pumas. By the end of the day, I noticed a two-inch slit on the side of the left shoe.
Despite the gash, I managed to hike 14 more miles in the Sierra Norte and run 20 miles in Stockton, California using the H-Streets. But when I returned to home to Fort Collins I promptly disposed of them after deciding that running with shoes that were flopping apart more than Janet Jackson's Super Bowl dress was bad fashion sense.
The Puma Salohs (the successor of the H-Streets) were a bit less durable despite having more material (i.e., additional pieces of sewed-on synthetic leather). Both the left and right shoes started to tear near the region of the little toe. I attribute this to the pieces of synthetic leather causing higher stress in the small region between them where there is only cloth.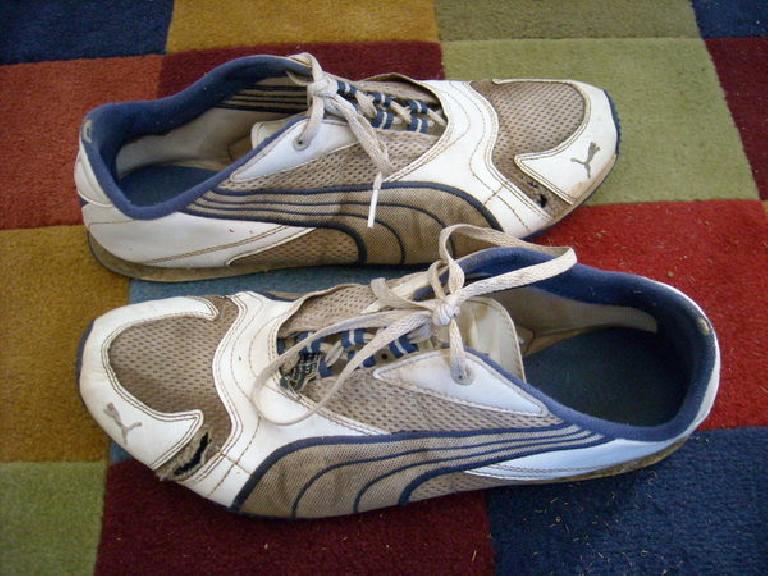 Despite the small tears, I'm still using the Salohs as a training shoe. At the time of this writing they have 944 miles on them.
I'm glad I still have another pair of Puma H-Streets with under 80 miles on them, because both the H-Streets and Salohs have been discontinued. What will I use instead once these wear out? I'm planning on using Nike Zoom Waffle Racer VIIs for trail running and Mizuno Wave Universe 3 for the road. (I managed to obtain two pairs of new black and grey Puma Salohs on eBay for the road; hooray!) I actually have a pair of the former right now and have posted a Nike Zoom Waffle Racer VII review after I put 132 miles on them.