Back to Bowermans (Nike Waffle Racer VII)
As I reported in January, it was time for me to get new shoes since my Puma H-Streets and Salohs both had around 1000 miles on them, and the former suffered a two-inch tear in Oaxaca. I also wanted a shoe that had the same "barefoot" feel but had better traction in mud and snow, was less expensive than (for example) an iPod Nano, and would be available for an eternity—unlike the Puma H-Streets and Salohs which have been both discontinued.
The Nike Zoom Waffle Racer VIIs—made by the company co-founded by legendary coach Bill Bowerman—seemed to fit the bill. I know two people (now in their 40s) who were using Nike Waffle Racers for high school cross-country meets more than two decades ago. Now on its seventh iteration, the Waffle Racer's tread is a little different from the originals but the shoes remain true to its heritage of being a light-weight flat with good traction for off-road running. They even accept spikes.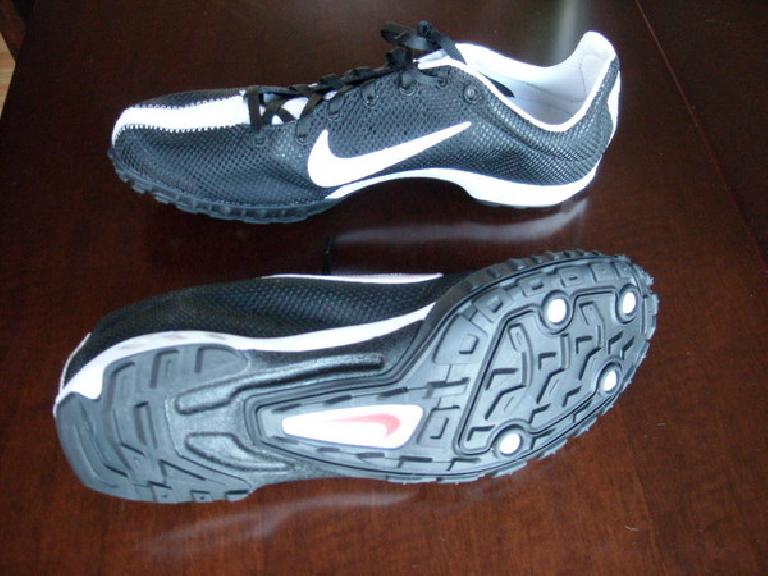 At an MSRP of $55, they don't require a huge slush fund for shoes. Of course, more important than their cost is how they feel and how they perform, and having already put 132 miles on them at the time of this writing, I can report positively about that.
Upon receiving and weighing them, I was shocked to see that each shoe in size 9.5 weigh only 6.3 ounces. This is only 0.5 ounces more than the Puma H-Streets and 0.4 ounces less than the Puma Salohs. I was amazed they were lighter than the Salohs despite having significantly better tread from cross-country conditions.
The Waffle Racers feel like the H-Streets and Salohs too, with a thin heel, high flexibility and virtually non-existent support or cushioning. The main difference is that the Waffle Racers are narrower in the toe box. I have feet that are of average or maybe slightly less-than-average width, so I'd think these shoes would be unsuitable for anyone with wide feet. At first I was concerned that it would be a problem for myself, but long runs of 13 and 17 miles in these shoes allayed these concerns as they resulted in no blisters or hot spots.
I plan on doing all trail races—including some ultras—in these shoes this year, so I may have more to report then.
Durability Issue
March 13, 2010: Now I know why these shoes are so light: the fabric doesn't last long. After less than 137 miles, the shoes already have holes in the fabric near the little toe area on both shoes. One-hundred thirty-seven miles really is not very much, especially compared to the Pumas which I was easily getting 700-1000 miles from.
On this basis alone, I don't think I can recommend these shoes as anything but for racing and as a sporadic winter training shoe. I'll be looking for alternatives again.
April 24, 2010: Ok, these shoes aren't durable at all. Not only is the fabric weak, but so are the seams. Both of my shoes (the left and right ones) became unglued at their inner seams after only 10 miles of the muddy Free State 100km Trail Race. I had to run the final 50 miles of that race with gaping holes in the shoes.