"We're only two points apart in the series," my friend Katie told me last week. "We could have quite a battle."
Today was the final race in the Fort Collins Running Club's Tortoise & Hare Series of runs, and since both of us were out of the running for the series' overall win, "not getting chicked" by Katie seemed like a good motivator for putting in a good effort today. Since this was a "handicapped," staggered-start race where the slowest runners begin first and the fastest start last, this meant that I'd have to catch and pass Katie (who'd be given a 10-minute head start) and then one more person to tie her in the final points standings. A tall order, especially since I knew that Katie was getting faster and faster, but I kind of like these sort of challenges.
The race was at Pineridge with 95% of the course being on dirt or gravel trails and not too technical. There were, however, a couple of short, but very steep hills. The course was actually 5.3 miles long despite being advertised as a five mile run.
I started last, about a minute behind Alex M. and Amy H., which was utter nonsense because in the last T&H race I did—the Lee Martinez Park 10k—Amy beat me by nearly 3.5 minutes. So if anything, she should have been starting after me. I almost felt like loudly protesting much like Kenny did a few months back, but I knew that Nick (my buddy and the race director) would have none of that so I didn't even bother.
In the race, it seemed like I was gaining on Alex and Amy in the first mile, but then came the first lung-busting hill. Suddenly after that, it seemed like Alex and Amy had easily put 30 meters on me. This was followed by a long flat section with a tailwind where again I seemed to be gaining, but in the second half of the race I really didn't hold out much hope for catching either of them—especially Amy, who was looking really fast.
I did catch one runner in the first half and about half a dozen in the second, including an older runner who ran the Boston Marathon 14 years ago. He was still ahead with about 150 meters to go, so I really had to fire up the jets to pass him before the last turn. I felt like I had a good sprint but with no one else to catch before the finish line, I succumbed to my bad habit of slowing in the final three yards.
I never did see Katie during the run. Usually, with her Great Dane named Griffin she is easily identifiable, but with her head start I never even got close to her. In fact, she finished second and leap-frogged into the top five overall standings for the series.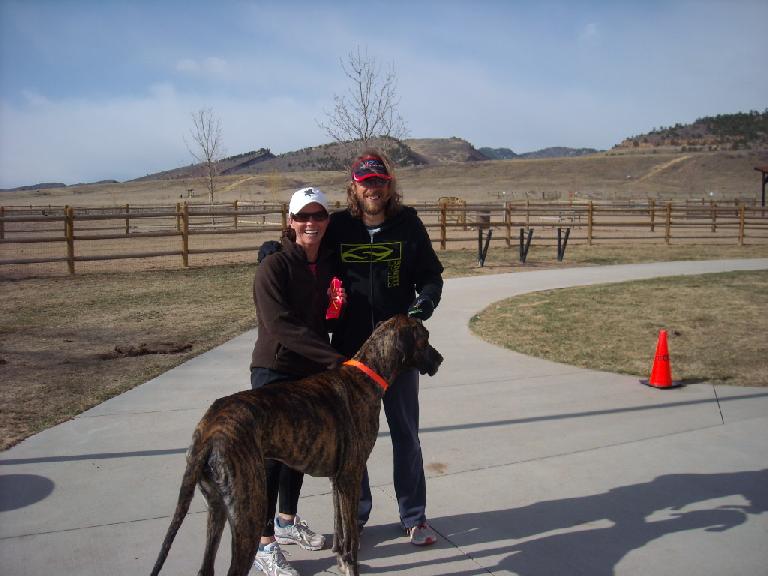 Regardless of not getting even close to catching her, I was very happy with my effort. I was pushing and breathing hard virtually the entire way and my legs felt strong. It seems that my high mileage the last couple months have been paying dividends. My final time was 0:36:36.84, or 6:54/mile—my best effort on trail with substantial hills to date.
But why the extra decimal points on my time? Well, it turned out that Amy finished in 36:36 too. In fact, she finished in 0:36:36.82—or 0.02 seconds before me to take the title of Overall Hare for the race!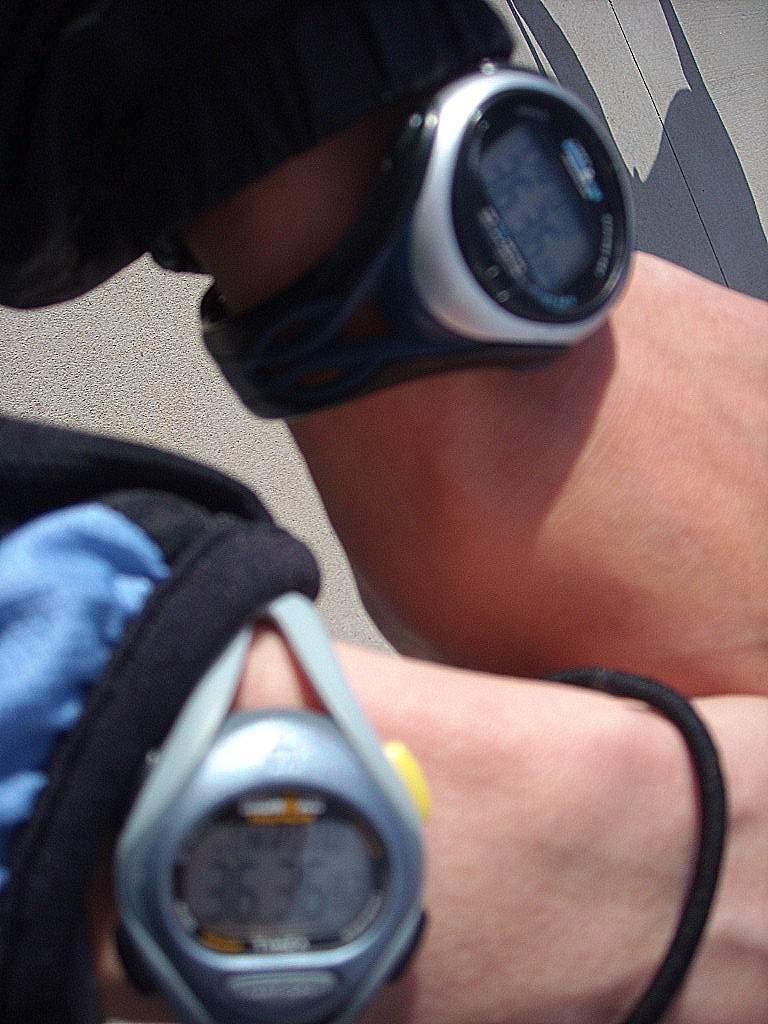 Apparently, I had been chicked TWICE today.