Rawhide Ramble 200km Brevet, CO
Honestly, I didn't think this would be a very difficult ride. The weather was forecast to be Utopian, I had ridden virtually all the roads on the route before, and there was merely 4200 feet of climbing over 125 miles. Plus, I would be riding the lightweight Super Bike after training mostly on my trusty Cannondale.
So I didn't anticipate getting dropped by the second lead pack after about 20 miles, and then having to resort to the world's best anti-bonking cure—Coke and mini-donuts—at only Mile 48 with 77 miles to go. Maybe I should not have run consecutive tempo workouts the last two days.
There were a few other minor joy-dampers, the first being a strong headwind that afflicted almost the entire second half of the ride, and the second that I was experiencing a little bit of discomfort in the seat area despite recently putting on a new seat that I know is comfortable (because it is super comfortable on the Cannondale). The discomfort may very possibly be due to the new pair of cycling shorts I got, which don't seem as well-padded as my old pair. I hope to rectify this issue before the next brevet by 1) using the old pair of gel-padded shorts, 2) checking (and adjusting) the seat angle and fore-aft position to match that of Canny's, and 3) use some Chamois Butt'r or Bag Balm.
A third issue was that the Garmin Edge 500 cyclometer mounted on the handlebars was acting up, as described in the Ride Data section below. This is my fourth Garmin unit with unreliability issues.
Other than all that, the ride was very pleasant. I especially enjoyed riding by the newly verdant plains that marks the Colorado spring; riding the picturesque roads of my hometown of Fort Collins; and riding by the cool mailboxes dotting the country roads north of FC. The views of Longs Peak and the Horsetooth mountains were pretty spectacular too.
Another highlight was encountering my friend Erika by the Horsetooth Reservoir. "So fun!" she exclaimed. Indeed.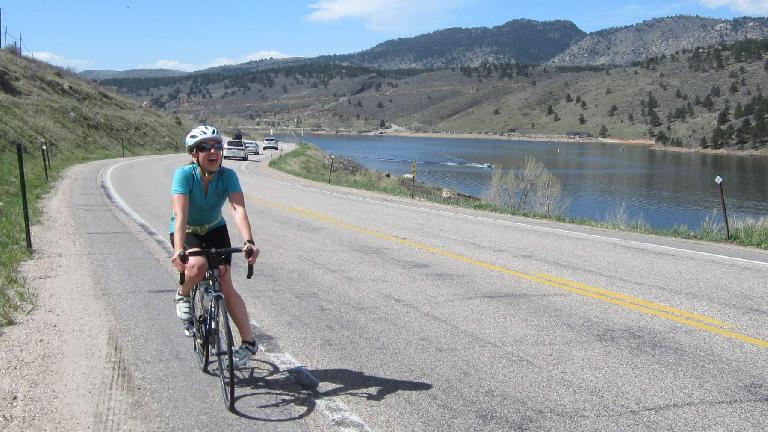 Ride Data
Start: 8:00 a.m.
Finish: 5:12 p.m.
Ride Time: 9h12m
Total distance: 125.2 + 2.2 off-course miles = 127.4
Overall average speed including stops: 13.8 MPH
Here's Garmin data for first half before Garmin kept shutting off and data got corrupted. Other folks have been having the same problem too.
After the ride I erased all my existing files from the device, did a hard reset, and updated the firmware. I hope this solves the problem, but I remain doubtful. I wouldn't be surprised if I need to send the Garmin in for an out-of-warranty replacement for the FOURTH time (once for Garmin Forerunner 305, twice for Garmin Forerunner 110, now for this…)
[Route Sheet] [Map (RideWithGPS)]
Rating
(Scale of 1-5, 5 = best)
Scenery: 4
Support/Organization: self-supported
Food: self-provided
Weather: 4
Relative Difficulty: 1
Overall Rating: 4