Only a couple hours after a 2.5-hour flight from London to Barcelona and checking into my hotel, I arrived at a Catalan restaurant called 4 Plats i Punt. A brunette who seemed to be staffing the restaurant all by herself seated me, and after exchanging some pleasantries, she asked, "Castellano?"
"Por favor," I replied. I sure wasn't going to try to communicate in the other other official language in the region—Catalan—which kind of sounds like a hybrid between Castellano (what most people think of when they say "Spanish") and French. So we ended up talking the rest of the evening in español in between bites of the restaurant's excellent bacalao (codfish) and pan con tomate (bread with tomato).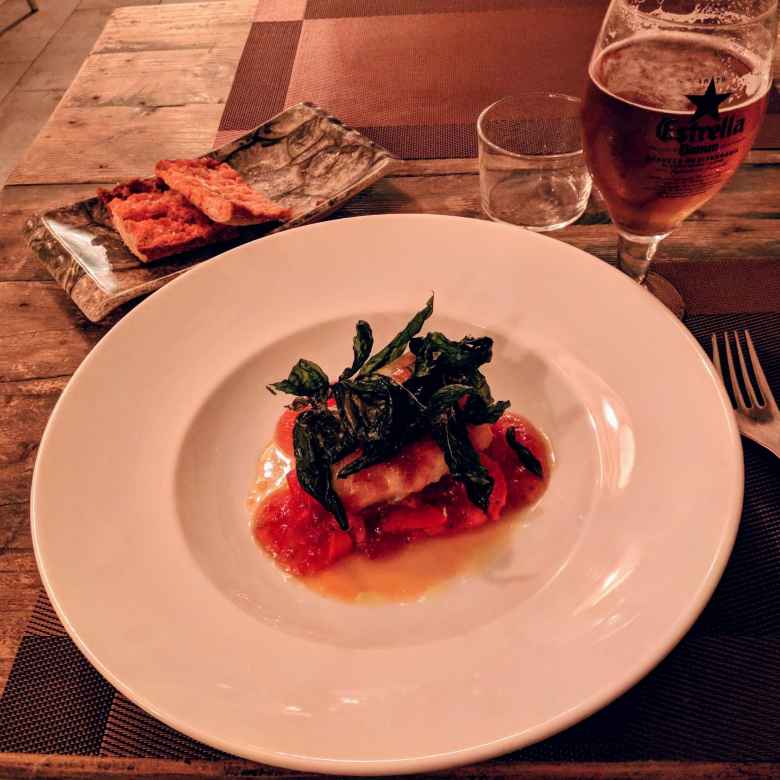 Later in the evening, I overheard the waitress speaking with a mother and college-aged son from Santa Fe, NM and Knoxville, TN, respectively. (I later learned from talking with them after dinner that they were in Barcelona for the son's Spring Break.) It was then that I realized that the waitress was perfectly fluent in English! That she did not once have to resort to speaking with me in my native tongue made me feel good about the level of proficiency I've attained in speaking Spanish. It also made me realize just how comfortable I am in Barcelona.
I ended up staying a total of three days in the city that hosted the 1992 Olympics. If my 2.5-week western European trip was longer, I would have loved to have spent more time. These are some of the other things I got to do there:
Run 6.8 miles through Parqué del Guinardó, over to Parqué Güell and back to my hotel. It was very hilly.
Have dinner with my friend Eli at a restaurant serving Catalan tapas called Bar Xampanyet and then ice cream at a nearby shop. In addition to catching up on our lives, she patiently described the political situation in Catalonia, where a referendum on independence was conducted 1.5 years ago when I was last in Barcelona. Right now the local politicians who enabled the referendum to happen are now in jail, which explains the presence of yellow ribbons and signs saying Llibertat presos polítics (Catalan for "Freedom for political prisoners") around the city.
Go for a hike from Peu de Finicular to Fincular de Tibadao based on a suggestion from Eli. That is her favorite running route in the hills above Barcelona. I could see why: it featured dirt roads, great views and no traffic aside from some runners and cyclists.
I then went down to Valencia for the weekend's celebration of Las Fallas, but returned to Barcelona on St. Patrick's Day. I found an Irish pub called The Pharaoh near Gaudi's famous church, La Sagrada Familia—and had a great dinner along with a caña of Guinness.
Lastly, I got in another run, this time to the Barceloneta district. Lots of people were enjoying the beaches and dining establishments down there. It was the final run before taking a train to the nearby city of Girona.
One thing I wish I could have done there was get together with a friend from Fort Collins whose trip to Barcelona overlapped with mine for an evening. Unfortunately, we couldn't make it happen. I think there was even a moment when my friend was on a hop-on-hop-off tour bus within a mile of me! It would have been so cool to get a drink together in one of my favorite cities of the world.
The next time I go back, I would love to see some shows, like flamenco or Spanish guitar. Maybe go visit the Picasso Museum and—finally!—go inside La Sagrada Familia, which always have long lines for those who do not get tickets in advance.
If you happen to be in Barcelona in May 2019, you should check out the 100th annual Automobile Barcelona trade fair from the 11th to the 17th. Apparently, Barcelona has been the filming location of thousands of automobile ads. No surprise considering the picturesque beaches, parks, monuments, mountains, and architecture.