It was late February when an old friend from Fort Collins told me that she was going to be in Spain for a week with her aunt. She was also going to visit a mutual friend in Barcelona and "it would be cool if you could come too" since I was already in the country.
It turned out that Andrea had a whole week off work, with the first couple of days coinciding with when my friends were meeting. So we took a direct flight over to Barcelona, checked into our hotel, and then headed to the bar below because it was only a block away, had an intriguing name for this car enthusiast, and we had a couple of hours to kill before meeting up with Friend #1 and her aunt.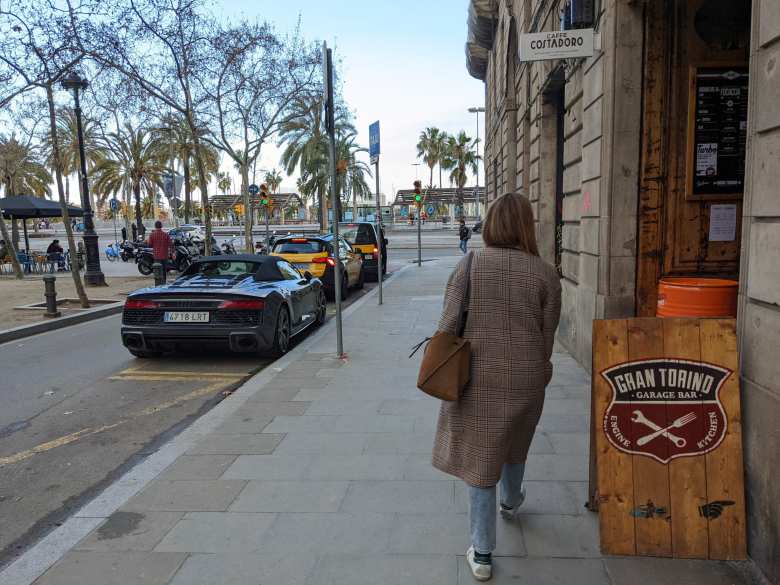 I sent a photo of it to a few other friends in Fort Collins who were also car fans and Manuel—who also used to live in Spain—immediately identified the city we were in.
"Are you in Barcelona?" he asked. Affirmative.
That's when E chimed in saying that he thought another mutual friend was going to be flying to Barcelona soon for work. He checked and indeed, she was flying in the next day. We connected by WhatsApp and it turned out that work was putting her up in a place only one kilometer from our hotel!
So that's the story of how we met up with three of my American friends in Barcelona…. and a friend's aunt and also Friend #3's friend from London, who also came for the weekend to hang out.
This is a rough itinerary of our roughly 44 hours in Barcelona:
Drinks at the aforementioned Gran Torino Garage Bar.
Walk through Barceleta over to the W hotel, where we met up with Friend #1 and her aunt.
Dinner at Ikibana, a restaurant featuring Japanese-Brazilian fusion that was recommended by a friend/colleague of Andrea. It was superb.
Walk through the Gothic Quarter the next morning.
Visit the Barcelona Cathedral, including doing a self-guided tour of the inside, the interior gardens with lots of ducks, and the rooftop.
Visit Gaudi's Sagrada Familia, which neither Andrea nor I had ever been inside. It was a big contrast from the classical Barcelona Cathedral, which was equally stunning.
Had lunch at a regretfully bad diner near the Sagrada Familia. This was the second time in recent memory that I've been misled by high (but possibly fake) Google Maps review scores.
Went to have drinks and tapas with Friends #1 and #2 at a bar called Salambó and then another one on the second floor of Teatro Lliure Grácia. The latter contained a large space with art, but we were the only customers there.
Had breakfast with Friend #3 and the Londoner at Forns de Pi in the Gothic Quarter. Friend #3 said the Londoner was her first friend after moving from Oklahoma to Texas in eighth grade. Also, the Londoner had married a Spaniard.
One thing Andrea and I noticed was that there was as much English spoken on the streets in Barcelona as Spanish. There might have been more English speakers in Barceloneta, maybe due to spring break.
I suppose it was appropriate, then, that we'd meet so many American friends in Barcelona in such a short period —including one that we didn't even know was going to be there until after we arrived.