I was on a high-speed train from Barcelona to Valencia, when an overhead display caught my eye. It was not the speed we were going, although 200 km/hr was quite impressive if you had never taken, say, the Maglev train in Shanghai. Rather, it was the name of a stop if I had been going in the opposite direction, a place I had seen allusions to in articles of several virtual cycling magazines. Girona.
"That's where Lance Armstrong used to live and train," I remembered.
What I didn't realize until this moment, however, was how close to Barcelona Girona was: only about 56 kilometers (35 miles) north. It was then and there I decided that before heading back to London, I'd spend a little bit of time in the town that is now home to nearly a hundred professional cyclists. Girona is said to have the highest concentration of Anglophone pro speedsters, a claim that is easy to believe when you realize that the town's population is only 100,000—about the size of Boulder, Colorado.
Like that cycling mecca that is towered above by the Flatirons, Armstrong's old cycling town has an abundance of winding mountain roads. But downtown Girona sits a mere eight or so meters above sea level, so it does not afford any hematocrit-raising altitude advantages.
On the other hand, Girona is much closer to the Grand Tours like the Tour de France, the Giro d'Italia, and Vuelta de España, and Spain lacks the strict anti-doping laws that France and Italy had legislated. Which is one reason why Armstrong and his U.S. Postal Service squad had probably set up base there.
Despite its sordid history, pro cycling still interests me enough that I wanted to check out Girona in person. I only had an afternoon, night, and morning to do so, sans bicycle, so it was only the most fleeting of introductions.
As I walked out of the train station to the center of town, it struck me as to how relaxed the town seemed in comparison to, say, Barcelona. It did not, however, jive with visions of lycra-clad riders weaving around slower motorized traffic and pedestrians. In fact, during the barely-more-than-a-half-day in Girona, I saw only three bicycle commuters.
On the other hand, the town was very clean with modern shops mixed in with 14th-century Gothic architecture. It did have much less restaurants than any of the big European cities I had been touring through during the last week.
Indeed, during the night I walked around for an hour and a half looking for a place to eat, and only came across about a half-dozen eateries during that time. Eventually, I settled on a restaurant called Restaurante Sushi Bar La Llarga, which had great reviews on Yelp. Ironically, it was located right across the street from my hotel, meaning that I could have found dinner within 2 minutes instead of 90. But I would have missed seeing the nightlife, or lack of on this Monday night. (Big contrast to Las Fallas in Valencia from previous nights.)
The sushi "buffet," which actually could be more precisely defined as "you can order up to 3 sets of 5 dishes at a time, i.e. a total of 15 dishes, for only 16 euros," was excellent. Never mind that the waiters seems to speak worse Spanish than I and, for their own sake, resorted to English. The food was definitely deserving of the positive reviews!
The next morning, I went for the following two-mile run (did not record the first half-mile):
It was mostly on cobblestone roads, near the Onyar River, over stone bridges, to the Collegiate Church of St. Felix, past the Girona Cathedral… and over to La Fabrica and The Service Course, two businesses owned by former Canadian professional cyclist Christian Meier and his wife Amber.
La Fabrica is an American-style coffee shop that supposedly has a lot of cycling memorabilia inside and is where a lot of cyclists congregate at.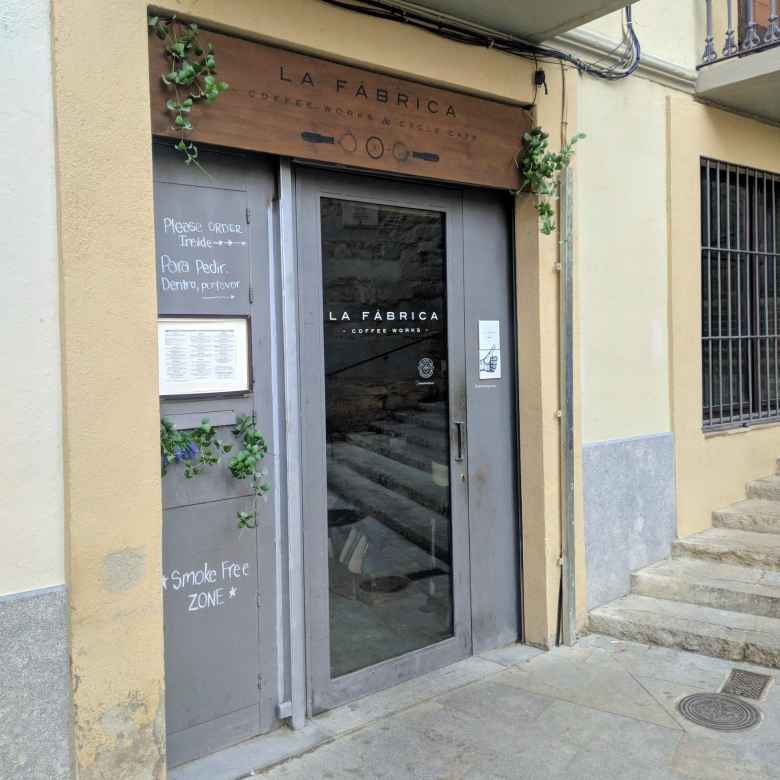 The Service Course is a pro bike shop.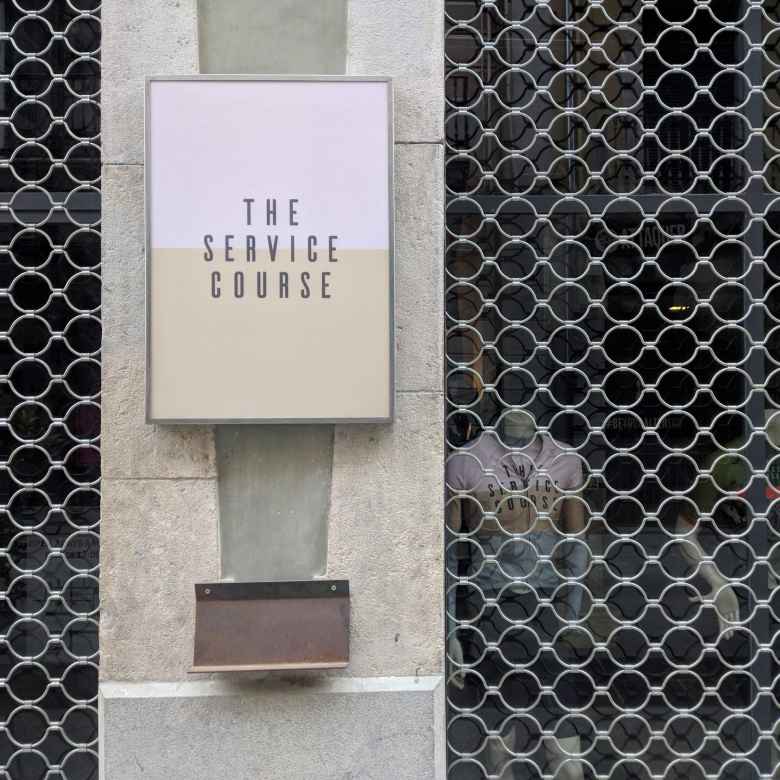 Unfortunately, as I had to board a train back to Barcelona and then catch a flight back to London, I visited both places early in the morning (early for Spaniards, that is). They were both closed.
File them under "places I'd like to return to and visit for real," then— preferably with a bike and a lot more time. That way I could ride up the some of the classic cycling climbs and maybe encounter some professional cyclists.
Other Cyclist Cafés in Girona
June 2, 2019: Here is an article by TopBici.es (in Spanish) about the top five cyclist cafés in Girona. The next time I am back in Girona, I'll definitely try to visit all of them.