My friend Angie and I had just found the BMW showroom a couple blocks off the Champs-Élysées. We were about to wander were it not for a burly looking dude blocking the door. It looked like he was about to lock up shop.
"C'est fermé?" I asked, inquiring if it was closed.
The man looked at us and responded in English. "Yes, we are closing because of what happened last weekend." He then explained how they had been moving all the cars and memorabilia away from the windows and into storage for safekeeping.
"What happened last weekend?" we asked. The man looked at us as if we had just time traveled from a different dimension. That's something that happens when you boycott virtually all news (sports and technology excepted), 95% of which is negative, depressing, angst-ridden, fear-mongering, or irrelevant. Sometimes you just have no idea what everyone else is all riled up about.
"Because of the, uh…" the man replied, searching his brain for the correct English word.
"Les manifestations?" I interjected, guessing he was talking about demonstrations. France has a long history of strikes and protests.
"Yes, but more than that." It turned out he meant demonstrations that turned violent—or riots.
Apparently, the previous weekend about 80 luxury shops on the Champs-Élysées were looted and set on fire, including Hugo Boss and Lacoste. Tomorrow would be the 19th week of the yellow vest movement—and the man was concerned of a repeat of last week occurring.
He also warned us that the BMW showroom would be closed tomorrow and that we should stay away from the Champs-Élysées and any touristy area. Good thing, then, that Angie and I were visiting Montmartre, the Sacre-Coeur, the Royal Palace, the Louvre, the Tuileries Gardens, automotive showrooms on the Champs-Élysées, the Eiffel Tower, and the Notre-Dame cathedral on this Friday instead of the next day.
On the other hand, my friend Emily and her mom went to visit the Eiffel Tower on Saturday, so maybe it would have been ok. Indeed, most of the metro stations around the Champs-Élysées were closed, and thousands of military and police officers were called in to ensure that a repeat of last weekend did not happen again. It turned out the protests for this weekend were mostly peaceful.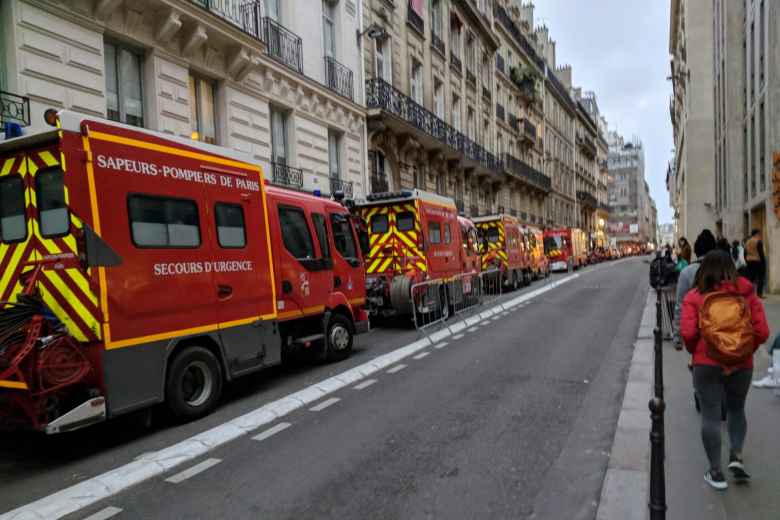 Other things we got to do included eating at Le Potager de Charlotte, which Yelpers claimed was Paris' best vegan restaurant (it also seemed to have primarily Americans eating there); having lunch at Restaurant Layal, an inexpensive kebab shop near the Champs-Élysées that nevertheless had tasty food and friendly service; and dining at Kintaro, which had amazing platters with a ton of sashimi for the price.
Before Angie arrived in Paris and after she left, I ate at fast-casual, non-chain restaurants where you go up to a counter, order either to go or to eat in, and an employee makes the food in front of you. There are lots of these eateries around, something I did not realize the last time I was in Paris. The food from those places definitely satisfied the taste buds, even if everything came with fat-laden fried potato sticks. Considering their ubiquity in France, you could guess why Anglos call them "French fries" even though some scholars claim that they were invented in Belgium.
I also got in a couple of runs in Paris. The first one was on Thursday afternoon:
and the second one was on Sunday evening:
Since they were both in Montmartre, they were hilly and included a bit of stair climbing!
I felt particularly fortunate to visit the Notre-Dame because a few weeks later an accidental fire caused by renovation work devastated much of it. It may be several decades before this cathedral with history of more than 850 years will be rebuilt, notwithstanding French President Emmanuel Macron's pledge to have it reconstructed within 5.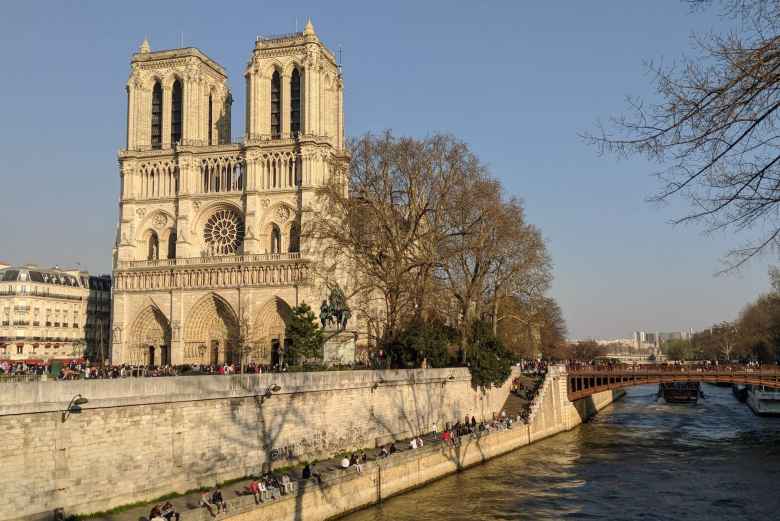 The next time I am in Paris, I'd love to go for a run along the Seine, watch a cabaret show at the Moulin Rouge, visit the Latin quarters (which were frequently shown in the French language-learning program, French in Action) at the Sorbonne, and visit some of Hemingway's favorite cafés.
Speaking of Hemingway, watching the Woody Allen movie Midnight in Paris in advance and looking for other landmarks in that movie to visit would be a good idea.