Biking a Double Century… Indoors
Since 1996, I have ridden at least one double century–a bicycle ride of 200 miles–every year. But this year was the first year I have lived outside of the United States. I was now living in a region (Galicia, Spain) where the roads are narrow and curving, with roundabouts everywhere but no wide shoulders. I also hadn't yet learned the rules of the road or the layout of the land.
But it was after having a horrible running accident in the early summer that I had pretty much decided that I would do my annual double century later in the year after I had finished running the marathon states.
"I'll do it when I go to Colorado for the holidays," I told Andrea. I also resolved that I'd do it indoors because late December is among the worst times of year to be biking 200 miles outdoors, due to fewer daylight hours, the cold, and the potential for snow.
What I didn't anticipate was doing the ride half a day after driving a rental car 30 hours straight, a road trip in which I largely kept myself awake by actively listening to 17.5 hours of advanced Pimsleur Mandarin lessons. Nor did I realize I would be doing the ride with only three days left in the year.
As it was, I woke up at 4:20 a.m. and was in the basement ten minutes later. That's when the first problem surfaced: the wheel sensor for the recumbent was not registering distance or speed. It could have been a terminal problem since the only way I could prove to myself (or anyone else, for that matter) that I had ridden sufficient miles was by recording the ride with Strava. That required, of course, a functional speed sensor.
Fortunately, I had a replacement CR2023 battery. A new one revived the sensor.
I was in business, and it was time to grind out the miles.
When I first conceived this indoor double century, I envisioned watching documentaries.
Instead, I spent the first few hours trying to get some refurbished AirPods Pro earbuds to work. I had purchased them on eBay from a vendor who sold dozens of them. But I could not get the darn things to switch seamlessly between my iPhone and iPad Pro. Their microphone quality was bad, their firmware wouldn't update, and they couldn't activate Siri. 
After chatting with Andrea and our friends Ali and Ivan, I was sure that the earbuds were, at best, defective and, at worst, counterfeit. I could (and ultimately did) return them, but what a waste of time. It was yet another footnote for the axiom you get what you pay for.
It wasn't long after that I had another revelation: my legs were already sore after 60 km. From that point on, I made sure to consume calories constantly.
I started by eating granola, partly as a nod to my first double century, in which I ate 30 granola bars. But also because my friend Matt had also given me a package of delicious, homemade granola that his wife Jenny had prepared.
But hours later, I transitioned to eating instant noodles. Cup-o-Noodles were my favorite treat provided by some organized doubles in California decades ago. I couldn't find that brand of noodles in the Walmart I returned the rental car at the day before. But I was able to procure this one: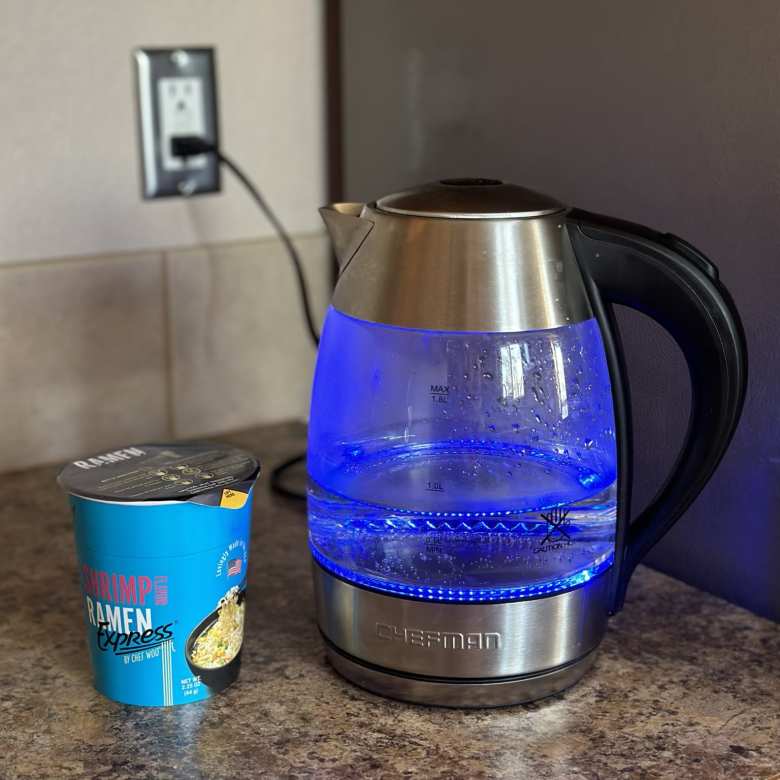 During the next hours, I ate more bowls of instant noodles.
This is fast becoming The Ramen Ride, I thought.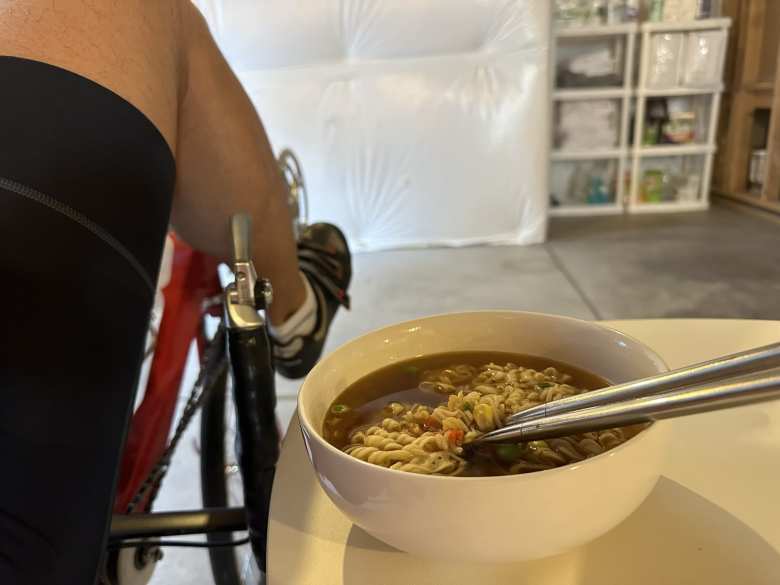 Aside from eating ramen, I spent much time doing mindless but necessary archiving tasks while pedaling. I also wrote quite a few emails and caught up on American football.
Before I knew it, I had pedaled over 322 kilometers or 200 miles. It was nearly 9:00 p.m.–too late to go out, but I was too tired to do so anyhow. I ended up going to bed early instead.
This indoor challenge was more difficult than I thought because I couldn't simply stop pedaling and coast to rest my legs like I could on an outdoor bicycle.
On the other hand, there were no hills to climb up. Also, the 16+ hours went by quicker than I thought. It wasn't nearly as monotonous as running on a treadmill or up and down the stairs. The saving grace was being able to do many activities on the iPad Pro or iPhone.
Not to mention being able to eat ramen simultaneously. I would consider biking a double century indoors again–preferably not a day after driving 30 hours straight, though.
Ride Data
Distance: 200.1 miles
Start: 4:36 a.m.
Finish: 8:55 p.m.
Total time: 16h19m