Travel Trouble: My December Holidays

"All flights I've taken this year have been delayed, canceled, or rescheduled with little notice," wrote my friend Manuel. He had just arrived in Madrid a couple of days before I left that city for a two-week visit to the U.S. However, his flight was significantly delayed.
So was mine. "Already," I wrote back, "my first flight was delayed by about an hour. Luckily, I still have plenty of time for the second."
I made the second flight and landed in New York on time for my final connection. Unfortunately, JFK airport was chaotic. Not only was it enormous, but so were the lines. After getting through passport control, I stood in a security line for forty-five minutes. Then I was delayed for 15 more minutes when my favorite water bottle was confiscated when I forgot that I had water in it.
Ten minutes later, I realized that I was in the wrong terminal.
I was sprinting through the airport after that. I still had time to make it to my JetBlue flight, but security wouldn't allow me to stand in line because I had a small suitcase with me. I was confused because I thought I paid for carry-on baggage a few days prior. It turns out that I had paid for check-in baggage instead and had to go back and check it in. But I could not do so at the self-check-in stations because the kiosks said it was too late and I had to go to JetBlue's Help Desk instead. The line for that was also long.
The short story is, I missed my flight! At least JetBlue was able to put me on the next available one… the next day. Meanwhile, I was stuck in New York City for the night. I quickly booked a nearby private room on Booking.com, bought food at a nearby corner market, and worked on rescheduling a bunch of appointments for the next day that I was now going to miss. These included:
A rental car pickup
A furniture donation pickup
A notarization
A vaccination
There was one appointment I couldn't reschedule: one for Fort Collins Connexion to upgrade the internet from piddling CenturyLink DSL speeds to the city's fiber optic. Fortunately, I was able to hire my friend Mel to let the FC Connexion employees into the house and attend to that.
My time in Colorado was reduced from 36 hours to 19 due to the missed flight, so I was now operating with military precision. For example, after efficiently picking up a rental car from the Denver airport, I stopped by my forwarding mailbox in Fort Collins only seven minutes before the business closed. The next stop was my home, where I briefly saw Mel as the FC Connexion employee ended up needing four hours. She was the first friend I saw in Fort Collins since the last visit in September.
After that, I removed the six-year-old battery from the Audi TT that I knew was dead from the last visit. I went to three different auto part stores before finding and buying one at AutoZone. I continued to make good use of the rental car by running other errands around town before returning to the house to install the new battery.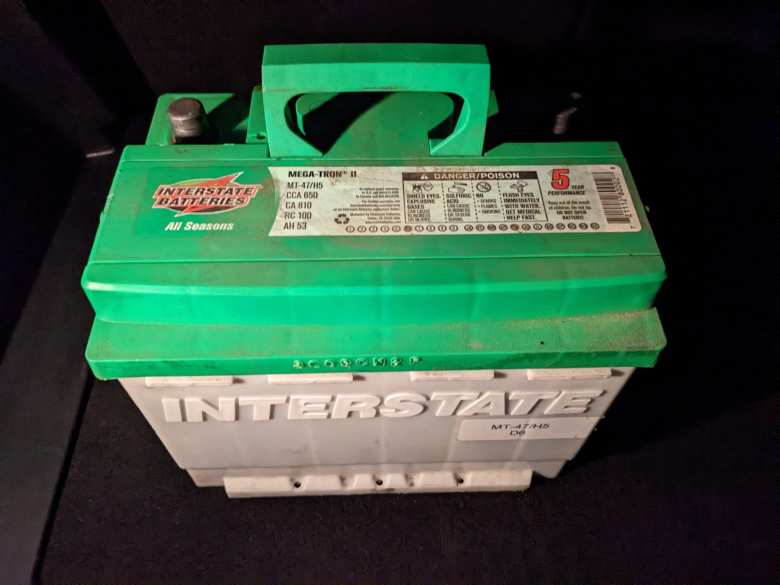 The next morning, I took care of the notarizations and critical mailings I needed to do before jumping on a scheduled flight to northern California. Phew!
By comparison, my time visiting my folks and family in the Golden State was much more relaxed. It wasn't exactly a vacation as there were things to fix or solve at my parents' house–plus I was doing things like running and setting up my new iPhone–but compared to Colorado, it was like dozing at the beach.
Five days later, it was time to return to Fort Collins. I still had many things to do or take care of there, including some cleanup of the house. I also wanted to bike an indoor double century there. Why? Because I had ridden at least one double century (albeit outdoors) every year since 1996 but hadn't in 2022 yet.
Unfortunately, that's when airline problems reared their heads again.
Frontier was good about notifying me of delays. Within a span of a few hours, I received texts and emails about three delays to my Sacramento-Denver flight.
"At least it's still happening," I mused.
Or so I thought.
The Frontier check-in counters were closed and there were no Frontier agents in the airport. The Frontier website also did not display any phone numbers for customer service. Instead, it advised me to chat with their robot instead for any issues.
The Frontier ChatBot was very good. I'd even say the experience was better than most of my experiences with online human customer service! From the bot, I learned that my flight was indeed canceled and that I was entitled to a full refund. I also learned about my other options, which were basically to rebook. Unfortunately, since Southwest had canceled up to 70% of their flights that day in an epic meltdown, there were no available flights under $1500 for at least three days.
"Ok," I thought. "I'll rent a car instead and drive."
Unfortunately, hundreds of other stranded travelers also had the same idea. Inside the Sacramental Airport's rental car terminal, the line to the Hertz counter was at least 50 meters deep. The wait time was at least three hours long.
I waited in the cue for an hour and a half when a woman who had just checked in at the Hertz counter made a helpful announcement.
"They just told me," she said, "that there are no available rental cars until 12:30 a.m."
Since it was 6:30 p.m., this meant that there were no more cars for rent for the next six hours. Time for Plan C.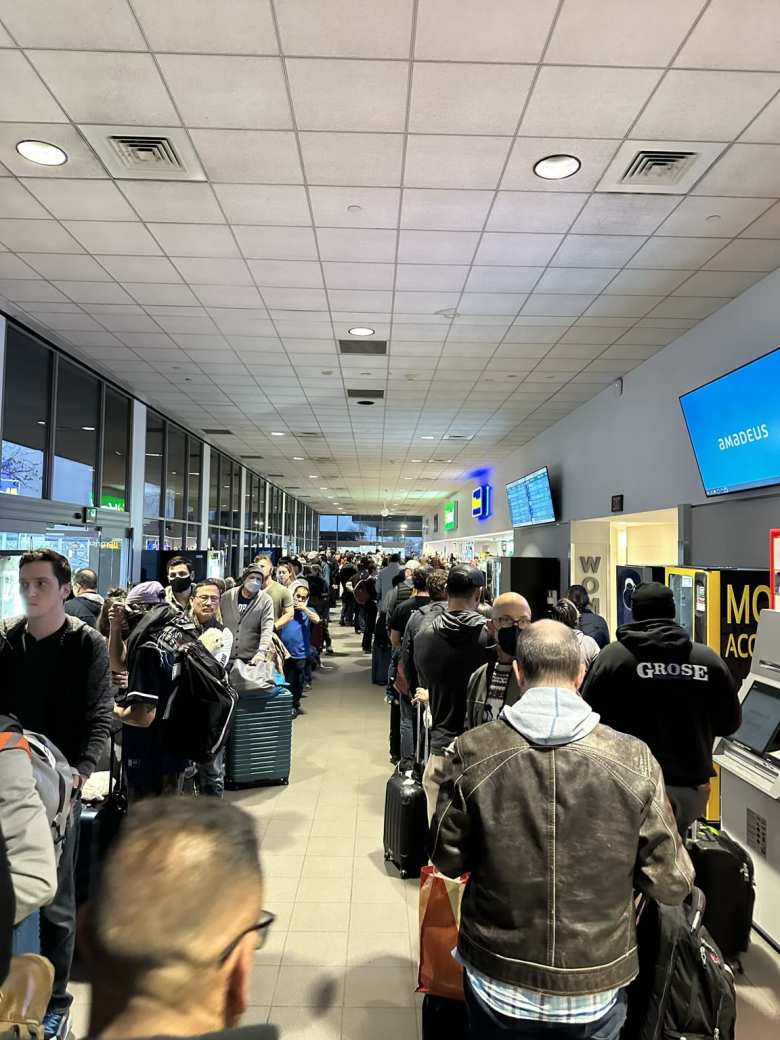 I took a Lyft back down to my parents' in Stockton, slept there for the night, picked up a rental car from Stockton the next morning, and drove to Fort Collins, Colorado.
In years past, I was able to drive there in 18 hours, but due to the storms, I took a southern route through Bakersfield instead of a northern route through Reno. It rained all the way from Stockton to the Mojave desert and resumed in Las Vegas.
To pass time, I actively listened to 17.5 hours of advanced Pimsleur foreign language lessons. This included all 30 lessons of the Mandarin IV course, repeating the last five lessons because my brain wasn't working so well the first time.
There's nothing quite like shouting things like "如果你现在下订单一万五千纽扣,下个星期能交货" (if you place an order for 15,000 buttons now, it will be delivered next week) over and over at dark o'clock to keep yourself awake.
On Interstate 70 in Colorado, there was light snow. It wasn't bad, however, and I felt very lucky that it wasn't worse. So did my friend Tori, who was coincidentally driving on the same highway at the same time, just in the opposite direction.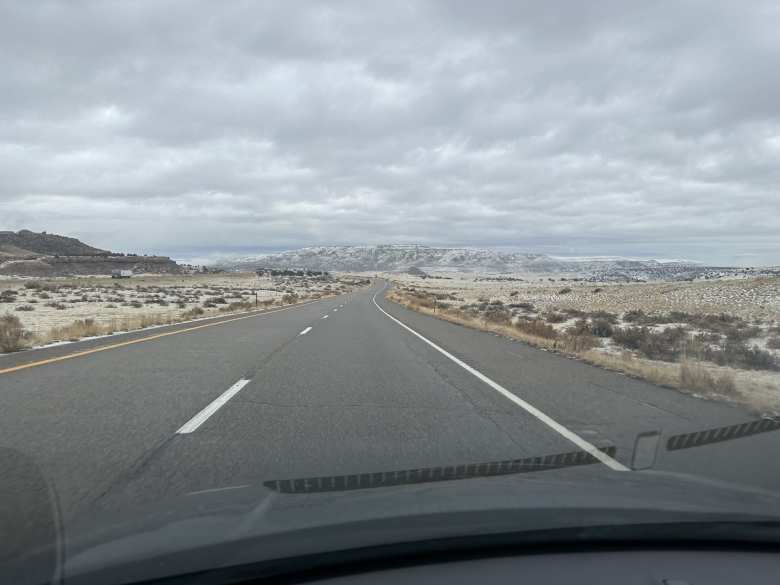 My cousin who now lives in Denver wasn't so lucky. She took her family to a ski resort that day, and when they started driving home in the evening, they were caught in a full snowstorm. The drive normally would take an hour and a half, but that night it took ten hours.
I arrived in Fort Collins 30 29 hours after I started driving from Stockton. This included a total of five hours of sleep as I stopped five times to nap. One hour was "lost" due to crossing time zones.
My rental car contract was for a one-day rental, so I fully expected to have to pay for an extra day. But the agent at the Budget Rent-a-Car office inside Walmart was super nice and didn't charge for the extra hours. I appreciated that a lot.
I also was very grateful for my friend Matt, who accompanied me for some light shopping at Walmart and then drove me home. Thanks, Matt!
A mere 12 hours after all the driving and Mandarin practice, I woke up early to commence biking 200 miles indoors.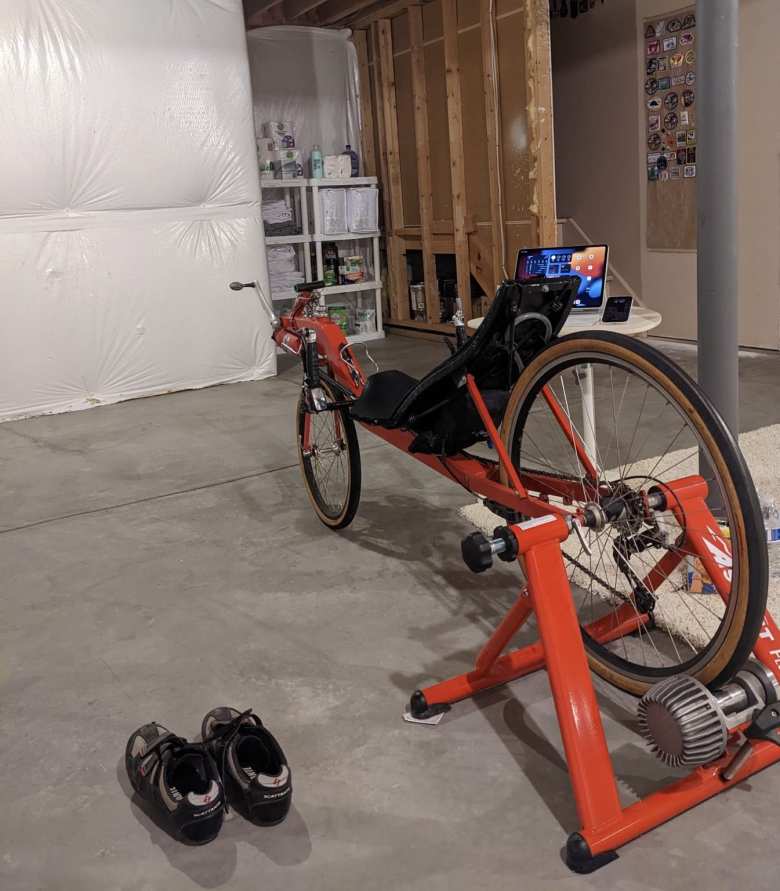 You can read about the indoor double century in a separate post. But to sum it up, it took over 16 hours.
I spent the next three days running a ton of errands or working on the house. But I also got to see friends each of those days.
The first day, I ran/jogged/walked up to Horsetooth Rock with Nick and his friends. I had to do it in jeans because, in my rush, I misplaced more appropriate attire. It was Nick's 100th mountaintop run in 2022.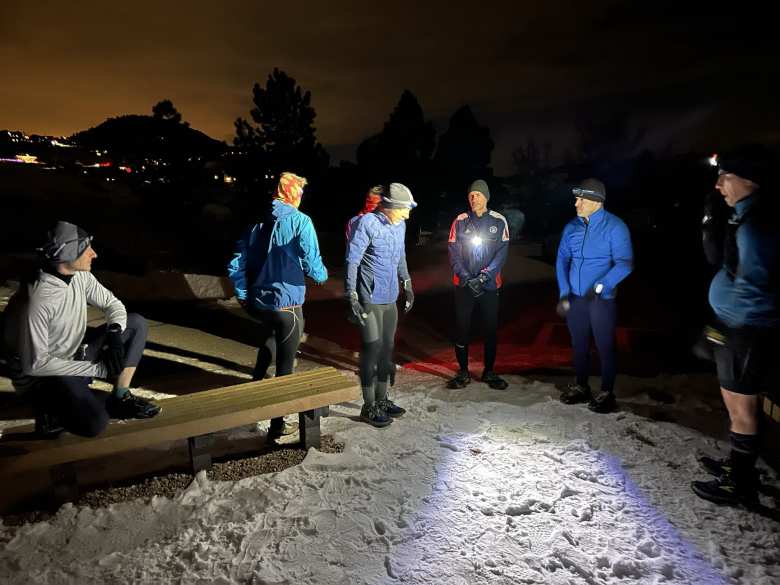 The next morning, I had coffee with my friend Alene in the midst of running more errands.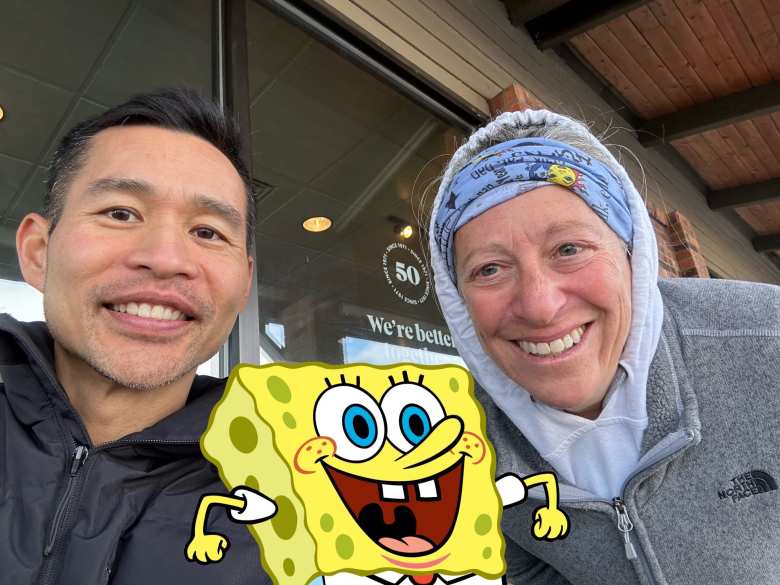 SpongeBob is in the photo above as an allusion to her frequent SpongeBob hallucinations during the Badwater Ultra.
My final day in Fort Collins was a blur of frenetic activity, both before and after meeting up with friends from Fort Collins Spanish in the evening. To top it off, my airport shuttle unexpectedly arrived at my home an hour early–2:05 a.m. instead of 3:05 a.m.–due to a snowstorm. I was not prepared for it and had to finish packing in 30 seconds and leave the house in disarray as I was still cleaning.
My arteries were saturated with adrenaline when I settled into the shuttle. But I quickly remembered that cleaners were coming later that day anyhow to finish the job, so it was no big deal aside from the brief moment of panic. I could now relax (and even sleep) on the trip back to Spain.
But before leaving the U.S., I had a layover in Dallas-Fort Worth.
Fifteen minutes after I arrived at its airport, I received the following messages from an online acquaintance who lives in Mexico. We had been HelloTalk friends for nearly two years.
"Happy new year," Sayuri wrote. "Right now I am in Dallas, where I have a flight connection."
"Really?" I immediately wrote back. "Because I just landed in Dallas now! I am here until 5:00 p.m.
"What a coincidence! What is your gate?"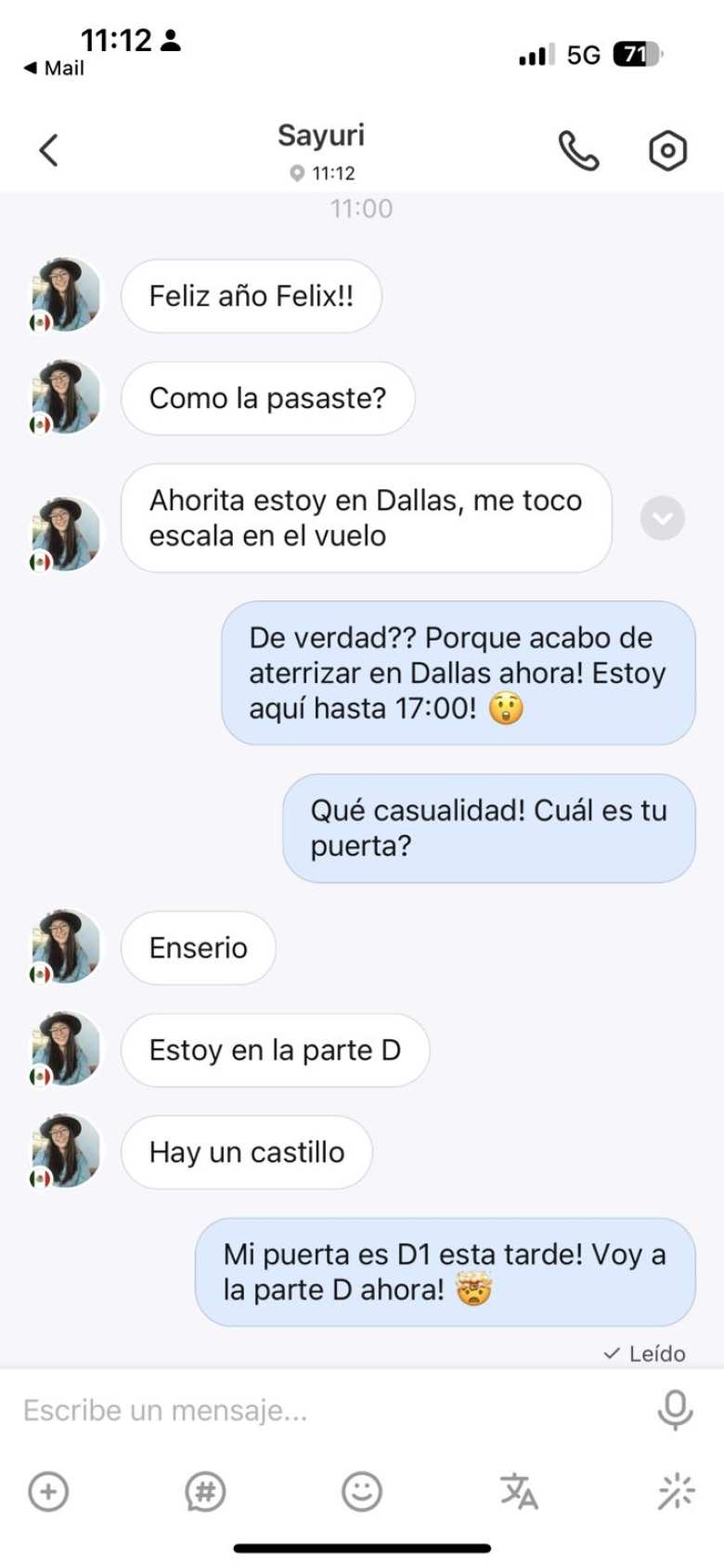 This was very similar to an incident at SFO with my friend Debby five years earlier. I headed towards Sayuri's gate.
Forty minutes later (DFW is a huge airport), we were conversing in person for the first time. Before this, we had only chatted online for foreign language practice, mostly during the pandemic.
We talked for 15 minutes before Sayuri had to board her plane to Kentucky, where she had a work assignment.
After seeing her, I sent an email to my friend Kiet from Stanford. I knew that he lived in Dallas, so I wrote that I thought of him since I was at DFW. What I didn't know was Kiet lived only 20 minutes away from the airport, and he did not need to work that day.
"I can swing by," he wrote back. "Will call you in a sec."
We ended up visiting with each other inside the Hyatt Lounge inside Terminal D for a couple of hours. We talked a bit about Stanford and running.
Kiet looked and sounded exactly how I remembered. Here's the only photo I have of him from our years at Stanford: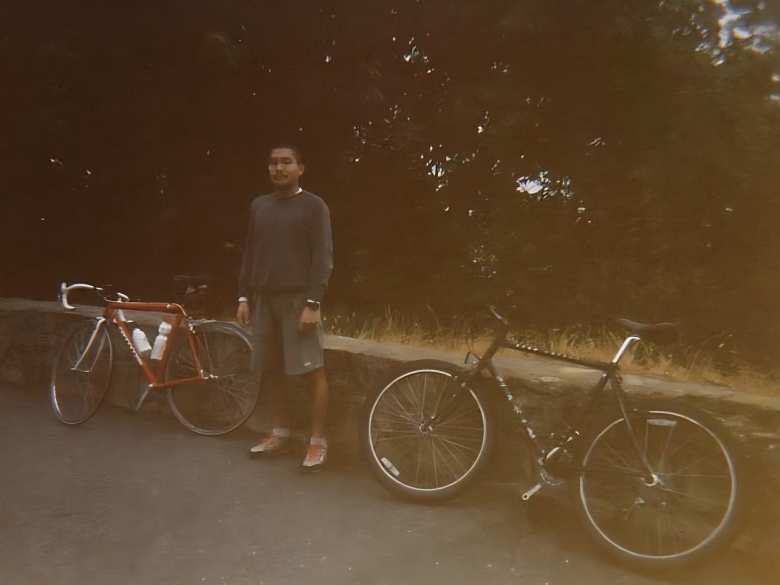 And here we are 27.5 years later (obviously, with a much better camera):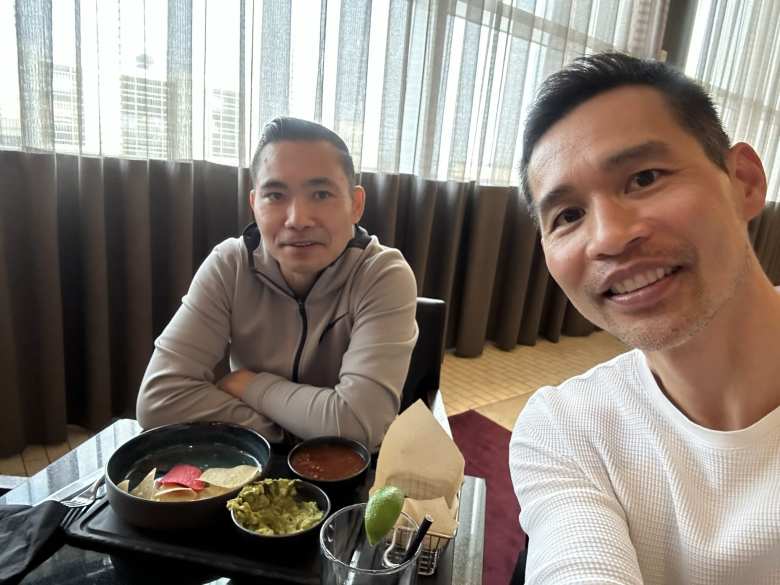 After our visit, I thought to myself that DFW turned out to be a very social airport for me. It was nice to have my holiday travels end on a high note after the flight fiascos of the previous weeks.