Running the Marine Corps Marathon + 18 Extra Kilometers in D.C.
Around two decades ago, I set a goal of running a marathon in each of the 50 U.S. states and the District of Columbia. Last year, I successfully ticked off the final state on my list, but one challenge remained: I hadn't yet run a marathon in Washington, D.C.
The primary obstacle to fulfilling this goal was the absence of an organized marathon that took place entirely within the capital. The few that existed dipped into neighboring states like Virginia or Maryland, making it difficult to meet my personal criteria of running a full marathon within each state or district.
Ultimately, I decided to do the esteemed Marine Corps Marathon, the largest and most famous race in D.C. that's dubbed "the People's Marathon." It held this title because it welcomed participants of all levels and didn't offer any prize money. However, it came with a catch—the race commenced and concluded in Arlington, Virginia, and only 26 of the 42 kilometers traversed D.C. soil.
To overcome this challenge, my friend Mel, a former D.C. resident, helped me devise a plan to add the extra distance needed to make it a true marathon in the District of Columbia. The strategy involved running to the race start, completing the marathon, and then running back to the Hyatt Regency Hotel on Capitol Hill, including a loop-and-a-half around the National Mall.
The journey began at 6 a.m. as I set off for the race start, the city cloaked in darkness, with a quiet atmosphere save for the presence of law enforcement officers and Marines in their military attire. It was a magical sight to behold the illuminated Washington and Lincoln monuments without the usual crowds.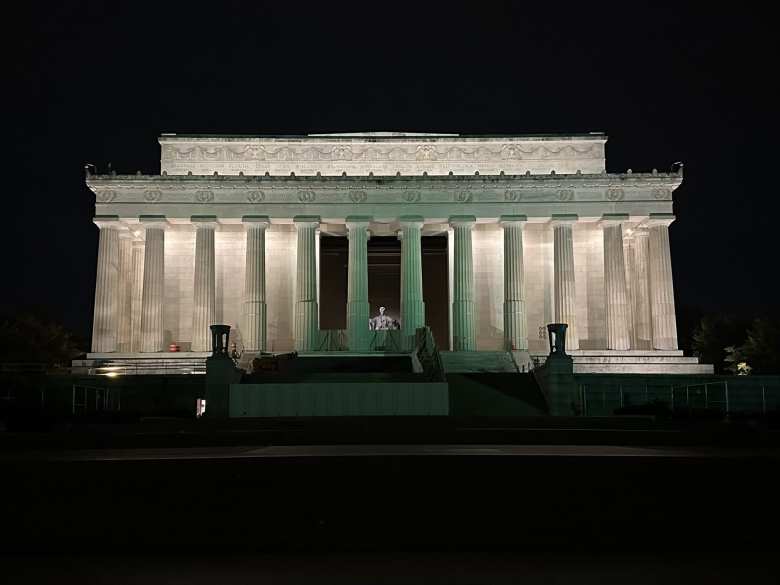 Crossing the bridge connecting D.C. to the Arlington National Cemetery, I started walking. I had already run (jogged) four kilometers within D.C. There was no need to tire myself out further by running in Virginia before the race.
The start line was teeming with over 13,000 participants. While I waited, I took the opportunity to engage in some Duolingo lessons to pass the time.
The race kicked off with the roar of two tiltrotor military aircraft overhead and a resounding bang.
As expected with such a massive event, the crowded course meant plenty of weaving and difficulty maintaining an optimal racing line.
A more significant issue stemmed from participants of the wheelchair race being able to start just five minutes ahead of the regular marathoners. This close head start resulted in many wheelchairs/handcycles getting caught behind runners on the early uphills. Downhill, the faster wheeled racers had to loudly alert runners to clear the path, creating a chaotic and dangerous situation. It was also unpleasant to hear frantic and confusing screams of "LEFT LEFT LEFT LEFT LEFT!" or "RIGHT RIGHT RIGHT RIGHT RIGHT!" which could have meant either "stay to the left" or "a handbike is approaching on the left."
Throughout the race, I maintained a steady pace, breathing exclusively through my nose. My Garmin watch acted as my pacing guide, with a target of 3 hours and 30 minutes for the marathon. At the halfway mark, I was 2.5 minutes ahead of that goal.
With 80% humidity, I continuously had to wipe sweat from my eyes. At kilometer 25, volunteers offered Vaseline on popsicle sticks, a welcome relief as my inner thigh was chafing from salty sweat.
Passing the Capitol building at kilometer 30, a point where many runners typically "hit the wall" in a marathon, I felt strong, picked up the pace, and began overtaking dozens, maybe hundreds. I maintained a steady pace until the last two kilometers. During that stretch, numerous spectators cheered me on, shouting "Go Colorado!" as a reference to the Colorado singlet I was sporting.
After 3:27, my Garmin beeped and indicated that I had completed the marathon distance, nearly three minutes ahead of my goal pace. However, as it was utterly impossible to run the tangents, the course was longer, and I still had an extra kilometer to run.
In the end, after an unwelcome short-but-steep hill in the final stretch, I finished in 3:32:15. While I missed out on an official sub-3:30 finish due to the additional distance, I felt satisfied with my performance.
Going into the race, I fully believed I was in 3:20 shape under ideal conditions. However, the race traffic and the day's warm weather (20 to 24C, or 68 to 75F) and high humidity (80%) made far from perfect conditions, which is why I aimed for 3:30 instead. In fact, a last-minute executive decision disallowed runners from finishing if they didn't reach kilometer 30 by noon, in order to prevent medical workers from being overwhelmed with runners dropping like flies from the heat. At least there was cloud cover, so the weather wasn't nearly as stifling as that of the 2019 Omaha Marathon, for example. Yet, many people reported that the number of medical tent visits by race participants cramping or vomiting was "insane."
Back at the finish line, I consumed post-race food, which leaned more towards healthy options like bananas, fruit, and bottled water that was more typical of a Spanish race than an American one. However, some American touches included peanut butter and granola.
Afterward, I walked three kilometers back to D.C. before embarking on a jog around the National Mall. Passersby, noticing my race number and finisher's medal, offered congratulatory remarks. One woman was intrigued, asking if I'd run the marathon that morning. I explained my unique marathon extension to her amusement.
Despite the warm conditions, I ran the extra kilometers without any issues. However, I couldn't escape the telltale sign of a warm race—two four new black toenails. My feet must have expanded due to the warm conditions. They didn't hurt during the race or the extra miles, but I will have to wait another four or five months for them to fully grow out.
Running in Saucony Endorphin Pro 3 "super shoes," I attempted to secure my heels with a "heel lock" shoelace knot that kept the rear of the shoe tighter than in the forefoot area. Unfortunately, the laces eventually equalized in tightness front-to-rear, possibly contributing to the blackened toenails.
The Marine Corps Marathon was far from being my favorite race, but I was content with my performance. By the time the morning and early afternoon was gone, I tallied a total of 64 kilometers on foot, including 44 within the D.C. area.
Later, I joined my friends Azad, Carlos, and Manuel at Penn Quarters Sports Bar, a Denver Broncos-friendly establishment. We watched the Bengals-49ers and Chiefs-Broncos games, providing a thrilling end to a memorable marathon weekend. Despite the Broncos' season struggles—including an extremely embarassing 70-20 loss to the Miami Dolphins—they emerged victorious, adding a pleasant twist to the day.
My journey through the Marine Corps Marathon may not have been perfect, but it was undoubtedly an adventure filled with unique challenges and triumphs. In the end, it was a marathon milestone achieved, even if it meant running an extra kilometer.
Other Notes
This was the first time I ran a race breathing 100% through my nose. One of the many benefits of this was that I was able to more easily drink and eat since I didn't need to use my mouth to breathe. I will write more about becoming a nose-breather in a future article, so be sure to subscribe (free) to this website if you want to ensure that you do not miss that post.
Unfortunately, despite breathing only through my nose, I still experienced respiratory alkalosis during the last six kilometers–particularly a tingling sensation in my hands.
This race marked my debut in using what I like to call the "African long-distance arm swing." It involves sharply bent elbows, lightly-clenched fists facing the chest, and a rhythmic swing alongside the heart, punching towards the midline. I adopted it only a couple of weeks ago, and found that this technique aided in sustaining a higher cadence and a more pronounced forward lean, in contrast to the typical low-hand, fore-aft, "Occidental" arm swing that is more appropriate for sprinters.
Entrants spanned in age from 14 to 90. I don't have specific information on whether the 14-year-old or 90-year-old completed the race. Nevertheless, it's noteworthy that three participants, one woman and two men, were over the age of 80 and successfully completed the marathon, maintaining an average pace of 14 minutes per mile.
Suggestions to the Race Organizers to Improve this Race
It's doubtful that the Marine Corps Marathon Organization (MCMO) will come across this post, but in case they do, here are my suggestions for future races:
Prioritize Wheelchair/Handbike Start Time: In the most recent race, the 50K runners began at 7:15 a.m., followed by the wheelchair/handbike participants at 7:50 a.m., just five minutes before the regular marathoners. To enhance safety and minimize the risk of mixing participants with significantly different speeds, consider allowing wheelchair/handbike participants to start well ahead (e.g., 30 minutes) of even the 50K participants.
Consider a Later Race Date: Given the warm and humid conditions experienced in many editions of the Marine Corps Marathon, it may be worth contemplating a shift to a date two weeks later to benefit from milder weather.
Explore an Earlier Start Time: Deliberate on the possibility of an earlier start time for all participants. Even a 45-minute adjustment could make a notable difference in managing conditions. Alternatively, if an early start is not feasible, consider the option of eliminating the 50K race category and having everyone start at the time designated for the 50K participants.
Staggered Wave Starts: Consider staggered wave starts–like at the larger New York and Boston marathons–to reduce congestion throughout the race.
Improve Water Station Signage: Enhance the clarity of water stations by ensuring that they are well-marked. In some instances, water station signs were present, but the stations themselves were located half a mile or a mile later. Moreover, maintain consistency in providing fluids on the same side of the road to minimize the need for runners to weave through the crowd.
Implementing these suggestions could contribute to a safer and more enjoyable experience for participants in future Marine Corps Marathon events.
Race Results
Official time: 3:32:15 (8:06/mile average official; 7:55/mile per Garmin due to longer distance)
First half: 1:45:04
Second half: 1:47:11
Overall place: 778 / 13656
Division place: 58 / 931
Gender place: 661 / 8193
Kilometers in DC before the marathon: 4
Kilometers in DC during the marathon: 26
Kilometers in DC after the marathon: 14
Total kilometers run in DC: 44 (I ran a little extra to ensure that I did at least 42.2 km in DC in case of a slight calculation error)
Official results