Ultimate Commuter Bike 1.0
Now that Goldie the MG is safely tucked away in my garage in Fort Collins, my primary means of transport while vacationing out in California is the two-wheeled Tank. So how is it like relying on the 33-lb. rolling boat anchor, especially after speeding along with the 20-lb. Ultimate Commuter Bike 2.0 the last couple of weeks in Colorado?
Not so bad, as it turns out.
First off, nothing fazes it. The first ride I did was commuting from my folks' home into central Stockton for lunch with a friend. Due to the lack of shoulders and bike lanes on numerous Stockton streets, I often had to ride on the dirt or gravel on the side of the roads or—worse—jump curbs and (technically illegally) ride on the sidewalks. With 20 psi in the tires, I could even ride smack into a curb and roll over it without worrying about damage to the rim or the frame.
With 70 psi in the knobbies—or about 25 psi more than the "max" rating on the sidewalls—I could cruise in a gear or two higher than could normally do otherwise. Rolling along with such high pressure was akin to riding a mechanical bull, of course, but at least I was getting places at a quicker rate.
Then there is the issue of hauling stuff. Not surprisingly, The Tank's cargo-carrying capacity is superior to Carrie's. Its traditional rack is longer with side rails extending down to the seatstays and has a higher load rating than Carrie's seatpost-mounted rack (45 lbs. vs. 25 lbs.)
In fact, while biking to Ripon to meet up with Tori and Chris to go rock climbing at The Grotto, even carrying my huge, loaded, 30-lb. Gregory Forester pack was not a problem. This setup was working brilliantly for a whole hour, until this happened: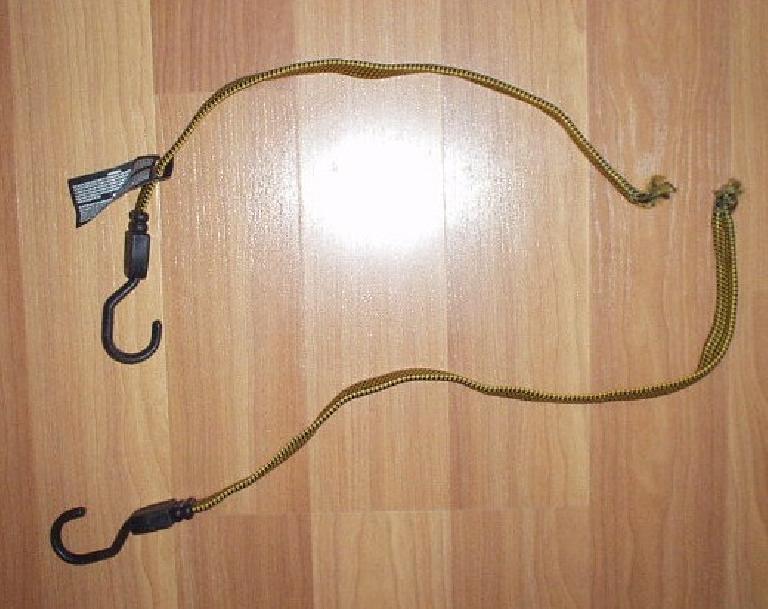 This bungee cord (brand new no less) basically exploded causing my pack to spill onto the road. After that I had to ride the last hour with the big pack on my back, which was working not-so-brilliantly. Not only was that uncomfortable, but the pack extended up so high that the back of my helmet would bump into it, preventing me from tilting my head up. I got to Ripon though.
As it turns out, the bike's weight—despite lending an aura of indestructability—would be its major nemesis. For example, I biked from the Richmond BART station to a friend's house in Hercules about 11 miles away. There were three or good climbs on the way, which would have been pretty trivial were I riding one of my Cannondale road bikes, but was an exercise in low gear on the hefty Raleigh mountain bike. It ended up taking over one hour to do those 11 miles. Hauling the bike up the stairs at the BART stations was another exercise in soreness, an excellent substitute for working out on a leg press machine.
With that in mind, The Tank is not quite the "ultimate" commuter bike. Then again, neither is Carrie, the Cannondale CAAD3. Something sort of a cross between the two would be more ideal. Maybe a touring bike?
All that said, The Tank has probably been the all-time most reliable machine on wheels I have had. In its 10 years/3,000 miles it has only had one flat tire, with no maintenance done on it aside from dribbling on chain lube a couple of times. (This needs to be done again, or preferably, the hot-wax treatment).
As another aside, mass transit in the Bay Area is definitely underrated. You can get almost anywhere with a bicycle, BART, CalTrain, and (during the weekdays to/from Stockton) the ACE Train. These modes of transport run fairly regularly and conveniently and considering the distances they go, are priced pretty reasonably.