I'm not sure if it's because I've become spoiled by the relatively warm, snow-less and sunny days in Northern Colorado this early December, or I'm just starting to become a weather wimp. In any case, the first thing I muttered as I crept out of my car at Lee Martinez Park was, "Brrr, it's cold!"
"At least it's not zero degrees like it was two years ago," a fellow Fort Collins Running Club member replied. That is true. This year there were no icicles dangling off Doug's beard.
In fact, by 8:20 a.m. the ambient temperature was hovering around a relatively balmy 30 degrees. Although I was still wearing nylon pants, I ditched my fleece vest at the last minute so that my upper body was only covered with a white Coolmax T-shirt and thin liner gloves. Unfortunately I forgot to unload the cell phone from one of my pants pockets and hence ran with its dead weight during the entire race. Of course I would be happy to blame that for the loss of at least a few seconds even if it weighs only a trifle more than a few paperclips.
As customary in the FCRC's "handicapped," staggered-start races in the Tortoise and Hare Series, I was pitted to start last even though there was no way I should have been as Steve Cathart was also racing. Steve is the owner of the Runners Roost store in Fort Collins, and if I run like a V-6 Ford Mustang then he runs more like a Lamborghini Gallardo. Today he was clearly sandbagging despite his claims that he had barely been training and that this was just going to be a "training run" for him.
His start time was two seconds before mine. After the first 200 meters, I passed him exclaiming, "I caught you, I caught you!"
Although not for long. Actually, I was pretty surprised that Steve was still behind me after Mile 1 (which I ran at a respectable 6:50), and even midway through the second mile. Then, he easily caught me and effortlessly ran ahead until he was out of sight not long after the turnaround point for the race along the Poudre Trail.
It seemed like for most of the race, my breathing was comfortable and well under control, but my legs were strained and not feeling very lively. My stated goal of finishing in 43 minutes was not to be, but 44 and change was not too far off.
Still, this race—plus the Thanksgiving Run and the Edora Park 8k T&H race—only confirmed what I already knew: I am definitely running slower than last year, the Boston Marathon-qualifying year when I was in the best running shape of my life.
Now I'm running more like I was back in 2006. I suppose that's not too bad considering that this year I was hardly running from May-October, and that during those months, my body had become re-molded into more of a cyclist with upper body muscles due to the Tour Divide, weight training and rock climbing.
Now if only I could only get my weather resistance back to 2006 levels…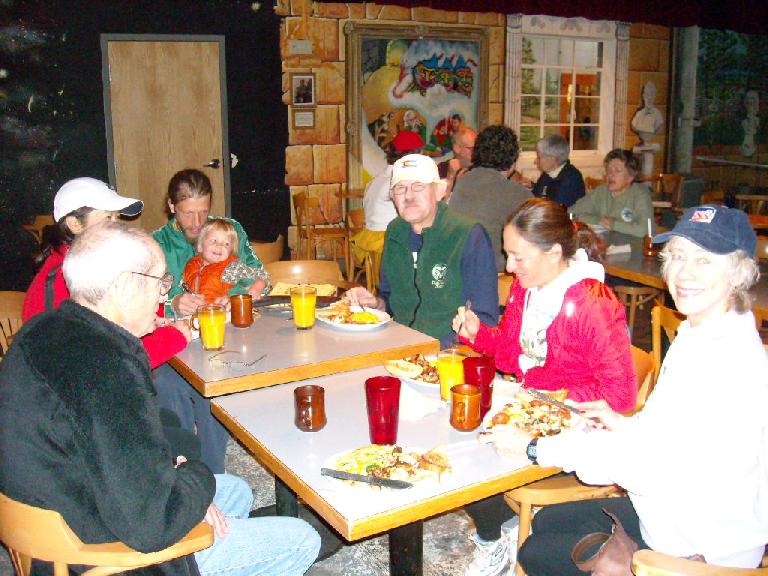 Time Splits
Mile 1: 6:50
Mile 2: 7:19
Mile 3-6.2: lost data
Total time: 44:38 (7:12/mile)