It's kind of hard to believe but nine months after last year's 2,700-mile Canada-Mexico MTB race, my mountain bike was still laying in pieces on the basement floor. In fact I had done basically nothing with Cranky the Cannondale since unpacking her from the joke of a bike box I hastily constructed from a dozen discarded cardboard pieces in the parking lot of a dollar store in Lordsburg, NM one day after finishing the epic journey, aside from cleaning and noting all the broken or seriously worn parts. It's not that I was so "done" with the crisis-ridden adventure that I didn't want to mount an MTB ever again, but with all the two- and four-wheeled machines I have and other hobbies I do, Cranky was inadvertently left forlorn and forsaken.
So I am happy to proclaim that Cranky is finally back together and ridable again. Well, sort of. Let me explain.
Each year New Belgium Brewing Company puts on a series of mountain bike races entailing rounding a mountain bike course developed right behind their wind-powered brewery near the heart of Fort Collins. This "short track" consists of very short-but-steep drops and climbs, pretzel-like turns and semi-technical sections entailing, say, riding up and through the V-shaped trunk of a tree. The races are short (~25 minutes), cheap ($5), and close to home (4 miles), so naturally I thought it would make an interesting Tuesday evening diversion.
But also naturally—or at least keeping in line with my decades-old bad habit—I waited until the last minute to do bicycle maintenance and repairs. Or in this case, the very last moment in which I did not have enough time to do anything more than replace the tubes, air up the tires, spray seemingly a whole can of WD-40 into the right-side pedal just so it would spin freely again, and mount a new chain and cassette and an old saddle (since the seat I used in the Tour Divide was actually Canny the Road Bike's and long given back to her).
Anyhow, I got her back on the road just in time—never mind that of course I did not have time to rebuild the hubs and suspension or install new brakes and ergo-grips. Unfortunately, by "just in time" I mean I got to New Belgium in time to enter the final race even though it was the Open division instead of either the Beginner or Intermediate divisions that I'd rather have participated in. I really would have preferred not to compete against near-pros considering I had mountain biked exactly 0 miles since last July and in truth was not in shape to duke it out with even MTB-loving octogenarians (were any to show up and make a fool out of me).
So I started out in the Open division way at the back. My goal was simply "not to finish last."
Turned out that goal was too ambitious!
No more than 15 seconds after the gun went off, I realized I had a problem. I was applying a modest amount of power to the crank, but the new chain kept skipping as it simply could not grab onto the middle chainring. Whoops, I forgot the middle chainring had more broken teeth than a nut-cracking anciano and was more worn out than a steel plow first used in the 19th century. Somehow I had completely forgotten about this photo I took last August: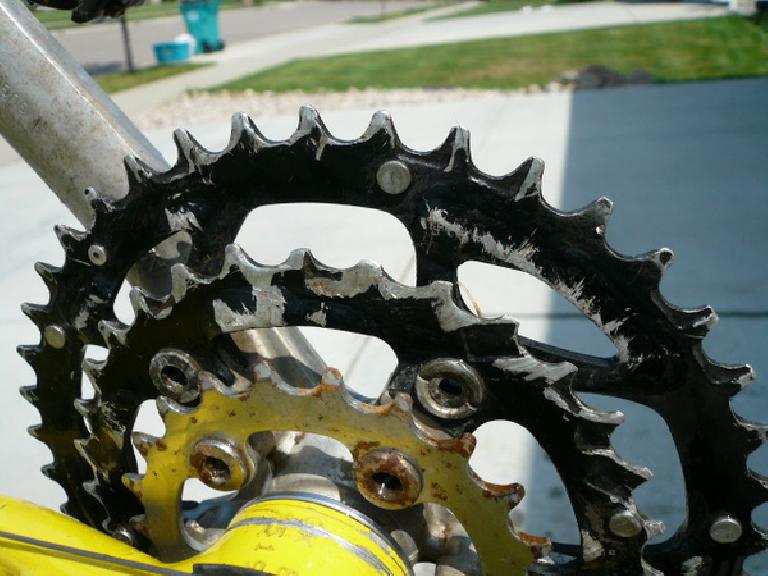 In essence, the middle chainring was non-existent—it did not mate well with the unstretched, brand new chain. (That I had forgotten to shorten the chain also did not help.) If the course were a little flatter and the race a bit mellower, I might have tried to soldier on with only the (less-worn) big and granny rings, but today… no.
It's pretty ironic (and ridiculous) that the last time I had ridden Cranky, I had become just the 11th person in the world to have successfully time-trialed the world's longest MTB route—and here, I couldn't even complete a five-mile race and in fact DNF'd after 200 feet!
Ah, well. So Cranky is mostly back together but clearly not race-worthy yet. She will be one day, but for now, she is back to being forlorn and forsaken down in the basement.
Sorry Cranky—after how you came through for me last year in spite of all our trials and travails, I know you deserve better.