There are few days I enjoy more than the second weekend of June in Fort Collins, and it is not just because the days are long and the nights are warm. It is, in fact, largely due to the annual Taste of Fort Collins, not that I ever eat all that much food at the festival. Instead, it's because in exchange for a modest entrance fee, Fort Collinsers are treated to world-class popular music sung by nationally known bands.
There's also always an eating contest.
Let me talk about that first. The food guzzler competition was dominated by a tall skinny dude who methodically downed three pounds' worth of hamburger, bread and condiments (in that particular order) in five minutes. I'm not sure if he regurgitated any of this afterward, but it was impressive not just how he could gorge on this stuff so skillfully, but that he managed to gain over three pounds in less time it would take you to read this blog post.
Regarding the music, Everclear performed on Saturday and Mat Kearney sang on Sunday. I went with my buddy Tim on Saturday, and the two of us were joined by Kelly on Sunday.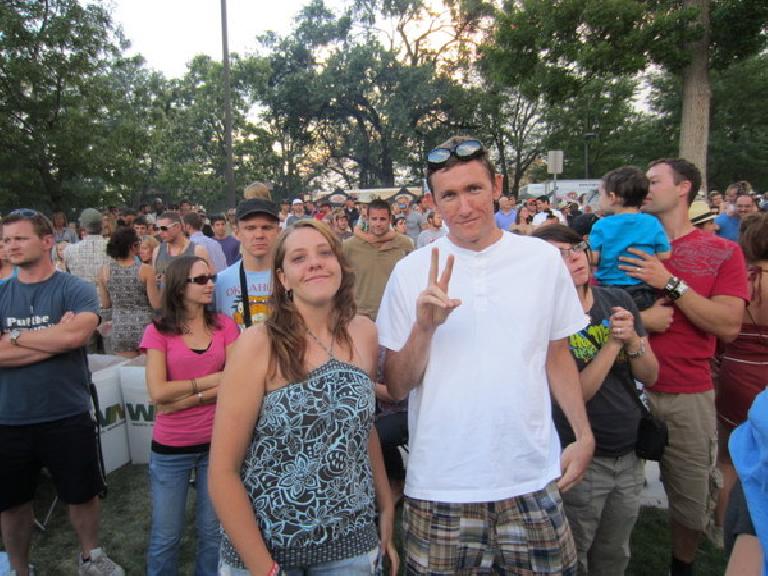 While I can't say I had heard many of the musicians' songs in advance, I did spend the weekend with their songs playing in the background at home in advance of their concerts. As Tim later realized, it greatly enhanced one's enjoyment of the concerts to be able to recognize songs that were being sung live.
Everclear brought a lot of positive energy with an excellent performance, but I enjoyed Mat Kearney's concert even more. In addition to walking through the audience and dispensing hugs while singing a song, he displayed wit and humor in between songs and altered the lyrics to reference Fort Collins, the state of Colorado and the recently started High Park wildfire looming in the distance.
Indeed, it was an odd juxtaposition of thousands of Fort Colliners in a festive, party mood with a sky that was red and a dark, apocalyptic smoke cloud that blanketed the city. Surreal for sure.