Who Says That Sports Cars Are Impractical?
Of all the cars I have ever owned, only one of them has had more than two seats—and that was a Porsche 944 Turbo. So folks have accused me on more than one occasion of being entirely impractical. Not so!
It's all relative. Heck, if the Vietnamese can carry babies or long pieces of lumber with their motorbikes, sports cars are absolutely utilitarian. Plus, they have on occasion carried more than you might think they could.
There was a time when my 1969 MGB transported two friends from college around the bay, with one of them sitting sideways on the rear parcel shelf as if it was a bench. In hindsight, that wasn't exactly legal in light of what I believe were mandatory seat belt laws in California back then, but we were young and free.
Around that time, I also managed to transport my friends Loren and Stacey, our rock climbing gear, and Stacey's mountain bike all in the same car. Fortunately, we only had to go less than a mile. The mountain bike was attached to the MGB bicycle rack I designed in college, similar to how I transported my road bike thousands of miles to numerous events.
In a prior post, I had already demonstrated how the '69 MGB was able to transport a bike box. Or move a mountain bike, a ton of boxes AND a recumbent bicycle simultaneously.
The 1991 Alfa Romeo Spider was just as utilitarian. Here it is transporting my road bike and most of my worldly possessions shortly after I sold my San Francisco Bay Area home and embarked on the Great American Road Trip. It was also able to carry a ladder my new home, many months later.
That was back in 2005. Nowadays, being far removed from being a poor college student, I am happy to use my "second car"—i.e., a rental car—for carrying big stuff. Or hiring movers instead, as in the case of a piano purchase.
Yet, this year, it was just more convenient to use my primary vehicle for a couple of errands. Such as Teeter transporting several 10-feet long pieces of 2″ inside-diameter PVC pipe: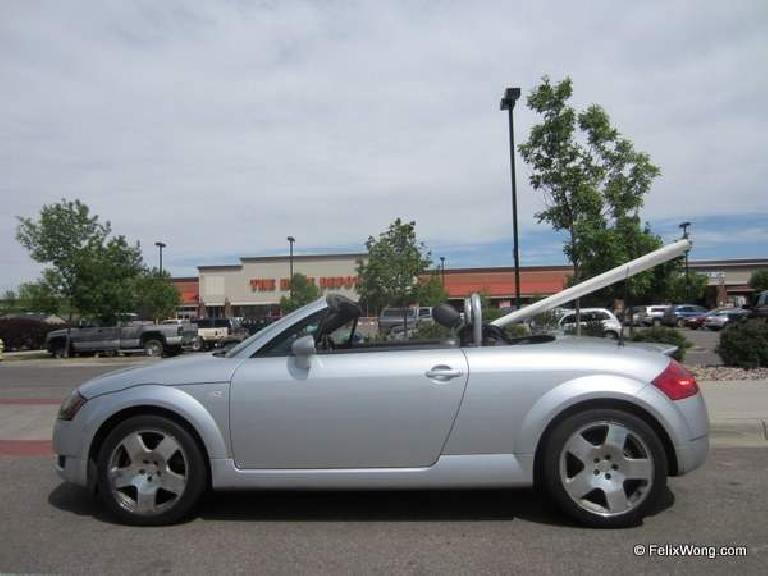 Or a 10-foot tall aspen tree: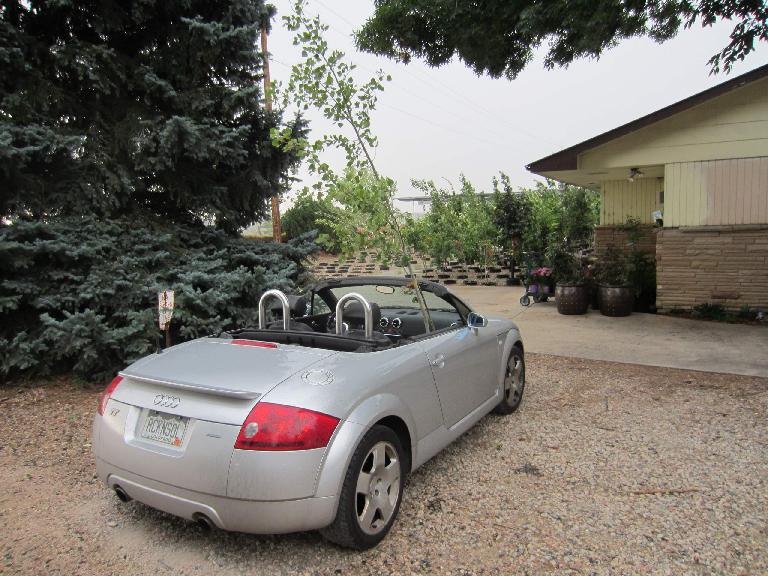 Transporting the tree back home actually turned out to be something of a mini-epic. This is not because of the tree's height, but because it started raining hard shortly into the 30-minute drive.
Well, at least that kept the tree hydrated.
"You show those truck boys who the real king is," my friend Kenny said upon seeing the photos below. Yes, who needs a truck?
Update November 2021
In November 2021, Andrea came to visit. She arrived with a check-in-sized suitcase measuring 78 cm x 48 cm x 30 cm. Teeter's trunk dimensions were approximately 80 cm x 50 cm x 28 cm. I write "approximately" because it is not a perfect box.
Fortunately, the suitcase fit… in two dimensions. I couldn't close the trunk lid all the way.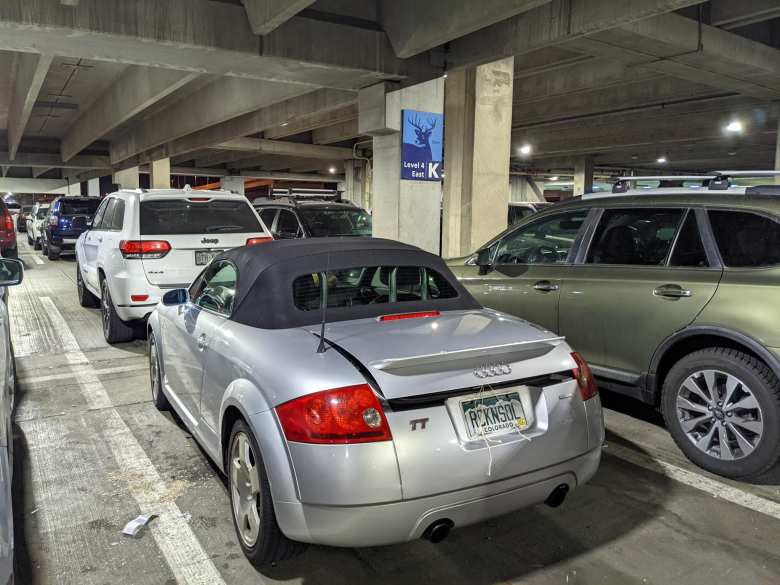 But that was easily solvable with some string. I looped it through the trunk lid's rectangular latch striker. Then I loosened a couple of license plate bolts with a wrench and tied the string to them.