Bike Box in Audi TT Roadster: Who Needs a Truck?
Due to my pending move to Spain, I decided to ship one of my six (actually seven) bicycles over there. Problem: I had already sold my old hard-shell bike case, thinking that if I were to bring my bike overseas, I'd get one of those newfangled non-oversize bike cases that are now a thing. But in my scramble, I never ordered one of those.
Oh well, I'm shipping the bike instead of checking it onto the plane anyhow. So I went to pick up a (free) cardboard bike box at one of the many bike shops in Fort Collins. Which brought me to the second problem: how to bring it home in my only car, a little two-seat roadster?
I've actually dealt with this issue before with a 1969 MGB. But that car had a luggage rack that made dealing with it fairly easy.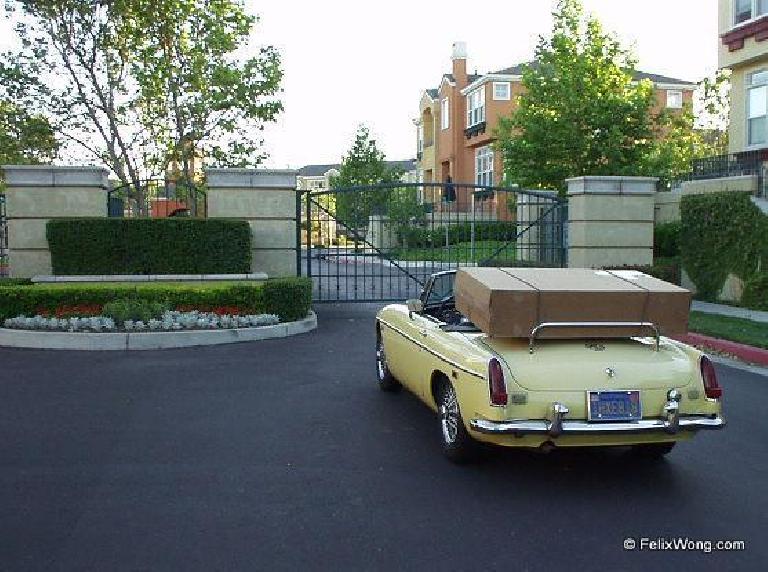 The Audi TT Roadster that is my only car these days does not have a luggage rack. Still, I was optimistic I could make it work. After all, nearly 10 years ago, I was able to bring home a 10-foot-tall aspen tree in it. (The tree, which I planted in the backyard, is now taller than my two-story house.)
Sure enough, after some finagling, I was able to get the box to fit!
It seems like the best way to do so, short of collapsing or breaking down the box, was to lower the roof and move the passenger seat all the way forward and stick the box behind there. It was a perfect fit (i.e., very snug) if you disregard the tall height.
Of course, I was glad I didn't have to drive more than six miles home or at speeds more than 45 MPH. Especially since the temperature was around 35 degrees Fahrenheit (2 degrees Celsius).
So that problem was solved. Now to pack the bike….