Riding the Raleigh M300 For the First Time in 15 Years
Over the years I have told people that I own six bicycles—each of which has done a really epic ride. Well, that is not strictly true. Actually, I currently have seven bikes. And that other two-wheeler has done something sort of epic too, or at least I thought so fifteen years ago.
It is a Raleigh M300 rigid mountain bike that I purchased brand new in 1996 from the Cardinal Bike Shop close to Stanford University on 1955 El Camino Real in Palo Alto, California (which, amazingly, still exists). I bought it for about $260.
The bicycle has a Shimano Altus 3×7 drivetrain with thumb shifters. During the first month of ownership, I had added black bar-end extensions, blue PowerGrips that are kind of like toe clips-and-straps but easier to insert and withdrawal you feet from, and a black rear rack.
I gave it the nickname of the Tank because not only was it heavy (33 pounds), but it was virtually indestructible. It only got one or two flat tires during the entire time I've owned it, and it's now been over 25 years total.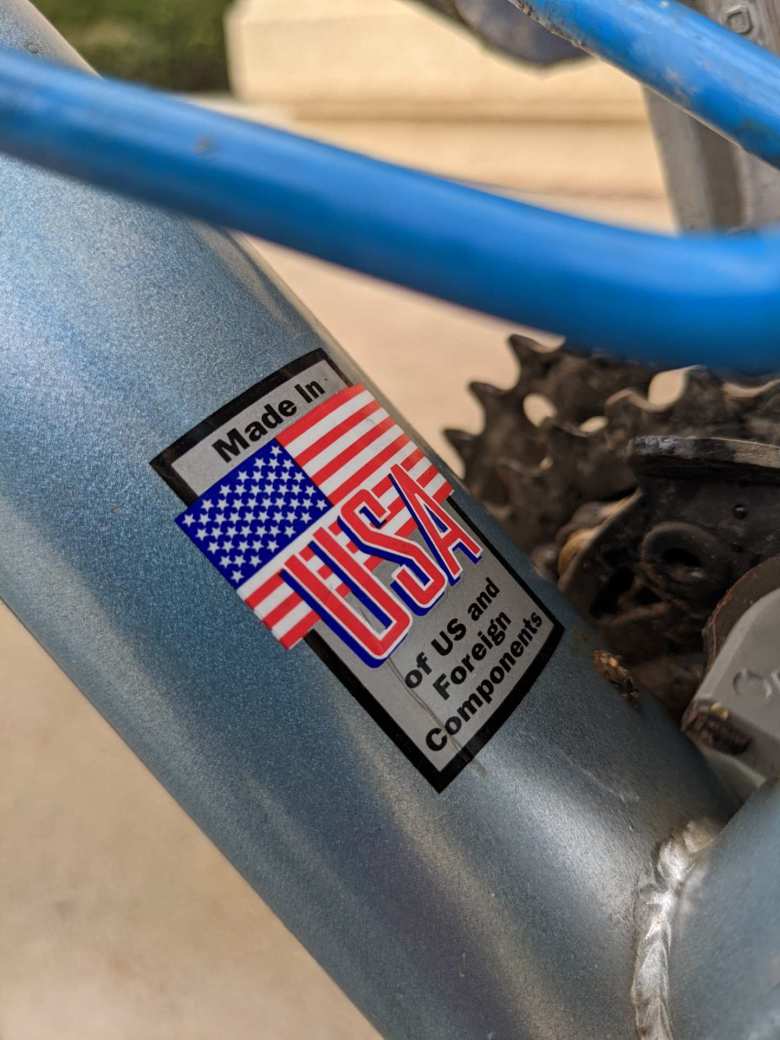 In the summer of 1996—which is when I acquired the bike—I occasionally commuted from Palo Alto, where I lived and worked—to the UC Berkeley campus, where my employer had a laboratory. This meant biking to Fremont, hopping on the BART train, getting off at the Berkeley BART stop, and biking up the Berkeley hills to Hearst Mining Building. Often this meant riding at night, but the California summer nights and bicycling infrastructure was a joy to ride. The third week I had the bicycle, I even rode 215 miles that week!
During the 1996-1997 academic school year when I was living off campus, I kept it locked outside to a bike rack at the Wilbur dormitory complex at Stanford. I'd drive my old MGB to the Wilbur parking lot, then bike to classes, the library, Tressider Union, etc. on the Tank.
After graduating from college, the bicycle got a lot less use. In fact, I lent it to my cousin for four years when I moved to Fremont. He didn't ride it very much.
Then when I moved from California to Colorado in 2005, my friend Adam generously stored the bicycle in his garage until 2013. In 2006 I rode it in the Giro di Peninsula metric century ride, trying to keep up with my friend Peggy who was riding a time-trial bike set up for triathlons. That was its most epic ride, and I was very proud of that effort at the time. Never mind later rides, such as riding a whole self-supported double century on a 44-lb., one-speed Huffy cruiser bike, make that organized 59-miler on this 33-lb. MTB seem easier than walking out with a cake from a bakery.
I think Adam rode the bike a few times and even pondered riding the Low Key Hill Climb series on it. But In 2013, I took it back to my parents' house in Stockton, where I stored it in case I'd need eco-friendly transportation during a visit. My dad even said he would try to learn how to ride it. Unfortunately, I did not successfully teach him how to ride a bicycle later that year in Fort Collins.
Anyhow, fast-forward to December 2021 when I visited my parents for 10 days. As I was staying completely local that time to help my folks out with some things, I didn't bother to rent a car. Instead, I figured, I could ride the Raleigh. And so I rode the Tank for the first time in 15 years.
The first ride I did was to ride over to get a Moderna COVID booster shot at a pharmacy at Walmart. Why Walmart? Well, they had plenty of appointments and it was close.
As I recounted to Adam in an email,
Today I went to get the booster shot and rode the old Raleigh M300 mountain bike that you had generously stored for me for many years. According to my records, the last time I rode it was October 15, 2006… to your house from a Julie Loyd concert that I attended with Pin-pin. Before riding it again I aired up the tires, cleaned it up, raised the seat (my dad had lowered it to unsuccessfully try to learn how to ride a bike, which at his age he has given up on), and tightened several bolts. Then I rode it and aside from the front brake squealing under very hard braking, the bike rode flawlessly. I was amazed at how well it shifted and how quiet the drivetrain was after all these years. The bike now has 3088 miles on it.

Thanks for storing it all these years! I anticipate riding it again in a few days to do some last-minute x-mas shopping and then next week to meet some friends for lunch.
Strapped to the rear rack of the Tank was a Performance U-lock and with key. But one disappointment with Walmart was that there were no bicycle racks to lock the bike to. A pole sufficed.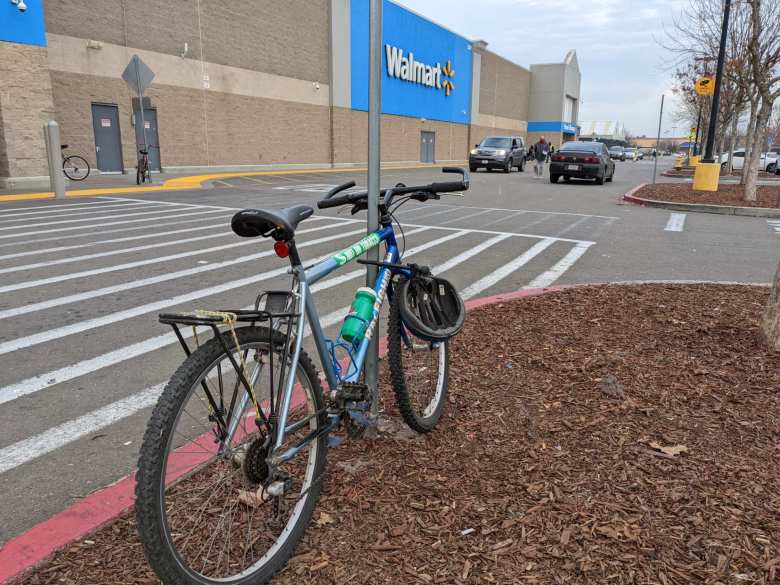 The next week I did have lunch with a couple of friends (and one of the friend's 9-year-old daughter) in Stockton. Unfortunately, just one day after bicycling to this meeting, one of the said friends reported that she and her daughter started having COVID symptoms that felt "10 times worse than a cold" and then had a positive test.
As our other friend and I were close contacts and our meeting conditions were ripe for catching the super contagious omicron COVID variant (two hours of talking over lunch indoors with no masks), we basically quarantined for the next week out of an abundance od caution. Amazingly, both of us remained asymptomatic (and fortunately, our friend and her daughter were nearly fully recovered a week later). I never was able to get a test due to a shortage of at-home tests and appointments.
Who knows, maybe the booster, as advertised, provided an extra layer of protection from developing symptoms. The trip on the Tank to get the extra shot may have been my first ride on it in 15 years, but in my mind, it helped me stave off COVID a while longer.