"Unlike last year," I told Maureen on New Year's Day, "today I am not going to do 2013 pushups." Fortunately, even my friend Stacey—a recipient of a double-lung transplant and the one who came up with that 2013 New Year's Challenge in the first place—wasn't trying to get me to do that this year. Or rather, 2014 pushups. Perhaps even she decided that was simply ridonculous.
"Instead, I am going to do a more intellectual challenge: do 14 lessons of Pimsleur Mandarin II. Each lesson is 30 minutes long so it's 7 hours total. I figure I should even be able to leave the house."
"That's a much more reasonable challenge," Maureen agreed. "You will get more out of it too. And it's not something you could get injured doing.
"My roommate says you better be fluent by midnight."
Indeed, my main concern was experiencing brain zombification akin to how Tori felt like she was getting "Spanish'd out" when we took intensive Spanish classes in Panama seven years ago. My plan was to start early in the morning and complete the bulk of the challenge before noon while my mind was still fresh.
That plan didn't quite pan out since I didn't take into consideration that I would be up with friends well past midnight the night before to ring in the new year, and consequently didn't end up sliding underneath the bed covers until 2:00 a.m. Oops.
But by starting at 8:00 A.M, I was halfway through with the lessons by 1:00 p.m., which I deemed enough progress to go running with Maureen. And see geese!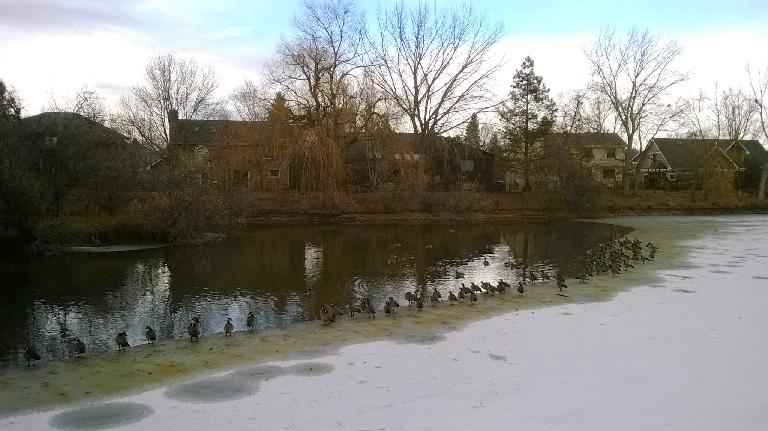 One great thing about this challenge was that even when I was able to continue doing it even while driving a car—just plug in the smartphone into the vehicle and continue where I left off.
After the run and grocery shopping, I was back at it at home with my undivided attention. By 5:00 p.m., I only had four more lessons to go. One problem though: due to lack of sleep the night before, I was falling asleep. I was considering napping, but instead Maureen, who just happened to be on my side of town anyhow briefly stopped by to "rescue" me. How? By bringing me a cup of Starbucks coffee.
Now caffeinated, I was able to finish the challenge with over three hours to spare. Phew!
I cannot say that I became fluent in Mandarin by midnight, but at least I can say things like the store doors are open and excuse me, is Mr. Lee in today? and other phrases that may come in handy one day. And I was able to leave the house.