Finally, the Great Arctic Streak was broken. While it hasn't been unseasonably cold in Fort Collins during the winter, for some reason, each of the last four Tortoise & Hare races fell on a morning when it was 4-8 degrees Fahrenheit. That is cold even for Eskimos, and race director Nick often had to resort to warming up his hands with a portable propane heater that was shaped like a bazooka.
But this morning, with lots of sun and temperatures north of Jennifer Lopez' age—was positively balmy—enough that I almost regretted wearing a T-shirt instead of a singlet. Good thing, because this would be the longest (and final) race of the Tortoise & Hare series.
My training this year—except for the month of February where I had a right calf injury, the first nagging running injury of my lifetime—has been above Felix-par, an admittedly modest standard—so I felt I could put out a reasonable effort. I passed the five-kilometer mark averaging 6:38/mile pace—or exactly the same pace as in last week's PSD Pi Day Fun Run 5k—and then the halfway point still averaging 6:42/mile.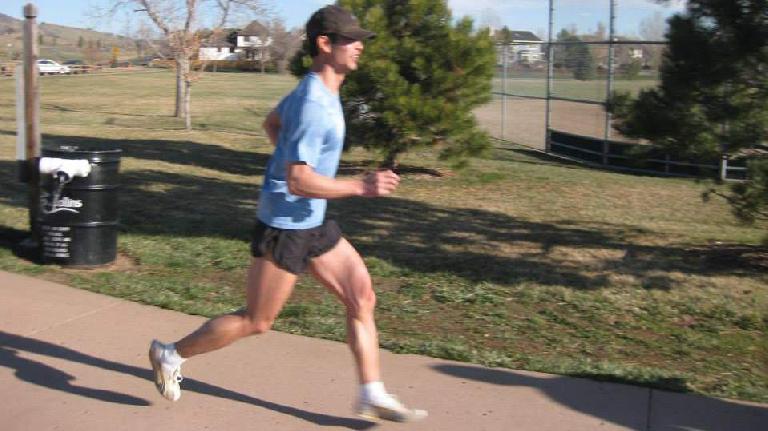 But as usual, my pace fell off in the second half. Miles 4-5 I felt some stomach distress, and my breathing and leg turnover felt strained after that. I kept trying to push but definitely did not feel very fluid. There was enough in the tank for a final 75-meter sprint but otherwise the 7:15/mile pace of the second half felt rather difficult and slow. It felt like I was back in fifth-grade Physical Education: just trying my darnest with the modest talent and cardiovascular fitness that I had to keep up or pass the big boys.
I was content with the final result though: a time of 52:34, or just three seconds more than my 2012 time. Good to see that I am back to the shape I was two years ago. In fact, since the course seemed to be at least .1 miles too long per my Garmin despite hitting all the tangents (Hector's iPhone measured .16 miles long), I may have actually been slightly faster. The Garmin said I averaged 6:58/mile, just under the psychologically satisfying seven-minute-mile mark.
Speaking of Hector, he ran his first Tortoise & Hare race today and soundly beat his predicted time that was based off January's Sweaty Sweater 5k result. And Maureen, while battling a cold for the entire last week, finished this race for what would be her longest run ever, giving her enough points to handily come atop of the final 2013 Tortoise & Hare series standings. That resulted in a $100 cash award spendable at the local running store, Altitude Running. I'm very proud of her; her running really has come a long ways since she started running back in September.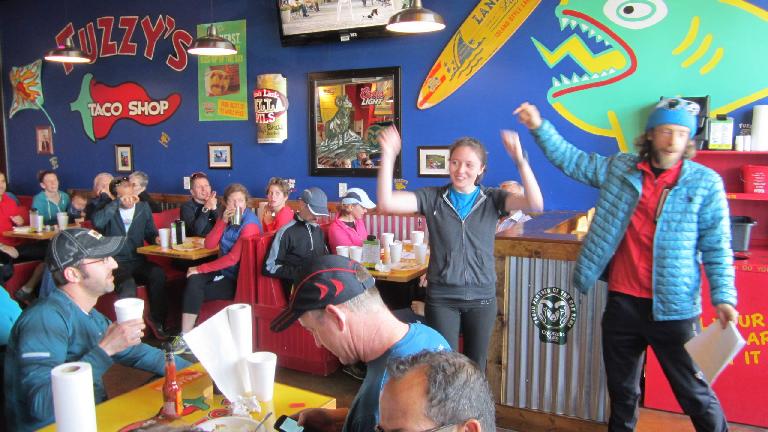 Race Data
First half: 25:13 (6:42/mile)
Second half: 27:21 (7:15/mile)
Total time: 52:34 (6:58/mile for 7.55 miles)
Garmin/Strava data