Microsoft Band Six Months Later: Cycling App, Strava, Health Site
Back in November 2014—when I wrote about initial impressions of the Microsoft Band as an early adopter—I observed it was a great wearable device that was lacking just a few things to make it virtually perfect for my particular needs and workout regimens: 1) exportable .GPX data, 2) a connected Strava app, and 3) a dedicated cycling app. I also noted, "I trust that the above issues will eventually be corrected."
It turns out such faith was not misplaced. Microsoft—as has been its custom the last couple years—listened and within the last six months updated the Band with all that. And more.

These are the features the Microsoft Band has acquired since it first was unveiled to the public on October 29, 2014:
Cycling app: It's much like the Running app, but tells your average speed in miles per hour instead of minutes per mile. The built-in GPS is very accurate. (February 23, 2015)
Microsoft Health website: Now it is possible to view the data recorded by the Band in Microsoft Health with a web browser instead of only being able to look at it on the phone. I especially appreciate this because I like to link the data to my online training log, and I can do so now that there is now a distinct URL for data from each day and activity. (February 23, 2015)
MapMyFitness integration: This is a service I hardly use but do have a free account with. In any case it is great for Microsoft Health to have integration with as many services as possible. (February 23, 2015)
Keyboard: This is useful for replying to texts and emails. The keyboard is very small but at least it is possible to type impromptu custom messages on the Band's screen. Previously, you could only reply using the Band by clicking on pre-typed messages or using Cortana's voice recognition system. (February 23, 2015)
Strava integration: Being a Strava fan, this was huge for me. The uploading of new runs and bike rides I've done works automatically and, so far, reliably. (April 23, 2015)
Third-party apps: Just a couple months after the Microsoft Band came out, third-party developers were already making apps for it. This included unBand and Pimp my Band that allowed data downloading and custom screen faces, respectively. The former allows access to the .GPX data via Windows desktop.
Sleep auto-detection: You do not need to manually start the sleep app anymore. (April 28, 2015)
Technically, the connected app integration (e.g., Strava) is not built into the Band's firmware, but through Microsoft Health. Both the Health app and website bring you to the following Microsoft-owned website when you click on Connected Apps: https://partners.dns-cargo.com/default. Why Microsoft picked the domain name of "dns-cargo.com" is anyone's guess; maybe it's because it is so neutral sounding.
Functionally, there is really not much more I am wanting with the Microsoft Band now. Microsoft did a great job with this first generation device, one I can wholeheartedly recommend especially if you are a fitness or technology buff. At this time, this cross-platform wearable is in stock in many places and is not going for ridiculous markups on eBay anymore.
Other long-term impressions
The battery can last almost two days without recharging if you don't use the GPS functions. I recharge the Band whenever I am taking a shower, which is usually first thing in the morning or after a run or a bike ride. This is usually enough to be able to wear the Band at all other times.
Battery life when using GPS for the Running and Cycling apps seems to be only about 2.5 hours for me with the screen on. Other users are reporting 4-5 hours, but I think that must be right after a full charge and with the screen off during exercising.
The heart rate monitor is reliable. It may not be EKG accurate but it is close enough.
Integration with four services—MyFitnessPal, RunKeeper, MapMyFitness and now Strava—is very cool. The Microsoft Band updates each of those sites with no human intervention required. Sometimes I don't even "know" it did until a friend makes a comment on one of my workouts. I have different friends on each of those services, and each service has its pros and cons, so I appreciate all of them being updated instead of having to pick a favorite.
The most useful non-fitness function that I really appreciate is being able to glance at texts as they come in.
The Starbucks app, which allows payment via barcode on the Microsoft Band at a Starbucks, consistently has been a conversational piece with the cashiers and other coffee shop patrons in line.
The Band is very comfortable, even while running.
Time to lock in to GPS satellites is consistently quick: usually 5-10 seconds. The Band gives you the option of starting before satellite lock-in, so no waiting is required.
My Garmin devices have just been gathering dust ever since I got the Microsoft Band, and I am planning on selling them.
Tip: Cheap screen protector
If your Band didn't come with a third-party screen protector (as the first units for early adopters did), and you'd rather not pay $10 for one, you can easily make one out of 2″ clear packaging tape. Two inches is a perfect width for a screen protector for the Microsoft Band. It isn't as durable as the $10 one, but I can usually make a new one in 30 seconds and do not mind having to replace the screen protector every month or so. Tape made by 3M is best, although right now I am using cheaper USPS packaging tape since that is what I already have. Neither leave any residue when removed.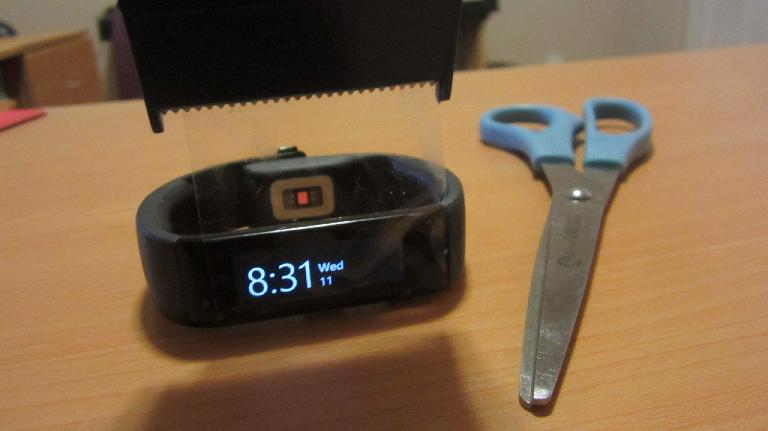 Wishes for the 2nd generation Microsoft Band
Ideally, the next generation of the Microsoft Band would have scratch-resistant glass such as Gorilla Glass so that a screen protector would not be necessary. (People who have not used a screen protector have reported the glass scratches easily.)
The first generation device looks and feel very high quality, but could be more stylish. Suggestions to Microsoft include making it thinner, sleeker, and more colorful.
Of course, longer battery life between charges would be appreciated.
Wishes for the Microsoft Health app
It would be great if the Microsoft Health app on the phone could record workouts for the instances you are not wearing the Band, or the Band's battery is about to die.
It would also be wonderful if the Microsoft Health app or site could import data (e.g., GPS) from other devices like the said Garmins and then automatically upload the data to MyFitnessPal, RunKeeper, MapMyFitness and Strava.