Minimalism and the Amazing Smartphone
It has been thirteen years since I compiled a list on how to simplify my life, and the majority of its tenets are still valid today. One thing I did back then, however, was ditch a cell phone. At the time, cell phone calls frequently dropped at home and at work, and I was dependent on a landline for 56 Kbps dial-up Internet access. So from 2002-2004, I only had a landline.
That is certainly not something I would advocate today. Actually, having a cell phone—specifically, a smartphone—is essential for minimalism as it effectively substitutes for so many other items.
My smartphone replaced all the items below, with the year that it obsoleted them for me in parentheses. I have hence purged the items except for the point and shoot camera, which I am retaining for backup and special occasions when I do not want to risk damaging my cell phone.
Various flip and feature phones (2012), which replaced a bulky programmable landline speakerphone (2005)
MP3 player (2012), which had allowed me to get rid of virtually all my compact discs and portable CD player (2005)
Spanish and French dictionaries, as the Bing Translate app has offline translation capabilities (2012)
GPS car unit (2013), which had replaced paper maps (2007). Nokia's HERE Maps app has excellent offline maps that already provided me with invaluable navigational assistance in Europe (2013) and China (2014) without a cell signal.
Compass (2013)
Alarm clock (2013)
Garmin running and bicycling GPS devices (2014). Later I augmented my Windows Phone with a Microsoft Band to fully supplant these two items and a Garmin heart rate monitor.
Handheld flashlight (2013)
Metronome for piano and to enhance stride rate while running (2014)
Scanner (2014). The free Microsoft Office Lens app is much faster, more convenient and can be used on the go.
Piano tuner (2015)
Camera (2015)
Scientific and financial calculators (2015)
Tablet eReader (2015). I now prefer to use a smartphone most of the time for reading books instead of a Nook Color (2011-2012) or Surface RT (2013-2015), especially since it so much easier to hold up with one hand and can be whipped out of pocket whenever there is a spare moment.
USB thumbdrive (2015) for large file transfers or when Internet is not available.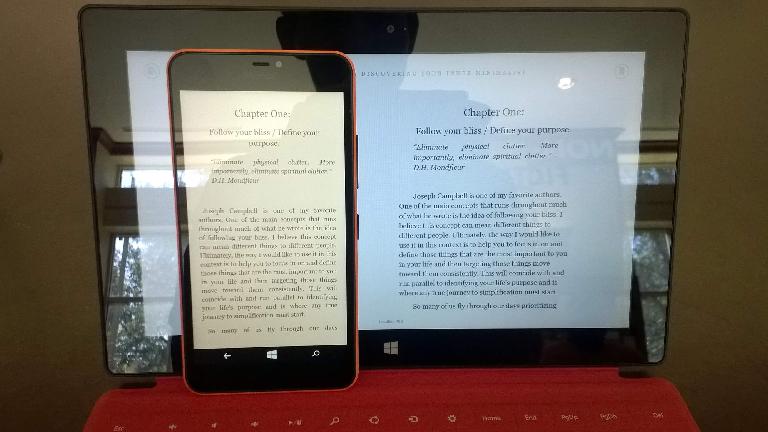 In addition, although I stopped using the following long before I got a smartphone and thus lost some of their functionality, smartphones returned it to me.
Personal data assistant (PDA; e.g., Palm Pilot), which had replaced a day planner and post-it notes (2000)
Photo albums (2005)
Travel guides (2005)
Phone books (2007)
For the last three years I have used powerful but inexpensive and delightful Windows phones and generally upgrade each year. (Phone technology gets better each year by leaps and bounds, and at the $50-200 Windows phone price points, it is affordable to do so.) Currently I am using a 2015 Microsoft Lumia 640 XL which is basically a perfect great-for-2015 phone, with astounding battery life, amazing photo taking ability, a large and vibrant scratch-resistant super-sensitive screen, a beautiful interface, museum-suitable design language and build quality, microSD expansion, fun swappable shells and all the apps I need. I love it.
What Will Smartphones Obsolete Next?
I can imagine being able to replace the following items with a smartphone in the future:
Cycle computer: In fact, earlier this year I already gave this a test run using a cheap Motorola Moto E on the Super Bike, which not only could give me stats like distance traveled, but told me where to turn, recorded rides, and automatically uploaded data to a web service over wifi when I got home. I even used this phone in the Trans Am Bike Race (along with a Cateye Padrone conventional cycle computer—which cost just as much—as backup), and it worked well until it died in a rainstorm. Once I start cycling regularly again I will probably get a cheap Windows Phone to mount on the aerobars of my race bikes but try to waterproof the setup better.
Wallet: Google Wallet, Apple Pay and Google Pay are already steps in that direction, and I already pay for drinks at Starbucks with the Microsoft Band. Also, I already stopped carrying cash on me the moment I came to St. Louis because drug addicts out here ask me for money all the time. We do need some sort of app that bars and liquor stores can trust to authenticate legal drinking age so we don't have to carry around our IDs!
xBox: Mine is used strictly for media streaming. Once screen casting via smartphone is faster and more reliable, I would ditch it for something far less bulky like the Microsoft Miracast HDMI dongle. It would be much easier to navigate on my phone and mirror the screen than to use the Xbox controller or Kinect.
Printer: I actually did not have one from 2002-2005, but got a laser printer afterward mainly to print PayPal mailing labels and postage, boarding passes and tickets. Being able to use a cell phone in lieu of boarding passes and tickets is already getting more common, but I am not sure what I would do for mailing labels and postage. (Printing the latter saves a trip to the post office, and the former reduces errors versus hand writing.) Hoping there would be some sort of solution in a few years or I just would so infrequently sell stuff via mail due to having purged so much.
Desktop and laptop computers: In 10 years I can imagine us being able to completely replace our full-fledged computers with a phone. Continuum for Windows 10 Mobile seems the first step in that direction. Once mobile phones have as much power as desktops have today, all we need are pocketable HD projectors or VR goggles or something to replace huge screens. Even without a larger screen, I already update this website from my phone on occasion.
Is there anything else you can imagine smartphones replacing?
Evolution of the Desk Video
After I posted this article, my friend Adam sent me this great video produced by Best Reviews entitled Evolution of the Desk, an initiative borne out of the Harvard Innovation Lab. Its goal was to illustrate the impact that technology has had on our lives over the last 35 years.

[Original video source]
Adam also sent me an article from 2014 that described how today's smartphones have effectively replaced $3000 worth of devices shown in a 1991 Radio Shack ad.