Unlike in previous years when there was sleet pelting runners in the face or snow falling, the weather prognosis for this year's Horsetooth Half Marathon promised still air and ideal weather for a high heart-rate exercise fest. Or, as I called it a few days leading to the event, "a no excuses type of race." Not that any should be needed. My overall fitness was decent—if still many rungs under world-beating—and the recent Mission Run in the Ozarks marathon gave me new confidence that my hill running ability is not that bad.
"I think I can run 1:37," I replied when a friend asked me about a goal time. But I quickly added that I would be happy with anything under sub-1:40, which is something I failed to do on this course by 35 seconds during my last attempt when I was three years younger.
One hour, thirty-seven minutes would be within sprinting distance of my time from 2007, which I figured would serve as a good guide for pacing. My top-end and cruising speed is not what it was, but I somehow convinced myself that my ascending ability had improved. So I wanted to attack the hills more aggressively than I did back then.
So after the national anthem was sung and and my friend Nick, the race director, commenced the final countdown, that is what I did.
The race brutally began with a 0.8-mile ascent, including the steepest switchback in all of Fort Collins. Then there was a short descent followed by a flat, quarter-mile straight. I used that stretch to try to recover from a gut-busting effort before the next major climb: 0.8 miles to the top of Monster Mountain. Before that uphill, I was 30 seconds ahead of 2007 pace.
Too hard! I couldn't recover enough and my lungs—and I imagine my heart rate (too bad the Garmin Forerunner 35 didn't seem to measure heart rate accurately)—were maxing out. My speedster friends Alex, Chris, Forrest, Josh, Mike, and Sarah all caught and dropped me on this stretch.
You can even see me (wearing white) at 5:43 (-11:18) of Chuckie's Photoblog running alongside Alex (in black) and Mike (wearing red). Even though Mike was pushing his son Jamo in a stroller, I was struggling to hang on, and by the time I reached the top of the mountain both Alex and Mike were ahead by 50 meters.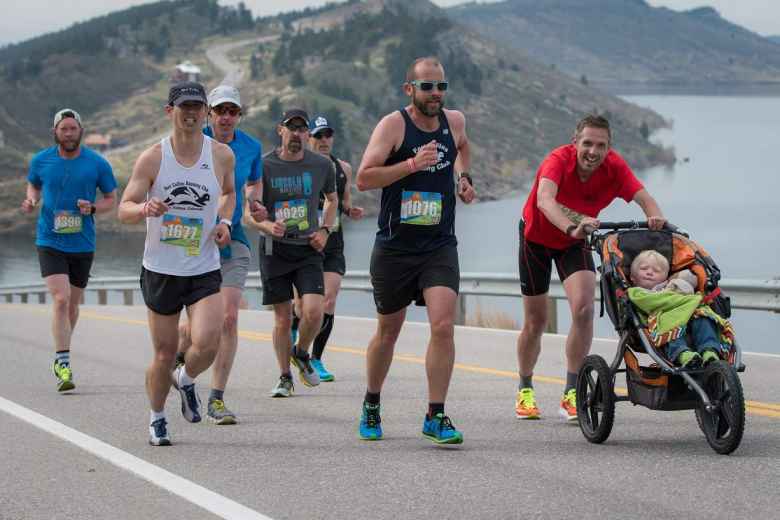 My lungs were blown and by Mile 2, I was one second behind 2007 pace, meaning I lost 31 seconds during the second mile. But the next couple miles were mostly downhill so I managed to run a not-terrible 6:50 Mile 3, a 7:29 Mile 4, and a 6:59 Mile 5—despite the latter including a steep quarter-mile ascent before an even steeper and much longer descent, one I routinely hit speeds over 50 MPH on a bicycle without even trying.
The road then turned sharply and went over Bingham Hill and then another short hill, and my lungs were blown again. Fortunately, those were the final climbs, and then it was just a very gradual, five-mile descent on the Poudre Trail to the finish at New Belgium Brewery.
My whole body was fatigued and I could never quite get respiration down to a comfortable one-breath-every-three-steps count. I tried several times but was cognizant that my pace was 7:45/mile, or already slower than I liked. So I kept pushing as much as I could, even if that forced breathing back into a one-breath-per-two-steps pattern. This was very uncomfortable and the whole length of the Poudre Trail, my eyes squinted from the unease.
I continued running at that velocity and effort until a half-mile to get, when I increased the intensity again to beyond anaerobic threshold. Before the final turn with 100 meters to go, I went full sprint mode, crossing the finish line in 1:39:32. It was a little slower than I hoped but faster than 2014 by 63 seconds and "under 100 minutes," as Mike later pointed out.
After the race I ran into several friends, including Rhea. She was the very first person I met in Fort Collins when I moved here twelve years ago, as we were roommates for a couple months while I was looking for a home to buy.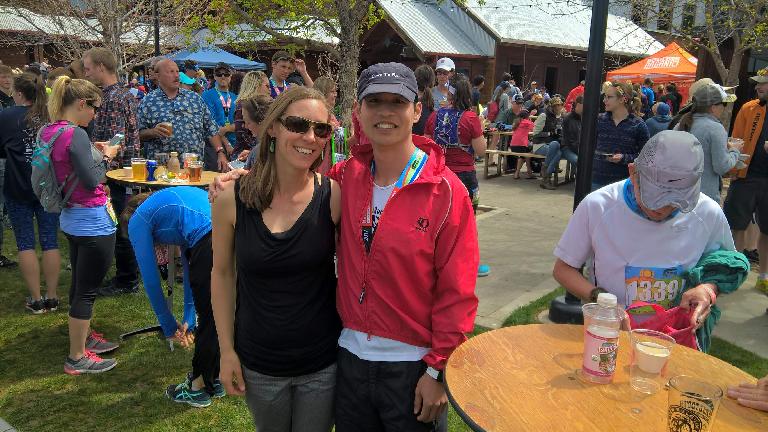 It may look like I was having a hard time smiling in this photo, but I was in fact thrilled to see her for the first time in years. It's just that I was so exhausted from basically redlining for an hour and forty minutes.
Despite having running several faster half marathons, I can't remember ever putting forth such a maxed-out effort throughout the whole distance. It was all I could do. No excuses.
Race Data
Final time: 1:39:32 (7:36/mile average)
Overall place: 141/1653
Division place: 18/97
Official results
Strava data

Video Recap
Here's a gorgeous recap featuring drone videography, with footage from AJ Cohen and Rob Raguet-Schofield. Video diting was done by AJ for Gnar Runners, which directed the event for the Fort Collins Running Club.
This year's race featured elite talent, including Ethiopian Abadi Gebrekidan (a 2:12 marathoner living in Aurora, Colorado), Tyler McCandless (a 2:15 marathoner from Boulder), and Scott Dahlberg of Fort Collins. They finished one, two, and three overall.