The other day I received a postcard from my friend Mike. From prison.
"All the times I've been through Rawlins and I've never stopped in!" it read.
I laughed after realizing that Mike hadn't done something illegal to land himself in jail. Instead, at some point he had acquired this postcard in Rawlins. He would later explain that he was sorting through his postcard collection, and decided to send me this one since I live closest to that town of anyone he knew.
Rawlins has something of a reputation of being the armpit of Wyoming, but I actually have some fond memories of it. It is located off of Interstate 80 about halfway through the state. So every time I have stopped by, it has offered some sort of reprieve.
In fact, I have stayed there for the night twice!
The first time was when moving my old MGB from California to Colorado. During that trip I got three flat tires and the engine lost a cylinder around Salt Lake City. Somehow I still made it to Colorado within 25 hours, but I did have to nap for several hours in the car in the parking lot of a gas station at midnight. I managed to sleep with the top down and under a bright light as shown in the photo below, go figure.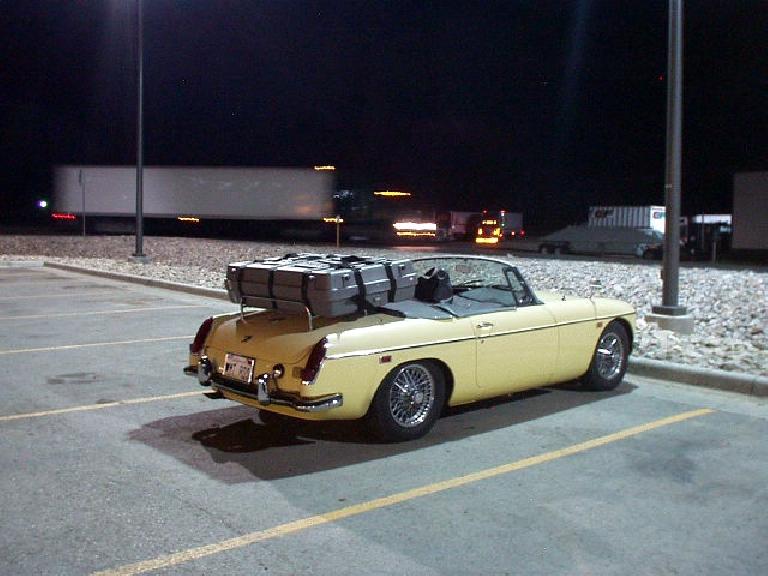 The second time was actually on my birthday in 2008. It was Day 14 of the Tour Divide self-supported mountain bike race and I had to ride 136 miles from Atlantic City, WY to Rawlins. Since I knew that would take me all day and that there would be no food, water, services or even a tree in the Great Divide Basin, I woke up at 4:00 a.m. and was on the trail before 5 a.m. This was the scenery all day: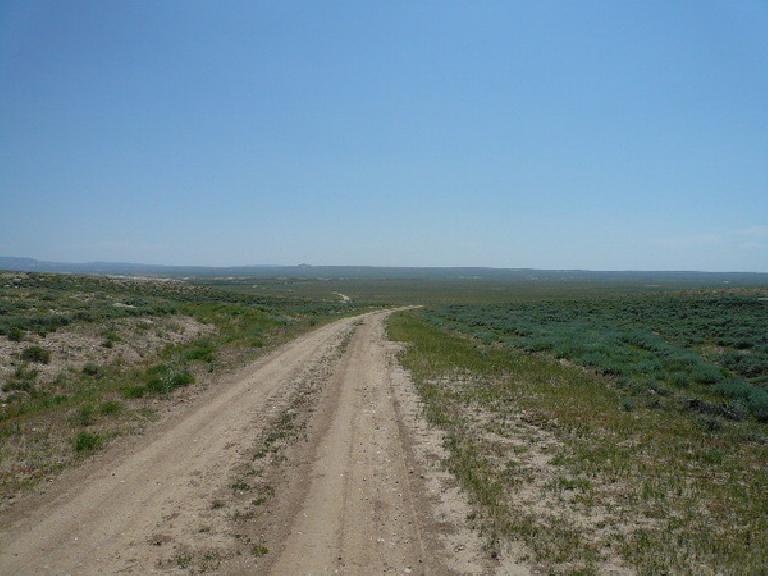 The whole day I felt extremely fatigued and lethargic, and I am fairly certain I was suffering from hyponatremia due to overhydrating the night before and not ingesting enough salt. Again, there were no services, so there was nothing I could do but keep plodding on. Eventually I realized I had an "emergency" can of Chef Boyardee in my pack that had about 1900 milligrams of sodium, so I ate that in the afternoon and was feeling much better a couple hours later.
I got to Rawlins at about 7 p.m. and checked into a motel that was next door to a gas station. Then I resupplied at the gas station and briefly celebrated my birthday with a Hostess Twinkie and a Twizzler licorice stick for the candle of a makeshift birthday cake before falling asleep.
I was very grateful for Rawlins' existence both nights I was there. The next time I'm in the area I'll have to check out the area more—maybe even stop by that historic prison.
March 25, 2021
I made another trip to Rawlins—my first road trip during the COVID pandemic—to get the first shot of the Moderna vaccine.
Unfortunately, the injection was botched. Also, I stopped by the wrong prison afterwards…