How (and Why) I Got Three Shots of the Moderna COVID Vaccine
It started with a text in late March from my buddy E.
"Amigo," he wrote as he has a habit of writing me in Spanish, including the next part. "If you want the vaccine, you can obtain it in Rawlins. I just got the Johnson & Johnson one!"
At the time, Colorado had not yet announced when the general population would be eligible for the vaccine, and as far as I could tell, it would probably be another five or six more weeks as the President had recently assured the public that any American would be able to get it by May 1. Meanwhile, my buddy assured me that in Rawlins, Wyoming they were giving the vaccine to anyone—including non-residents—because very few of the locals wanted it.
"Go to the website for City Market and make an appointment. There are many available appointments every single day!" I did so and he was totally right. Some mouse clicks later and I had an appointment for 10 a.m. less than 40 hours later. That would give me some time to prep my car for the 5.5-hour journey to/from Rawlins, including charging the battery; airing up the tires; checking fluid levels; and packing food, water, a blanket, a sleeping bag, portable phone charger, and a whole toolbox full of tools. During the last 12 months I had driven less than 350 miles total, so I thought this level of preparation was appropriate to ensure that not only would I make it to Rawlins in time for the shot but also not get stranded in cold, desolate Wyoming.
I needed to not worry so much. The Audi TT got me to the pharmacy with nearly an hour to spare. Since no one else was there to get a COVID shot, the friendly nurse there attended to me right away. Apparently she had driven an even farther distance than I did this morning, coming all the way from Aurora, Colorado!
A quick painless poke of the needle, a Spiderman bandage and an obligatory 15-minute post-injection wait later, I was back on the highway headed towards home. The return trip was as uneventful as the drive over, although I did look for the prison that my friend Mike sent me a postcard from last year. Apparently I found the wrong one.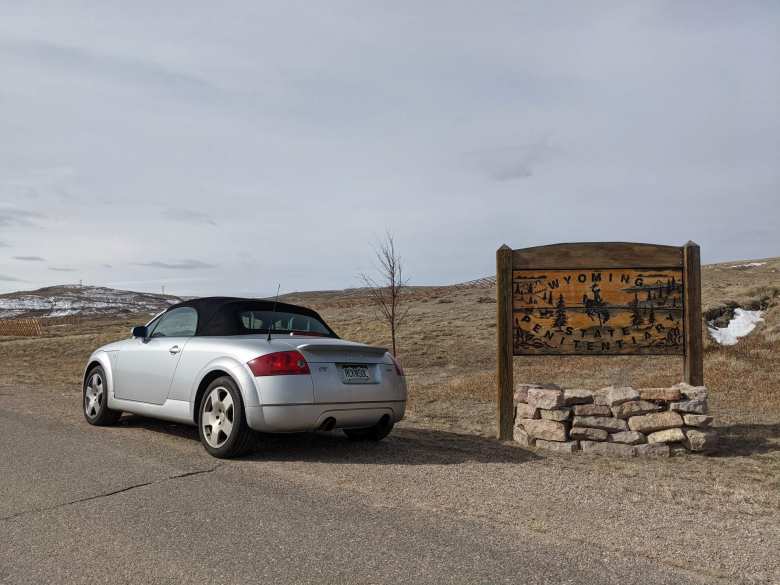 When I got back home, I took the nurse's advice to heart, which was to keep the arm that got the shot–the left one–moving in order to reduce soreness. I did this by cutting a couple tree branches that were broken in the snowpocalypse a few weeks ago.
Despite the tree sawing sans power tool taking over an hour-and-a-half, my arm was still sore for 2.5 days. But it wasn't bad—certainly not as sore as after, say, doing a Murph Challenge. It also meant that the Moderna vaccine was working!
Or so I thought.
Six days later, I received a phone call from a representative of City Market. It was one of those calls that began with, "I'm sorry to be the bearer of bad news…"
The call came the night before April first, but this was no April Fool's joke. It turned out the pharmacy on that day had given shots that were "mixed more than six hours in advance, outside of Moderna's guidelines." The representative didn't tell me how many more hours, but considering my appointment was at 10 a.m. and I'm sure no one was preparing the shot in the wee hours of the morning, one can safely deduce that the shot was mixed and stored sometime the previous day. Say, 20 hours in advance.
Whatever the case, the shot was considered invalid and Moderna had told the pharmacy that I should re-do the shot.
I was not mad at all. Firstly, the pharmacy had discovered the error, let me know about it and owned up to it.
Secondly, the pharmacy tried to rectify the mistake by arranging an appointment for another shot the next day in Fort Collins. City Market is part of The Kroger Company—America's largest supermarket chain—so they were able to tap its huge network of stores even in another state. Mercifully, I did not have to return to Rawlins.
Thirdly, as I am convinced the very first shot was worth at least half a dose, gauging by the soreness of my arm, I believed I would super-vaccinated with a total of 2.5 doses by the time this was all said and done.
Indeed, after the second first dose, I had side effects in line with what many folks who had gotten a real second dose of the Moderna COVID vaccine experienced. For the whole day after the shot, I had fatigue, chills, total body muscle soreness and brain fog, and was pretty much good for nothing that day. It kind of felt like I had just completed a half-Ironman triathlon, but with less mental clarity. I didn't bother to take any painkillers like Tylenol or Advil figuring that the symptoms would only last for a day or two.
Sure enough, the next morning, I woke up and felt like I was 98% back to normal. It was like magic: I was basically useless one day, and full of energy and health the next day.
The main thing I wondered was how bad the side effects going to be after the third shot, to be administered four weeks later? If the side effects were fairly severe after the second shot, it wouldn't be surprising if they were even worse after a third shot, yes?
So when April 29th rolled around and I got poked for a third time, I made sure to clear out my entire schedule for April 30th just in case I needed to rest all day. But when the next day rolled around, I experienced only a sore arm and a little bit of tiredness. I took a siesta in the early afternoon and woke up feeling completely normal.
The ending certainly seemed anti-climatic but that's the story of how I got three shots of the Moderna vaccine. A few friends even call me Super Antibody Man now.