Mainly Marathons Independence Series: Delaware
The New England Challenge a couple weeks ago demonstrated that I could recover from a marathon with only a few days rest and be able to run another decently. So when I saw that an organization called Mainly Marathons offered a marathon series that included two more states I hadn't run in—Delaware and New Jersey—within a four-day span, I signed up. Why not?
Not long after arriving at Lums Pond State Park for the Delaware 26.2-miler, it became quickly apparent there were some reasons why a seasoned marathon aficionado might want to pass on this series.
"For the first-timers here, we do things a little differently," said Daniel, the race director, in pre-race announcements. "Most people at our events are not doing them for time."
That single sentence resonated in my mind for most of the run. I even hesitate to call it a race because of all the factors below preventing optimal times:
The course was 0.82 miles out and 0.82 miles back. Repeat that a mind-numbing 16 times.
So many out-and backs mean there were 32 speed-sapping sharp U-turns to make. Actually, 48, because the beginning/end of each out-and-back was a J-hook section at the sole aid station, although that turn was less sharp.
To keep track of the laps involved, runners had to stop at a table and pick up a rubber band at the end of each lap. Yet more momentum was lost.
The 0.82-mile course included a 0.33-mile dirt section that was only wide enough for three people side-by-side. Many, maybe most, participants were walking with another person, and were not doing what Daniel suggested doing here: going single file. So it was sometimes hard to pass them especially if other joggers were coming the other way. Many of them were deaf to admonishments of "passing on your left" or "single file please."
There seemed to be more walkers than runners even though this was Day 1 of the series. So for anyone who was running, lots of passing and weaving had to be done.
No open containers were allowed at the aid stations. Each participant had to bring a bottle that could be refilled by the volunteers (and by the volunteers only). This was purportedly for COVID protocol—never mind there was no such rule at the New England Challenge despite being in a region where there were generally more COVID restrictions. The refilling process was slow and I probably lost at least 20-30 seconds with each refill.
Even though it was mandatory for the volunteers to do the refilling, it was obligatory for the participants to open up their own bottles. So I'd grab my bottle on the way into the aid station to unscrew the bottle top while still running… twice fumbling it onto the ground as I then tried to grab a rubber band mere yards later.
It was mandatory to wear a facemask (per race director decree) while waiting for the refill. This meant that you had to carry one with you and put it on and take it off if you intended to get a refill.
No awards were given, not even for first place overall. So probably even less people were motivated to give their best effort.
There were a few other factors that slowed me down as well.
The first was the weather. The East Coast was in the midst of a record-breaking heat wave. It also featured humidity over 90%. At least most of the race was shaded and by the time I finished the temperature was about 80 degrees Fahrenheit and not over 90 like it was a couple hours after.
The second were things of my own doing, such as forgetting to pack a singlet so I ended up having to wear a (warmer) T-shirt I wore onto the plane. Or getting confused about how to navigate the course, which had the race director yell "NO NO!" as I was grabbing a rubber band. I was confused as to why I shouldn't be grabbing a rubber band to indicate a completed first lap, but it turns out the race director was yelling "no" because I was about to run back out to the trail (and hence inadvertently cut the course by about 50 feet) instead of turning around and doing the J-hook. I was stopped for forty seconds to talk with the race director to clear up my confusion, which was a result of my own brain lapse.
A third factor was that unlike the other sub-3h45m marathons I've run this year, I tired and slowed down severely after Mile 20 instead of running even splits. Large positive splits can be indicative of poor pacing, training, large temperature swings (heat), dehydration or bonking. Since the previous races proved I was in good form and I think I drank and ate enough this morning, I probably started out too fast.
Lastly, with about a quarter-mile to go with a race… I tripped and fell on a tree root. I was on the ground for about 20 seconds as my legs then cramped up and my right arm was bloodied. The fall was hard enough that I yelled out a rare (for me) expletive and the Garmin even sent an incidence detection text message to an emergency contact. (Incidence detection also automatically stopped the watch, explaining the discrepancy between the official final time and Strava data.) At least I now know the Garmin's incidence detection feature does in fact work very well.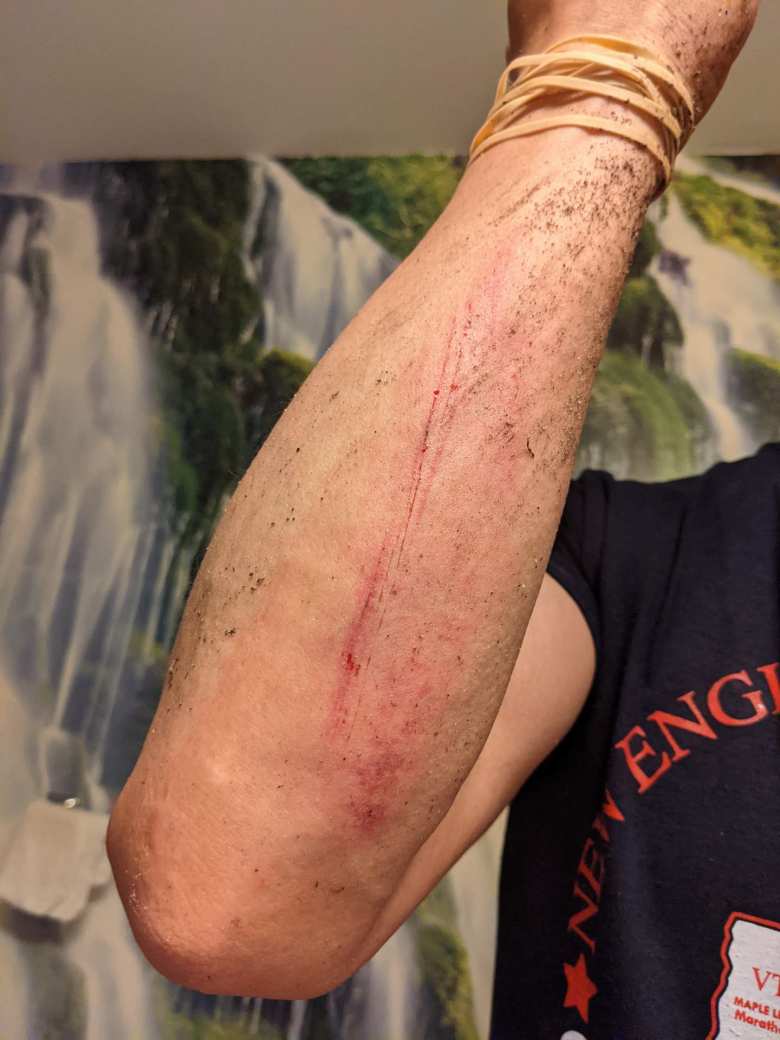 The fall was ironic considering how in the last race—the Conquer the Cove Trail Marathon in Virginia—I had sacrificed a lot of time being careful not to fall. Then, with a mere three minutes of running left, I tripped on what was perhaps the very last tree root I'd have to run over in marathons this year.
The trip and fall pretty much summed my performance that day and feelings about the event.
But there was a silver lining (other than being able to check Delaware off my 50 states marathon list). Despite all the time lost due to the 40-second timeout with the race director after Lap 1, the bottle cap fumbling, and the 20 seconds on the ground due to the fall, my time for the marathon was good enough for second place overall, a mere four seconds ahead of the person in third!
Or would have been if this was a bona fide race…
Run Data
First half: 1:46:XX
Second half: 1:56:XX
Final time: 3:43:25
Overall place: 2 / 65
Shoes: Lems Primal 2
Official Results