VaughanTown Aranjuez: Volunteering During a Pandemic
"I'll be doing this again for sure," I concluded when I wrote about my first experience volunteering at VaughanTown—an English immersion program in Spain—in 2013.
I was positive about that, but I never expected that it would be a whole eight years until I'd be a VaughanTown volunteer again. I certainly did not anticipate I'd be doing it in the middle of a pandemic. But as circumstances would have it, I would be in Spain for over three weeks anyhow, and six days in a low stress, everything-taken-care of environment, seemed like a safe way to partition that trip.
That turned out to be the case, with all food, lodging, and transportation between Madrid and Aranjuez taken care of, and of course, hours of engaging conversation in my native language. How many hours? Eighty in six days according to a certificate of appreciation that VaughanTown gave the volunteers at the end, but that may have been overcounting it a bit even when including the unsanctioned (but encouraged!) late night beers in town until the wee hours of the morning. Of course, so many hours together meant making many new friends.
The types of activities we did at VaughanTown Aranjuez were similar to those at the now-defunct VaughanTown Valdelavilla I did so many years ago, including one-on-ones (conversing with a Spaniard in English for an hour), group activities, Entertainment Hour (although it wasn't called that back in 2013), and breakfasts, lunches, and dinners. Therefore, I will devote this post to outlining the effects of the pandemic on the program and about Aranjuez itself.
COVID-19 Impact on VaughanTown Aranjuez
The traditional pre-program Tapas Reception that would occur on Saturday night was cancelled due to COVID.
Shortly after meeting at the Vaughan headquarters in Madrid on Sunday morning, everyone had to take a rapid antigen test on site. This was quick and painless and involved a technician swabbing the inside of our nostrils and running a test. Within 45 minutes of testing, everyone was confirmed COVID free and we hopped on a comfortable, air-conditioned bus for a 45-minute ride south to Aranjuez.
Wearing facemasks was mandatory inside any building with other people. Since we were usually inside the NH Collection Palacio de Aranjuez Hotel, this meant wearing a facemask all the time unless we were inside our rooms or eating in the dining room.
Estef, the VaughanTown Program Director, took our temperature using an handheld infrared device twice a day.
If we were chatting outdoors, facemasks were not mandatory but encouraged along with maintaining six feet of distance.
Breakfasts were an "attended buffet" where you lined up and told staff what foods you would like, and they were serve them to you.
Because of COVID-19 and its effect on travel, there were fewer volunteers: only six. So there were fewer students (11) as well to maintain a good volunteer-student ratio. Accordingly, instead of this being a true VaughanTown, the program was changed to a "50/50" VaughanTown, with some of the time (less than 50%) being formal English classes for the students taught by two English teachers. The classes, which the volunteers didn't need to attend, had the effect of giving the volunteers more free time than if this was true VaughanTown.
Aranjuez
Aranjuez is a town of about 60,000 people with the Tagus River going through a beautiful royal palace that was built in the 16th century. The NH Hotel that we stayed at was across the street from this Palace!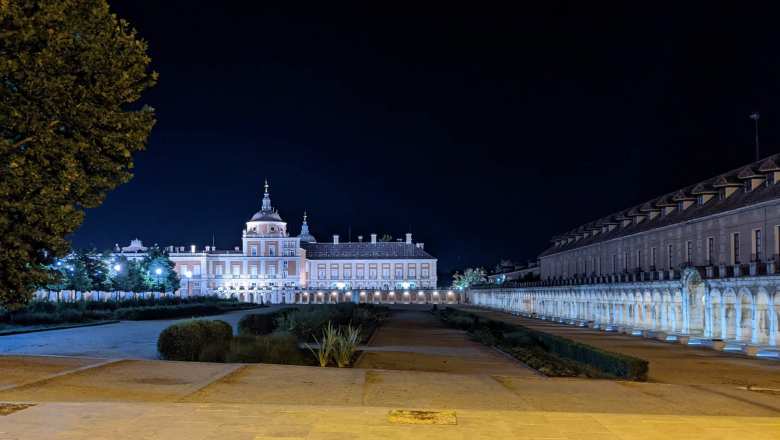 As the program was in the middle of July, it was frequently hot (around 35 degrees centigrade or 95 degrees Fahrenheit) during the day. However, this made for comfortable nights, including when a bunch of us would go for a short stroll to the center of town for some beers after dinner from 10:30 p.m. onwards.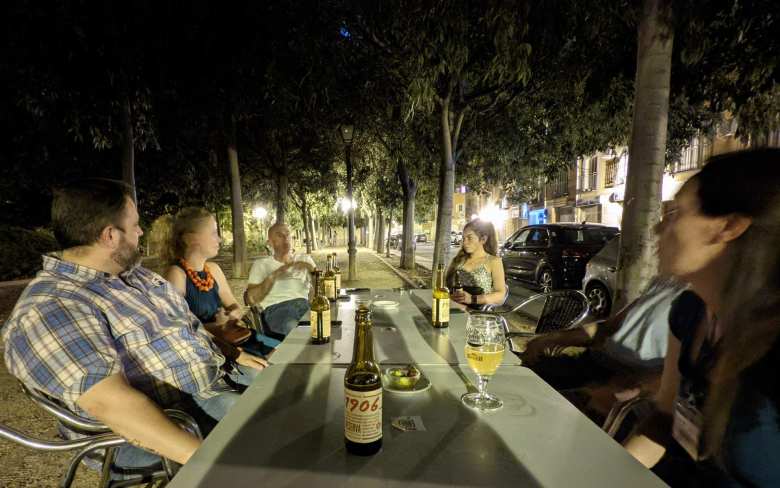 It also was comfortable enough to go for a stroll during morning one-on-ones.
I also ran a few miles three mornings, twice with Manuel C. who had run a marathon in San Sebastian seven years ago in 3h30m and was my age. We had some traffic to contend with, but nothing like in a big city like Madrid.
The Participants
Of the volunteers, we had three Brits, one Spaniard who was fluent in English, and two Americans including myself. There was a 50/50 mix of men and women among the volunteers.
There were eleven students. Most were men in the 40s, but there were two women in their 30s and a guy in his mid-20s.
The people here were highly accomplished and a delight to talk to. Almost all Vaughan students were professionals looking to further their careers.
We had a guy doing humanitarian work with the Red Cross and had lived in many countries including several dangerous ones, an HR rep, a civil engineer now doing project management, three people working in Information Technology, an owner of a luxury goods manufacturer, and a data analyst. Two of the men were married to doctors. A few were parents, including one who is a new father of a son from an American surrogate mother.
Most of them had several hobbies, including motorcycling, bicycling (several were Zwift enthusiasts), running, rock climbing, sailing, scuba diving, kitesurfing, snowboarding, and boxing.
Among the volunteers, we had several teachers on summer break.
You can imagine we had a lot of great conversations and fun times!