When Steve, the current owner of my former MGB who lives the Canadian province of Quebec, sent me a holiday card, I wondered what I could send him in return. Surely I could send him some photos of the car under my ownership, I thought, especially since he still hasn't embraced the era of smartphones, texting, and email, it seems. But what else?
I just so happened to be cleaning out my home office when I came across the original 1969 MGB handbook (owner's manual). Aha, that's certainly something to throw in the package.
While I was at it, I might as well throw in the wood aftermarket MG gearshift knob I used for many years.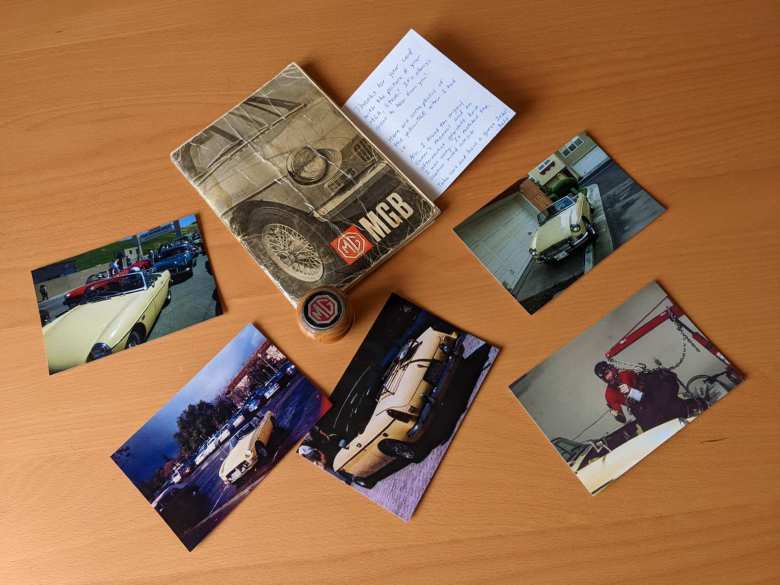 Why did I even keep these items in the first place when they obviously would be no use to me, not having the MGB for 15 years now? Simple: nostalgia. Despite being a minimalist, I succumbed to hanging on to useless memorabilia solely for the sentiments that they evoke. Never mind that I have thought of, touched, or looked at either of those items probably less than a dozen times in those 15 years. Such inability to let go of possessions is referred to as the endowment effect.
Nowadays, however, I am content to just keep digital photos of such memorabilia. They take up no physical space, are accessible from anywhere at practically any time (thanks to the cloud) and are more than adequate "reminders." So I just snapped a couple photos with my phone, scanned the original handbook to a PDF file (17.8 MB), and shipped the items over to Steve, who could likely better use or appreciate the actual items.
The same logic applied to another item that had been gathering dust in a closet for way too long: the bicycle carrier I designed and manufactured for the MGB while back at Stanford.
Obviously, it was of no use to me now and was just taking up space and adding to clutter. I only kept it since it was one of the cool things I created in my lifetime. It would be better, I thought, if someone who still owned a car that the bike rack was compatible with could actually use it. And so I thought of my friend Mike.
Mike is a friend from the MG Owner's Club in the San Francisco Bay Area. While he doesn't own an MGB, he does own an MGA with an identical luggage rack that my contraption attaches to. I even wrote about one of his cross-country adventures in the said 'A a few years ago. Moreover, he is a bicycle enthusiast, being the owner of a Bruce Gordon Rock & Road semi-custom touring bike and having done a lot of bicycle tours.
I asked him if he'd be interested in having the bicycle carrier or knew someone who would be. Happily, he answered the former in the positive and also said if it does not work well with his MGA, he would make it a prize at some MGOC event. So I shipped it out to him at the same time I shipped Steve the MG handbook, gear shift knob, and photos.
Now one of the last physical reminders I have of the 1969 MGB is an MG sign.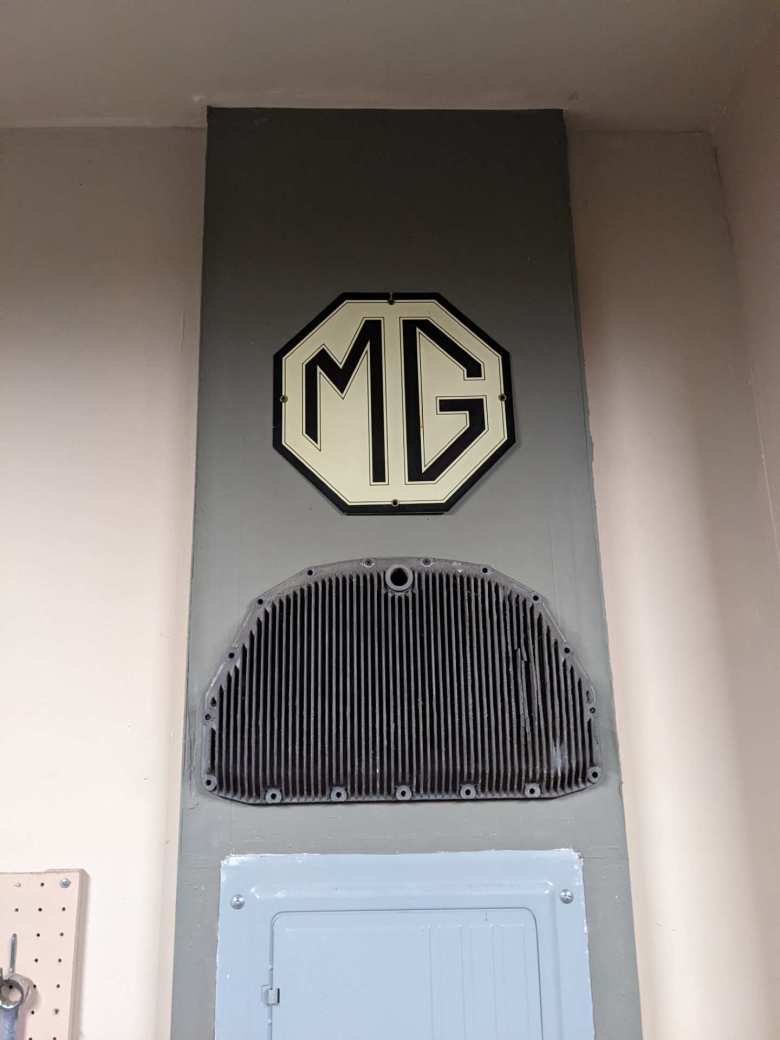 It was given to me as a gift by some coworkers at Stanford on my 21st birthday and remains a good piece of decoration for the garage. I remember what year it was because they asked me if I wanted to go out and drink on the first day I could legally do so, but I replied in the negative. I'm not sure if they were disappointed that I declined, but I hope they knew how much I appreciated both the gift and the offer to go out. The sign would grace a door in my former Fremont home and then the garage of my Fort Collins home. They probably did not imagine at the time it would still be on one of my walls 26 years later.
The other physical reminder is a scale model of ol' Goldie: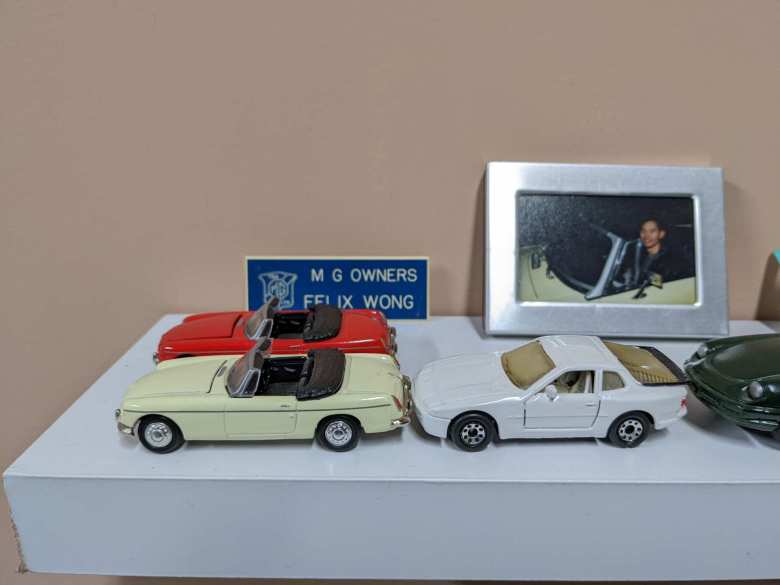 Of course, the ultimate memorabilia for me are the photos and stories I have posted here in this blog. It was the reason I created this website in the first place.
Original 1969 MGB Handbook (Owner's Manual)