Two years. That's how long it's been since I've done a race in Fort Collins—excluding the virtual variety.
That's not to say I hadn't been running. In fact, in 2021 I ran nine marathons and one half-marathon, including one of each in Spain. But in October through November, I had a mysterious calf strain that, while minor, kept me from running much out of an abundance of caution. Although that totally healed, I haven't run a distance longer than three or four miles since then. The only high-intensity workouts I had done involved 30-second sprints.
Hence, I tried to think of this Tortoise & Hare event—a Fort Collins race where slower runners start first and faster ones start later, based on predicted time determined by an algorithm I developed—as a tempo training run. The first one of 2022.
Since this was my first T&H race in two years, I actually had to predict my own time instead of have my computer script calculate it. The time I submitted was 21:55.
Then I started the race running at an unheroic pace, knowing that if I started to have to breathe hard too soon, not only was I going to suffer, but so would my time.
As it turned out, looking at my splits my pacing was good and even—except for a half-kilometer stretch that was covered with snow and ice. Not only was it slippery, but it was congested with other runners without much room to maneuver. I played it safe, made no passes, and basically just tried to ensure I didn't take a tumble in my Puma H. Street shoes that are traction-challenged on the white stuff.
At least I had enough energy to speed up in the last 300 meters. Final time: 22:11. Not too horrible.
In fact, it was one second faster than the very first five-kilometer race I did back in 1995! It also equaled another I did in Palo Alto in 1996. So in that context, it was satisfactory considering I am 26 years older now.
In addition, a quick calculation revealed that I lost about 30 seconds over the snowy section versus if I had been able to maintain the same pace I had been running before turning onto it. So maybe today was more like a 21:41 effort.
After the race, I talked with my friend Nick, who has been the long-time director of the Tortoise & Hare Series. I mentioned it may be another one or two years until I'm at a T&H again.
"We'll likely still be here," he said.
Whether I can still do times I was finishing in back in 1995 is probably less probable, but it will be something to shoot for regardless.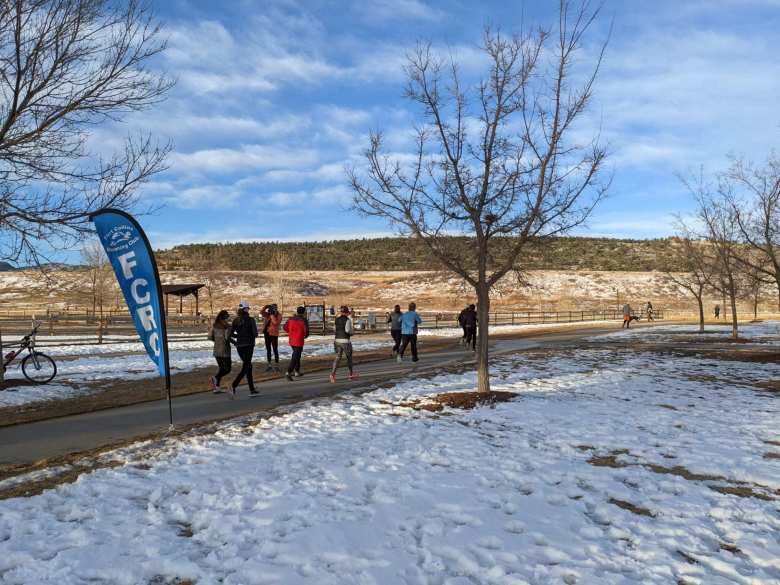 Race Data
Final time: 22:11 (7:08/mile)
Official results