Fort Collins Thanksgiving Run
Those who know me understand I have a policy of "never doing a race more than once or twice because life is too short to be doing the same things over and over again." But the Fort Collins Thanksgiving Run is a race I have done the last three years in a row now, it being the largest so-called "turkey trot" in Northern Colorado and held downtown just a ten-minute drive from home.
In addition, it's always something of a social gathering when a bunch of my friends seemingly come out before gorging on turkey and cranberry sauce later in the day. This year I even managed to get Tori to come out to spectate and hang out with our friend Dana. "The Starry Night Café is just across from the finish line," I told my favorite coffee aficionado, sort of like a fisherman trying to lure trout with a juicy worm. "You could stay warm and enjoy a cup of coffee while we run."
Meanwhile, I jogged 'round and 'round Old Town with my buddy Nick (Dana's husband), warming up on this not-too-cold 38-degree morning. My goals for the race were modest, mainly wanting to see where my running fitness was at (having only started running again about a month before) and, ideally, finishing under 27 minutes for the four-mile race so as to not be too much slower than the last two years. Nick, on the other hand, was trying to win one of the pumpkin and apple pies awarded to the top three finishers in each age group.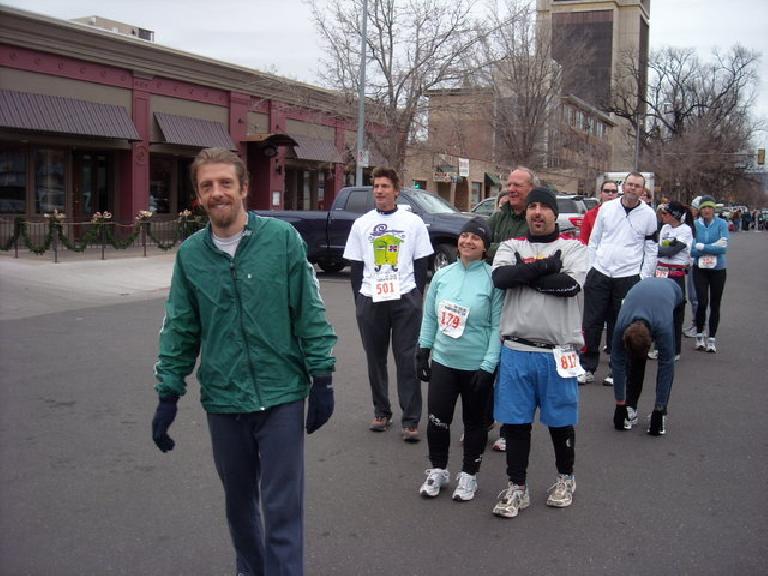 It turned out that only one of us would achieve our goals for the day—me, by virtue of aiming low. But this is not to say my race was as spectacular as a space shuttle launch.
Right from the start, it seemed like the entire uber-fit population of Fort Collins was passing me. Next time I start in a race of 2,400 people, I think I should start a little further back than the third row. Maybe like the tenth.
I was determined to run conservatively for at least the first two miles, even if this meant being passed by a guy running with his dog wearing a cape. I clicked my watch after the first mile for a 6:19 mile split, which I was pleased to see but suspected it was too fast. Therefore, the second mile I consciously slowed, but perhaps by too much as that resulted in a 7:08 split.
By that point I also realized something that Nick would also remark to Dana, Tori and I after the race: "Man, there were a lot of fast women in this race!" I actually used that as motivation and every time I was passed by a member of the fairer sex, I tried to keep up with her. But the operating word here is "try" because I was about as successful as the Detroit Lions. It seemed like every 30 seconds a pony-tailed girl would pass me, I'd keep up for about five seconds before getting dropped, and then I'd think, "ok, next!"
At Mile 3, there still weren't any women in front I could actually keep up with, but then coming up quickly behind me was someone breathing very loudly—my friend Pete! When he passed I looked at him saying "good job," and then ran a couple meters behind him the rest of the way. Finally, I had a good pacer. My ab muscles were as tight as a C-clamp by that point due to the deep breathing I was doing, legs feeling strained.
As the final corner indicating just a couple hundred meters to go came and I attempted to commence my trademark sprint. But my sprint turned out to be more like Wile E. Coyote's than the Road Runner's, and by the time I crossed the finish line and punched the stop button on my watch, I was just happy to be done.
But one wouldn't have known it by watching me come down the finishing straight.
"Your eyes were closed when you were coming in!" Dana observed later, alluding to the closed-eye grimace I wore 100 meters down College Avenue.
"Yeah, I was like, 'how can he see?'" Tori teased.
So apparently, I had completely forgotten one of my cardinal rules of racing: even if you aren't feeling well during the race, at least try to look good at the end.
Nick, on the other hand, had a much better race, blazing in with a chip time of 23:24. But in contrast to my friend Diana who amazingly won her age group, he finished one spot out of the pies.
Oh well, there's always next year. After all, this has become something of a Thanksgiving tradition, a race I think I will continue doing over and over. But next time, I'll be finishing with my eyes wide open, thank you.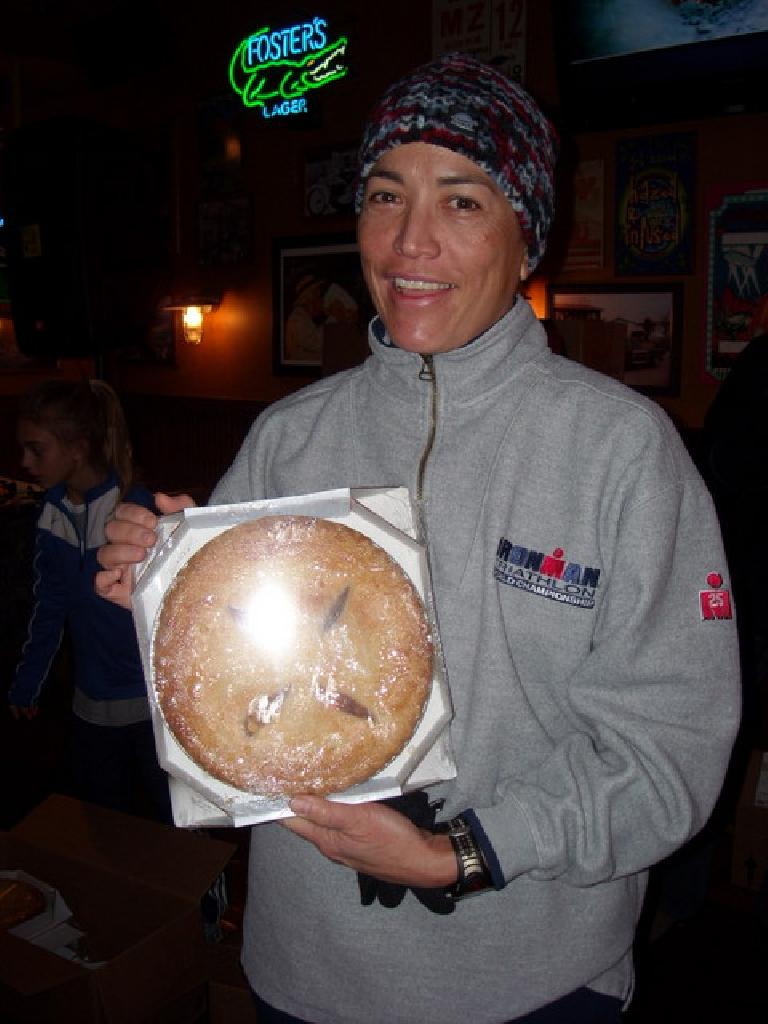 Time Splits
Mile 1: 6:20
Mile 2: 7:08
Mile 3: 6:22
Mile 4: 6:53
Total time: 26:42 (6:41/mi)
Temperature: 38 degrees, warm enough to wear shorts, thin socks and gloves, a headband and long-sleeve shirt. It was probably warm enough to be wearing a singlet and arm warmers instead.