I've had some banner bicycling years in recent memory (e.g., 2003, 2008), but 2011 will likely go down as a top candidate for "most memorable in my lifetime." Not only did I do bucket list-worthy ultra-endurance events such as a full Colorado Brevet Series, Boston-Montreal-Boston, and the Furnace Creek 508, but they were done on soul-stirring bicycles such as my faithful Cannondale 3.0, the Super Bike, and a magical 1984 French Gitane. And how could I forget the Crew Goddesses for the FC508? I still have to do a full writeup for the latter…
There were also some super-fun shorter events thrown in for good measure, such as de Klassieke Ronde and the Hal-o-ween Adventure Challenge Scavenger Race. And so to commemorate the end of a great year, I thought another short fun ride was in order.
I rode over to the south end of town to meet up with my friend Dave and his "new" bike. My steed of choice? The steel Gitane and its 27-year-old components. With its Furnace Creek 508 victory and divisional course record, it earned my pick above the rest of the bikes in the Garage Mahal. Plus I wanted to ride the magical French bicycle one last time before I start restoring her to showroom condition, a project that's bound to be a labor of love for 2012.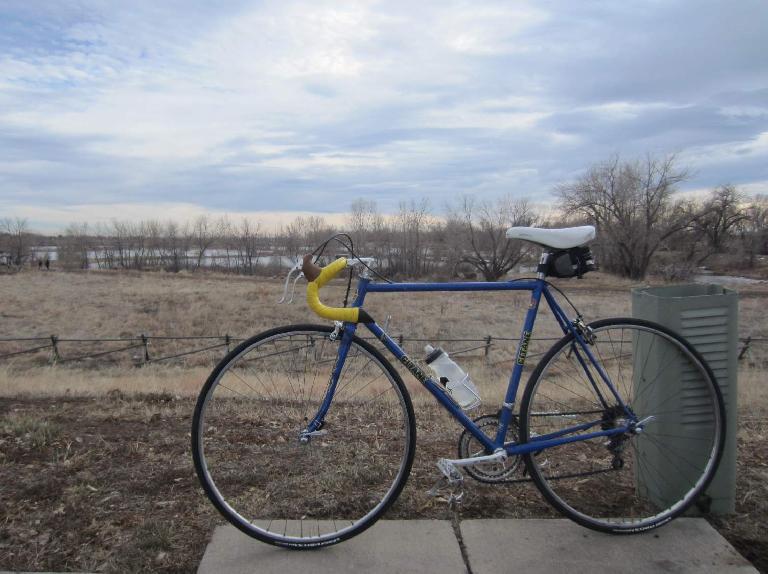 On the way to Dave's, I stopped at Kelly's home to see if I could drag her out. Happily, she agreed to ride over with me to Dave's. We couldn't find Kelly's helmet but since Dave lives really close, I let that precaution slide.
As it turned out, Kelly decided to ride with us all the way up to the east Horsetooth dam. This included Fort Collins' steepest hill, which she creditably managed to crest in jeans and sneakers.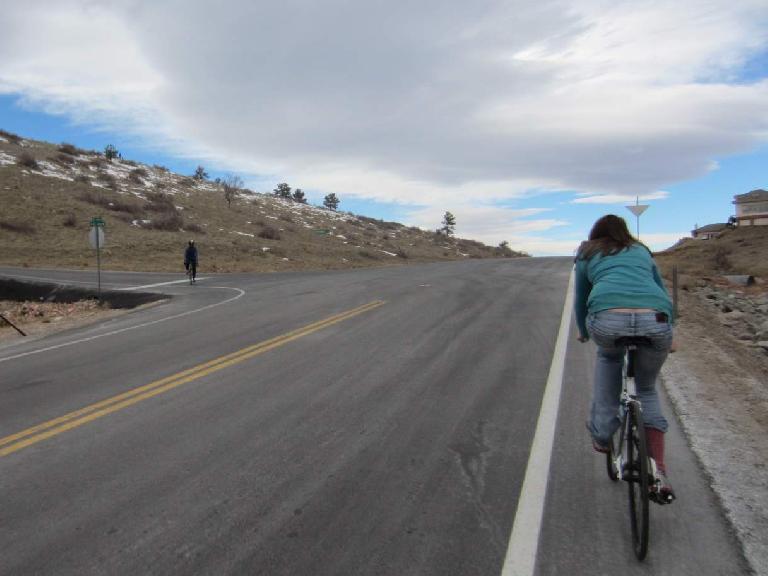 Then we rode back, enabling Dave to get back home for a conference call in time.
We all agreed this was a nice lunchtime ride, especially with the temperatures nearly hitting 60 degrees. For me, it was a poignant way to punctuate the best bicycling year ever. I have no plans to make 2012 a similar banner year, but it will contain many short, fun, health-promoting rides with a sweetie and good friends for sure.