My Custom MGB Bike Rack Adapted for an MGA!
As a minimalist, one habit I've tried to stick to is to sell or give away items that I hadn't used in a year. That way, the objects can benefit other people. They also won't add to my clutter or maintenance responsibilities.
It is a mystery, then, why I still had a bicycle rack for an MGB in 2022. Not just any MGB, mind you, but a 1969 roadster that I sold 15 years ago. That sports car had a specific type of luggage rack. The bike carrier wouldn't work so well with, say, a 1976 model. I know this because back in 1996, my friend Melissa had lent me the luggage rack from her rubber-bumper MGB, and it wouldn't work without modification.
The best rationale I can give for allowing that aluminum folding contraption to accumulate dust in a closet is nostalgia. It was a project for my Mechanical Engineering 103 class at Stanford. I designed it from imagination and built it with my own hands. Moreover, it shuttled my bicycles to centuries and double centuries on that little British roadster. It survived over 6000 miles of driving.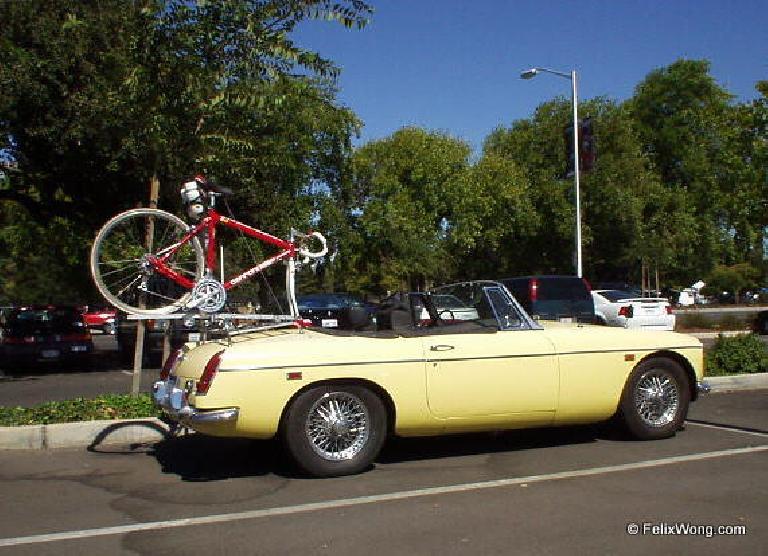 But a pending move to Spain motivated me to do a massive house cleanup. Months before relocating, I went through every square inch of my Colorado home making snap judgments about what I truly needed to keep. There was no question that this bike rack had to go. But at the same time, I didn't want to junk it.
I wondered if any of my old friends from the MG Owner's Club (MGOC) of Northern California would like to have it. I reached out to my friend Mike, who has a penchant for doing road trips by car and bike. Happily, he was keen on trying it with his MGA.
"Please ship the bicycle rack to us," he wrote. "It should fit my MGA's rack, though since the MGA's deck lid slopes down, I don't know where the bike's rear tire will end up—the license plate might be in the way. If I can't make it work, it will become a prize at some MGOC event."
I shipped it to Mike a few days later. But not before taking some final photos of it: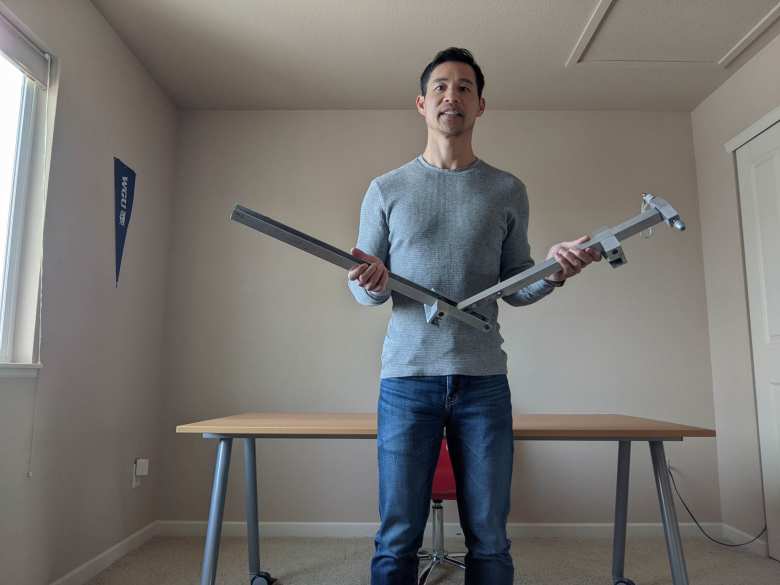 and finding a perfect carrying case: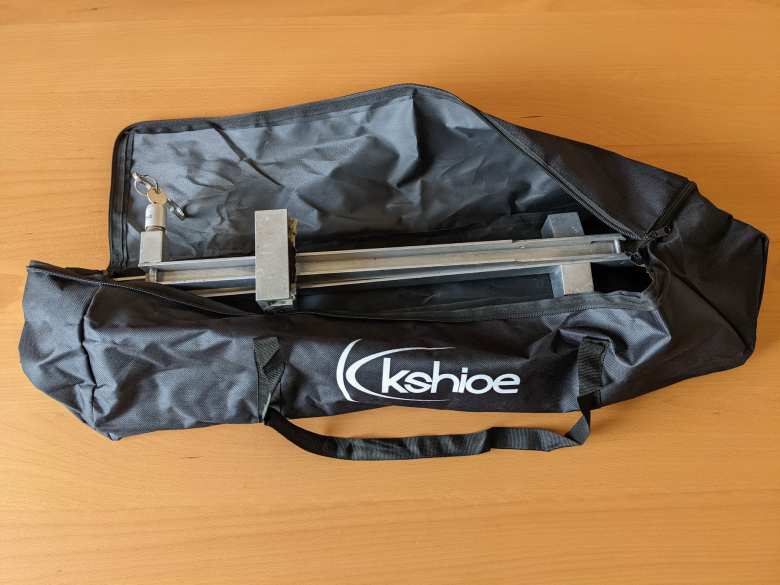 Mike got it a few days later and immediately gave it a try with his MGA. He reported,
The rack arrived! I tried to fit it onto the MGA and discovered that it's not adjustable. I did get it on the car:

But I cheated to do it, by removing a bolt:


Photo by Mike Jacobsen

My custom bicycle carrier on Mike's MGA.

I also had to take out a lot of the padding/shim material before I could slide the rack onto the luggage rack rails. My luggage rack's rails must be a larger diameter than Goldie's.


Photo by Mike Jacobsen

The MGA's luggage rack was about an inch longer than my MGB's. Ultimately, Mike drilled another hole in the bicycle carrier so it would work with the MGA.

I could change the hole for the bolt I removed into a slot or maybe make a smaller radius at the pivoting end of the inner piece so that I could scoot it down the little bit I need, but there's no point. After messing with all this, I realized that both my bikes have tire/wheel combos that won't fit in the rack channel! I'll leave it alone and have it as a raffle prize or something for the MGOC.

Thanks for sending it out. It's still a cool bit of kit.
To fit his wider wheels, I suggested adding a wider piece of c-channel section, illustrated below.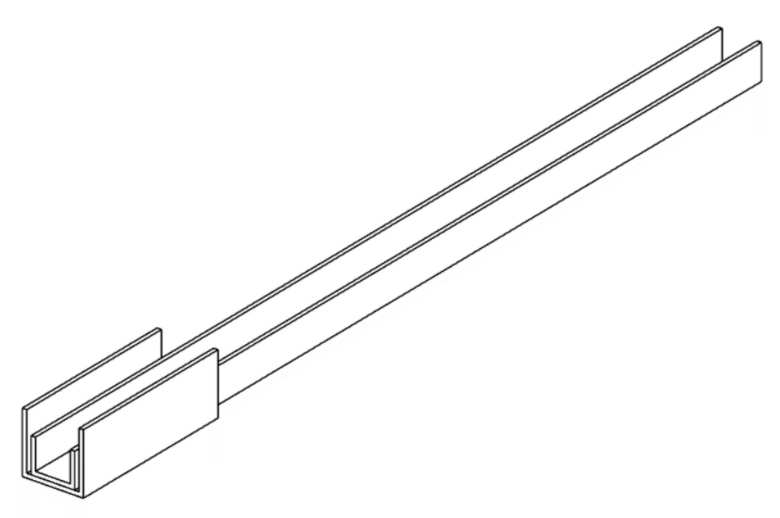 Mike concurred with the solution but then realized there was another problem. His bicycles were longer than the carrier!
Today I got started on adjusting the bike rack's length so that it fit more securely on my luggage rack's crossbars. I got it on where I wanted it and then marked where the new pivot bolt hole would be.

But then I looked at it again and thought it seemed short. I measured the distance from the skewer to the end of the channel: 41″. Then I measured the distance from my bike's fork tips to the bottom of the rear wheel: 43.5″. My bike won't fit without replacing the rear channel section with a longer piece!

Touring bikes have long wheelbases so that your heels don't hit the rear bags and that seems to have worked against me here.

I might go ahead and modify the rack to that it will fit both kinds of luggage racks, but I'm not going to extend the rear channel. Realistically, I'm not likely to take the bike anywhere on the MGA when I have a hatchback that I can pitch the bike into and have it locked inside the car.
So it was decided: he would drill another hole in the bicycle carrier so it would work with an MGA luggage rack, but he would find a new home for it.
Happily, our friend Dan Shockey was interested in it. Like Mike, he also has an MGA, albeit the coupe. He also has a 1935 MG P-type roadster.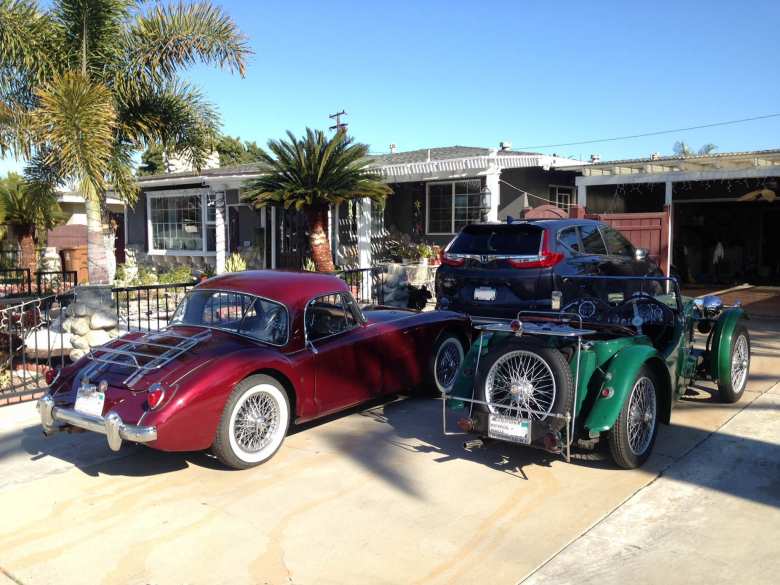 Dan hasn't had a chance to use the bike rack for anything. I don't expect him to for a while. But thanks to the modifications that Mike made, it should work with Dan's MGA.
I wonder if it could work with the P-type?
If not, maybe Dan could employ his method to carry a bicycle on his Triumph TR3 in college: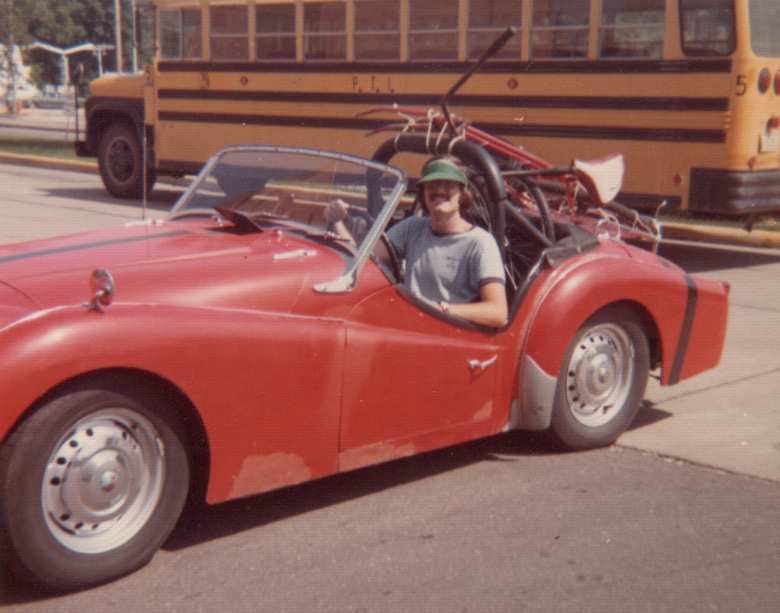 He said the bike served as "backup transportation in case of a breakdown." I concur. With any vintage British sports car, a bicycle on the rack is probably even more essential than a spare tire.