Back in a British Sports Car: the MINI John Cooper Works Convertible
I was in front of the SiXT rental car counter at SFO for at least half an hour when I realized that the agent behind it was a really good conversationalist. Speaking with an Indian accent, we had already talked about subjects ranging from engineering to sports cars to living in Spain. Yes, he was trying to fill the time while we waited for his coworkers to prep a particular rental car that I had deemed "worth the wait." But it was a pleasant contrast to my experience at Hertz in Kauai, Hawaii when I needed to wait for an employee to finish her smoke break so that I could trade their rental car for something that did not have a broken transmission.
My SiXT reservation was for a MINI John Cooper Works edition coupe. I had found a Really Good Deal on Expedia a couple of months before, and this was a car that I was potentially interested in owning one day in Spain. Or, at least the convertible version, I mentioned off-handedly to the friendly agent.
"We actually have the convertible," he replied, "and it could be ready more quickly than the coupe. Let me see if I can get that for you instead."
The man got on the phone and confirmed he could get one. It would cost extra, of course, but I managed to negotiate down the premium. It was simply too good of an opportunity to pass up.
I was back in a British sports car again, in California, no less. For a few days, at least. Ever since selling my college car, a 1969 MGB dubbed Goldie that I owned for 12 years, back in 2007, I had not driven anything that came from the land of Winston Churchill and the Union Jack. Despite the B's oil leaks, electrical woes, and propensity to demand some sort of mechanical attention every few weeks, I loved that roadster. Many, if not most, of the memories of my 20s, are inextricably linked to the MG in one way or another. I only sold it after committing to a more environmentally friendly and lower-maintenance lifestyle.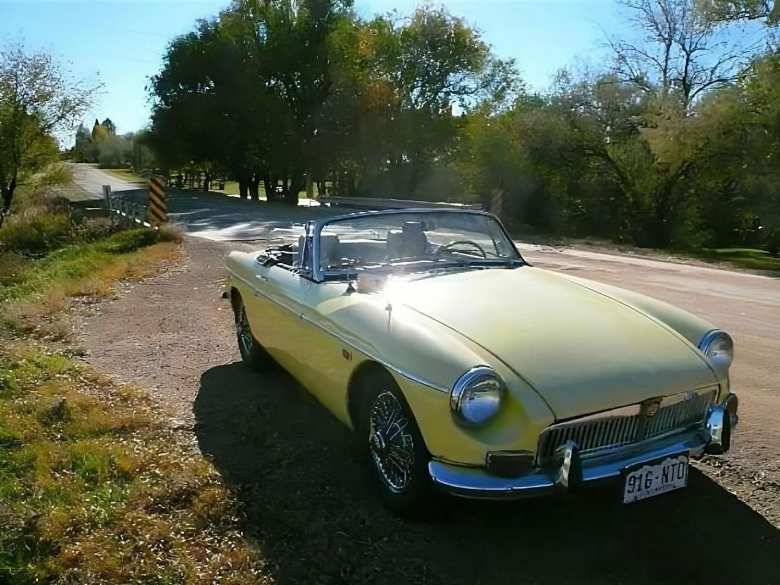 The MINI, while of British heritage (but under BMW ownership), was different from the B. It didn't drip dino juice. Modern manufacturing methods meant that everything stayed intact while the MINI moseyed down the motorway. No one made jokes about warm British beer and Lucas refrigerators whenever I stepped out of the car.
Hilariously, the MINI was even shorter than the MGB–at least lengthwise (152 versus 158 inches). But I wasn't laughing when it was time to load both Andrea's large suitcase and my luggage into the car. Instead, I was astonished. It all fit.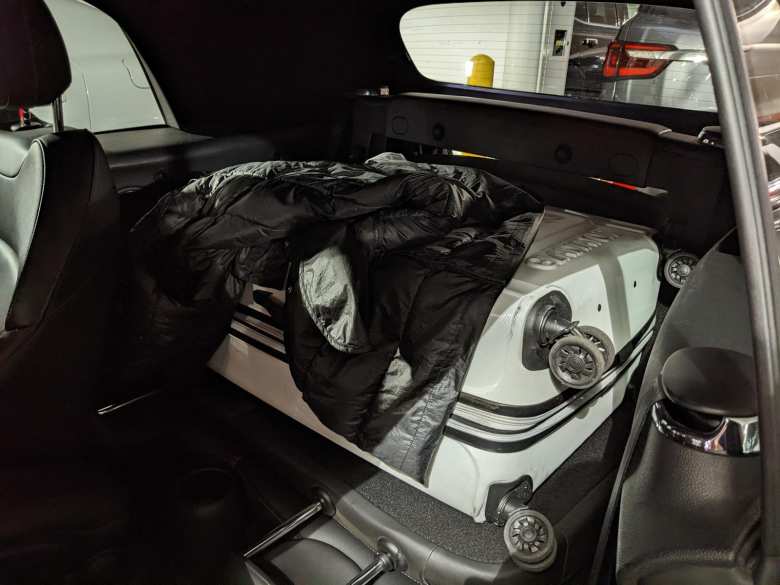 Andrea's suitcase was the same one that would not fit inside my Audi TT Roadster last November without needing to tie down the trunk. (If the Audi had to carry my luggage too, Andrea would have needed to hold it in her lap.) In the MINI, there was lots of space with the rear seats folded down. Granted, I had to bring the suitcase inside the car through the passenger door instead of the trunk.
Or maybe I didn't. Later on, I learned about the MINI's ingenious EasyLoad bars which would have enlargened the rear opening of the Cabrio. They might have enabled me to insert the suitcase through the trunk, even with the top up. Whatever the case, it was mindboggling that such a small sports car could hold so much stuff.
Heading into the city of San Francisco played to the strength of the car's size. It was fun to zip around traffic and even parallel park. Eventually, at a fancy condo that a wealthy friend had very generously lent us, we had to get valet parking. But even there, the elegantly pin-striped, black finish did not seem out of place in such high-end lodgings.
What was more jarring was the rock-hard suspension. Every time we encountered an imperfection in the road, the whole chassis shuddered. The worst bumps in the pavement made the car emit a thunk like an accident had just occurred. They often made me reflexively make an "ugh" noise, something in between "oh" and "ouch!"
I assumed it was because of the John Cooper Works race-car-like tune of the car. But I told my friend Tori about this, and she assured me that the suspension of her John Cooper Works MINI Countryman wasn't that stiff.
Whatever the case, it was forgivable because the car was so dang fun to drive. I had never driven a front-wheel-drive vehicle that was so direct and engaging. You could feel the grain of the road through the leather steering wheel, and the steering was quicker than anything short of a go-kart. I had to concede that the MINI was even more fun to drive than my Audi TT and the majority of rear-wheel-drive sports cars that I had.
This MINI, then, was perfect for a drive through Yosemite Valley, which my dad had brilliantly suggested a few days later. Here I got good use out of paddle shifters, which confirmed that dual-clutch automated manual transmissions can be almost as fun as the true row-it-yourself type.
We kept the top up en route to this place that was a favorite of Amsel Adams, aside from a few instances where I experimented with "sunroof mode." Yes, the MINI Cabrio's top can be opened just enough to mimic a sun- or moonroof. I've never seen this ingenious feature before on a convertible.
It wasn't until we entered the valley that I dropped the top fully, allowing the rays of the September sun and air scented with Yosemite pine to envelop us. Unfortunately, it revealed the car's most glaring flaw in what had otherwise been a near-perfect, iconic design.
The top perched in the lowered position almost completely obscured the view to the rear. Using the center rear-view mirror, I could not see following cars that were any shorter than a compact SUV. A Toyota Corolla, for example, that was immediately behind me was entirely invisible.
This was unnerving until I realized it was no different than riding a motorcycle. Like on a moto, I'd have to use the side mirrors instead. I suppose that it was also much better than, say, my bicycles that have a tiny bar-end mirror to see what is behind me without having to crank my head all the way around.
Still, I wish there was a way to look directly behind instead of having to use the side mirrors to sense if there was something in the massive rearward blind spot. Was there a way, for example, to actuate the rear-view camera while driving forward?
It's something I will look more into, especially since the week's rental of the MINI Cabrio only confirmed that it is a strong contender for a car I'd like to own in Europe. I can only imagine that this British car would be an absolute delight to drive through the winding roads of Galicia, Spain–especially with a manual transmission.
Pros
Very fun to drive with go-kart-like steering and handling.
Lots of space for a sports car.
Easy to park due to the short exterior.
Fun, stylish interior.
Economical in regards to gas mileage, initial purchase price, and resale value.
Innovative features like sunroof mode and Easy Load.
Fits four people better than some sloped-roof coupes like the Chevrolet Camaro or Ford Mustang.
Iconic, timeless design.
Cons
The convertible top in the stowed position obscures rearward vision.
The suspension, at least on the John Cooper Works edition, is very harsh.