"Well, I sold the Alfa today," I told Tori after she asked me what was new.
Yes, it's true. This was something of a foregone conclusion the moment I purchased the Audi TT Roadster in January, but I waited to list the car on Craigslist until the summer—a better time to sell a convertible. And as I watched Elaina, the '91 Foglio Green Alfa Romeo Spider Veloce, drive away from my house one last time, I reflected upon my time with her over the last six years. That's how long she's graced the garages of my homes or—for a few transitional months in 2005—was my home.
My desire to own an Alfa actually goes back much farther than the shameful George W. Bush years. Try 18 years ago—back to when I was a ninth-grader who firmly believed that the "good life" for any warm-blooded man included having either an MGB or Alfa Romeo Spider in his garage. The MG came first, of course, due to the financial considerations of a student working within a budget more suitable for a bicycle. The Alfa would come much later—and that was only after going through a yuppie phase and revisiting priorities, including selling Lina the BMW Z3 in order to economize for early semi-retirement.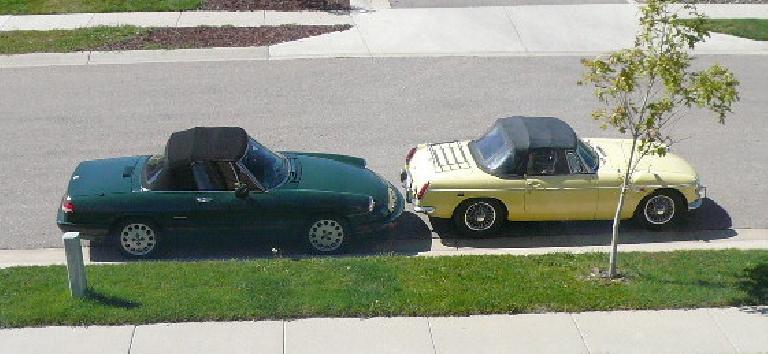 And economical Elaina was. Auto insurance for the car ranged from $330 (Colorado) to $612 (California) per year. Annual license renewals cost $48 (CO) to $91 (CA)—and that was with custom plates. Parts—despite being Italian and usually needing to be ordered from, say, International Auto—cost little more than those for a Toyota or Chevy.
Gas mileage would put some hybrids to shame. While the original EPA fuel economy estimates were 22 mpg city and 30 mpg highway, she was easily getting 29-30 mpg strictly city driving, 33-36 mpg exclusively highway, and 30-32 combined cycle. Eighteen years after the date of Elaina's manufacture, there are still no sports cars in the United States that burn less fossil fuel per mile.
Despite Alfa Romeos not having a reputation for reliability or quality engineering, the car required relatively few repairs and maintenance. Not once did she leave me stranded, nor did I ever have to spend more than $120 to fix something. For the times she did require repairs, she was as easy to work on as the rudimentary MG. Elaina was the most reliable car I've ever owned except for the '00 BMW Z3 (which should have been more reliable considering that I bought it brand new). [Repair Log]
Depreciation was almost negligible. I sold her for just $2,500 less than what I purchased her for six years and 50,000 miles earlier. This equates to ~$420/year. A laptop computer depreciates more, and the only highway you could use that to get on is the information type.
But I did not purchase her solely because she was frugal. A Honda Civic, Kia Spectra, or moped could make that claim. Rather, I fancied the car for its pedigree of adventure, romance, and fun that is hinted at with Dustin Hoffman's Alfa in the movie The Graduate and epitomized by my Great American Road Trip of 2005.
In that three-month journey, I thew all my clothes, camping gear, a laptop and camera into the car and loaded my road bike onto a trunk-mounted bicycle carrier. I then drove through 10 western U.S. states and one Canadian province to explore dozens of prospective cities I was considering moving to. Most of the time, I cruised with the Alfa's ingeniously designed manual top stowed in its "down" position, something that I could lower in 1-4 seconds.
This was motor touring at its finest, navigating some of the most scenic roads and best places to live in the United States while deciding where to relocate to. Ultimately, I settled on the outdoor recreation mecca of Fort Collins, Colorado—so the Alfa will be indelibly remembered as the car that brought me to my current home.
But now she goes to a new home, one of a true car enthusiast named Dave B. of Denver. Dave—a manager of a large furniture company in his late 40s or early 50s—came to look at the car in a newish Mercedes SL convertible, but had also previously owned a Maserati GranTurismo, an Audi TT, two BMW Z3s, a BMW 2002 from the 1970s, and MGBs. Clearly, we have similar automotive tastes.
I just hope Elaina is as good to Dave as she was to me. She was a great little car.