I consider myself very lucky in that every car I have ever owned has been a fun and interesting one. Well, perhaps "lucky" is not the right word because each automobile purchase was a deliberate choice; I simply refuse to pay thousands of dollars for something that is no more exciting than a top-loading washing machine or a two-door vanilla-colored refrigerator. Or a Toyota Camry, for example.
So I am pleased to announce that I have reacquired all the cars I had once owned. Well, sort of. And almost.
First, the list of cars I've owned in my lifetime, in chronological order of purchase date:
I managed to acquire them back thanks to eBay. You see, I was able to find die-cast models of each of the above vehicles.
Some I had to disassemble, strip off the paint and paint matching colors. This was the case for Elaina, in which I had just enough of Foglio Green touch-up spray paint to cover the entire Alfa Romeo Spider 1/43 model that was originally white. To replicate Portia, I stripped a used Matchbox 1/64-scale Porsche 944 Turbo that was originally red and used white spray paint I had to touch up my Maytag washer and dryer.
Here they are. I am actually missing one, perhaps the most important one: a Pale Primrose MGB roadster to replicate Goldie. It's just that diecast models for them cost over $40, which I feel a little silly paying for what is essentially a kid's toy. So right now in its place is a photo of me and Goldie taken by my friend Adam Tow, who framed it and used it as a seating placeholder for his wedding reception many years ago.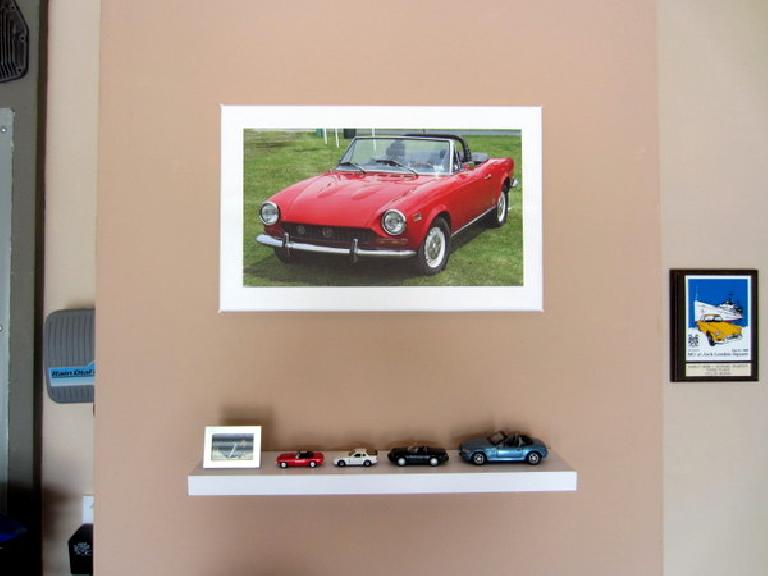 I don't have a model for Teeter either, but that is all right because I still have the actual car in the garage!
The artwork above the model cars is a canvas print that Kelly gave me on my birthday of a Fiat Spider. She knows that I admired these when I was young and was even recently half-seriously thinking about getting one, particularly after we attended Automezzi, an all-Italian car show in Northern Colorado.
"Now that I have this," I said after she presented the rolled-up canvas to me in her car at the Holiday Twin Drive-in Theater in Fort Collins, "I don't have to buy a real one." Now isn't that lucky?