The Huffster Surpasses 1000 Miles
"This is actually my second favorite bike," I've told a few people after they've asked me about the bronze cruiser made by Huffy Corporation.
Yes, of the six human-powered vehicles in the house—which includes a 15.0-lb carbon fiber aero wonder I dubbed the Super Bike, a hardtail mountain bike that was one of the original eight finishers of the 2,700-mile Tour Divide mountain bike race, a "magical" French classic that scaled 10 mountain passes in Death Valley and Southern California, and a racy red recumbent that has ridden a half-dozen centuries—this department store special is the one that brings me the most smiles per mile. The only bike ahead of it is my red Cannondale 3.0 that I've had since a few days before college and have gone on a multitude of memorable adventures with.
The 2012 Huffy Cranbrook, being the newest two-wheeled member of the garage, had yet to hit a couple milestones that the rest had already reached. The first is making a 200-mile pilgrimage to Walden and back. That may happen later this year if all goes as planned.
The second is surpassing 1,000 miles. That is, until a couple months ago. On March 12, 2017, the Huffster's odometer hit that mark. [Training log]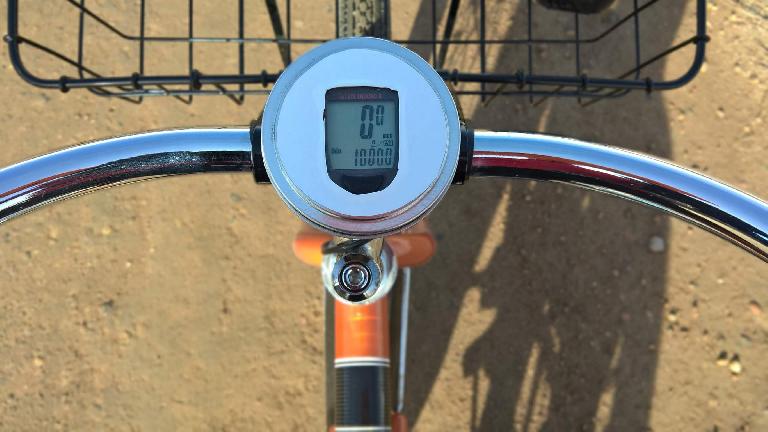 One thousand miles. Not bad for a bicycle that originally cost $88 brand new, including shipping to the front door. Even if you consider I've spent an additional $60 or so dollars on accessories during the five years since then—lights, basket, tubes, tires and Slime—that is good value on the dollar. We're talking about $0.15/mile for those who are counting—and unlike for a car that represents total cost, including capital, not just running costs (like cost of fuel and maintenance per mile).
Indeed, it got me thinking the other day about the following question. What other material objects that cost less than $100 bring such utility and joy? Not many, I believe. Especially if we are considering only new goods in the retail market. Smartphones may come close—especially since they continue to drop in price while providing more and more features—and I could be swayed by arguments in favor of them right now (Moto G4 Play, anyone?) Anything else?
Please leave a comment if you have an opinion!
What makes the Huffster so enjoyable
Simplicity: only one gear. There are no rim brakes, so it does not matter if the wheels are perfectly true or not. There's only a single coaster brake.
Ease of use: No one rides cruisers for performance, so forget about Greg LeMond's "multiply your accurately measured inseam and multiply by X" formulas for seat height. Nowadays I have the Huffster's saddle slammed all the way down not just for aesthetics, but so that I can easily flat foot the ground even while sitting on it.
Kickstand: No need to prop the bike against a wall, poll, or tree, or lay it on the ground like I have to do with my other bikes.
Fenders: It's raining or you have to ride through puddles? No problem; you remain clean due to the stock fenders.
Chainguard: Never worry about getting chain marks on your pants or legs. And added benefit is that the chainguard protects the chain from the elements, drastically simplifying maintenance. E.g., since waxing the chain on Day 1 of putting together the bicycle five years ago, I have not had to relubricate the chain.
Finish: The Huffster may show its low-budget roots elsewhere (e.g., welds), but not its paint job. When I received the bike, I marveled at its beautiful bronze color on both the frame and rims. The handlebar and stem are flawlessly chromed and the decals look nice too.
Fat, cushy tires: No complicated shocks or suspension fork needed.
Slime: This cheap substance (you can even buy large bottles from an auto store) that evokes images of Ghostbusters makes the low-pressure balloon tires virtually flat-proof.
Lights: I've gone through a couple variations of cheap bike light setups. Currently, I run a high-powered 30-LED light on the front and a 5-LED light with different modes on the rear and normally do not have to recharge the batteries more than once every 2-3 months. Another post about my latest lights setup is coming soon.
Basket: When I commute into town (e.g., every Monday for Spanish conversation meetings), I throw a small backpack containing a pump, emergency tools, emergency batteries, and Surface in the basket. No need to carry anything on shoulders or back.
Underdog status: Despite all the above weighing 41 lbs. and only has a single gear, it can go faster and farther than most people believe. (E.g., read this 300 Miles in 2 Days on a 41-lb., One-Speed Huffy Cruiser post.)
No worries: If the bike gets stolen, it's not like you are losing something of high monetary value. No worries.
It looks cool! In fact, more bystanders per mile have yelled "Cool bike!" at it than any of my other vehicles.
An ideal canvas for the modder
Due to its low cost, the Huffy Cranbrook is a popular canvas for modding enthusiasts in the Rat Rod Bikes forums.
Cheaper today than five years ago?
In 2012, I purchased mine for $88. But at the time of this writing (May 1, 2017), you could purchase one (in store or online with free shipping) for $80!