America! My Very Patriotic Fourth of July
I was at a Fourth of July party relaxing on a sofa with Fat Tire beer in hand and friendly dog's head on leg, enjoying the company of dear friends. It was there that I realized that this was one of the most patriotic weekends I ever had.
It started shortly after landing at the McGhee Tyson Airport in Knoxville, Tennessee the Friday before U.S. Independence Day. I went to pick up a rental car, which I had reserved at an incredibly affordable rate of $16.43/day (including all taxes and airport fees) in advance. By both habit and strategic thinking, I had clicked "compact car" as my selection for the reservation. But it turned out that Thrifty Car Rental did not have any compacts at that time. The employee offered me a Dodge Charger instead.
Initially, I hedged. The Charger is one of the nicer large sedans. I had rented one years before and it made #15 on my all-time Favorite Rental Cars list. But my hesitation was due to its size. Going from the two-seat sports cars I have driven all my life to a big family sedan is as big of a step as going from SUV to a small bus. Disorientation would be followed by difficulties in parking and maneuvering. The winding roads of the Blue Ridge Mountains were better suited for a vehicle of significantly less girth. Or that was what I instinctively thought.
But no smaller cars were available at the time, and I was not sufficiently opposed to driving a cop car to turn it down. Besides, as the lady behind the counter said, "that's a great rate for a Charger." So I took the keys, walked over to the parking space, hopped into the Dodge, and pressed the Start button.
A huge smile erupted on my face. Holy cow! The rumbling musical notes emanating from the outside exhaust pipes indicated that this was no usual "rental car edition" of the Charger, with potent but plebeian V6 engine. This was, in fact, the HEMI-equipped R/T, with a 5.7-liter V8 and the might of 370 horses—a stable large enough to embarrass Ferraris from when I was growing up.
So naturally, over the next five days I really enjoyed the car. Despite its size and heft, the Dodge cornered with aplomb while having an ability to soak up bumps in the pavement far better than my Chrysler PT Cruiser GT, a.k.a. the GT Cruiser or PT Turbo. The paddle shifters that controlled a quick-shifting, 8-speed transmission at times made me feel like a Formula 1 driver. The interior was reasonably luxurious and featured soft-touch surfaces at every contact point, including the top of the dash. I particularly liked the thick-padded leather steering wheel.
I even loved the car's exterior stance and visage, which looked particularly sinister in a paint color appropriately dubbed Pitch Black. Most of all, there was that monster motor soundtrack: it was like it was time-transported directly from the heyday of the Muscle Car Era, evoking Steve McQueen and the Bad Guys in their famous car chase scene in Bullitt.
Here's a video I put together of driving the Dodge:
The only disheartening thing about the car was that out of the five dozen or so cars I have driven in my lifetime, this was the only one that I remembered not having a right windshield wiper stalk. What's the big deal, you might ask? Well, I was driving a twisty mountain highway from Knoxville to Asheville to visit Maureen, and then it started raining—hard. I reached down with my right hand, only to feel air.
Within seconds, the windshield was covered with so much water that I could barely see through it. The road was curving enough that I couldn't really take my eyes off the road for more than a split second to try to find the dang windshield wiper switch. After 20 seconds, I had to slow down significantly because it was now challenging to navigate the highway. Then I merged onto the right-hand lane (in case I'd have to pull over) before realizing, to immense relief, that the wipers could be activated by rotating a barrel switch at the end of the turn signal stalk.
Why did Dodge deviate from the convention followed by virtually every other car, including my Chrysler, its corporate brethren? Beats me, but I learned a valuable lesson: always make sure you know how to turn on the windshield wipers before driving off the rental car lot.
After spending the weekend with Maureen—who had to work through the workweek despite the holiday—I then returned to the Knoxville to pick up a motorcycle made by one of the most American of icons: Harley-Davidson. I had long admired the Sportster Iron 883 ever since setting eyes on one parked on the streets of St. Louis a couple years ago. Today, I was renting a 2017 model with only 600 miles on the clock. Practically brand new.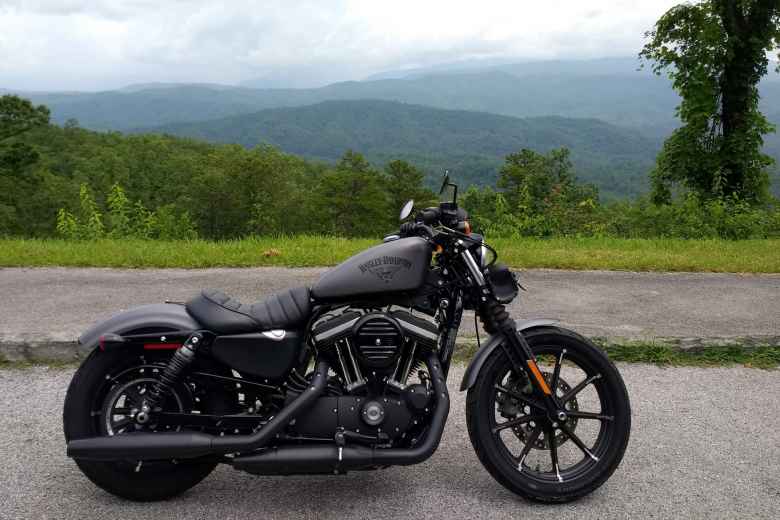 I then spent most of the late morning and afternoon on it, doing my own do-it-yourself motorcycle tour in one of America's premier motorcycling destinations including the famed Tail of the Dragon. I took video of riding this legendary stretch, and the resultant short film is below.
Being in the Great Smoky/Blue Ridge area of the U.S. was a joy, but eventually I had to return home to Colorado. One of the first things I did upon return was run some errands on another U.S.-made motorcycle: my Buell Blast. As much as I liked the Iron 883—and as maneuverable as it was for something with cruiser roots—it was great to be back on a sportbike. Despite my Buell's smaller engine and lower torque, it felt just as quick and a lot easier to lean side to side, perhaps due to its lower weight and racier ergonomics.
Later that evening, I drove to a party in the Chrysler. There I enjoyed a classic Independence Day, patio-side barbecue and made several acquaintances, including the aforementioned cute, little dog.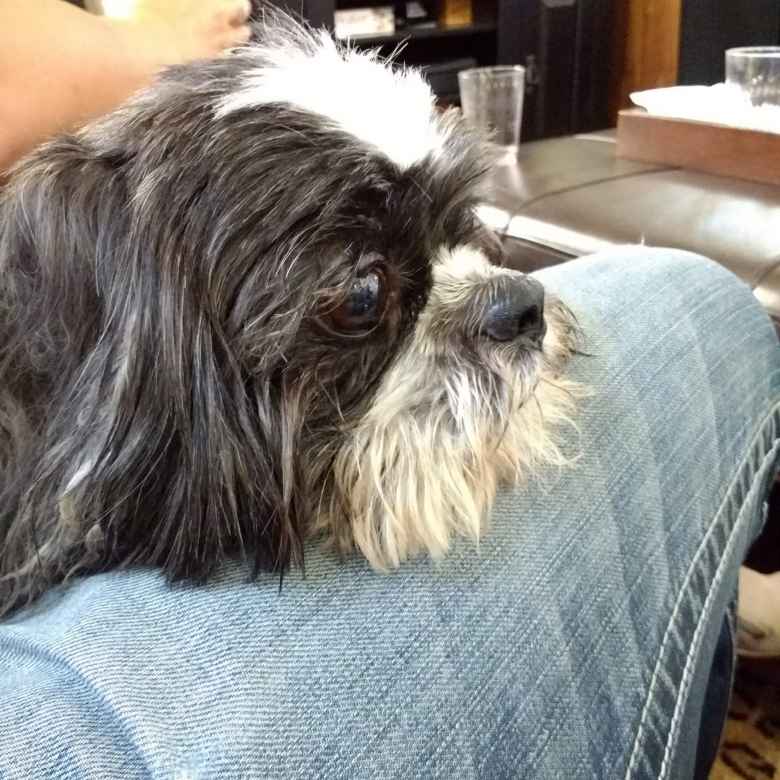 I also met some friends there, including Michelle, Raquel, and Hiro: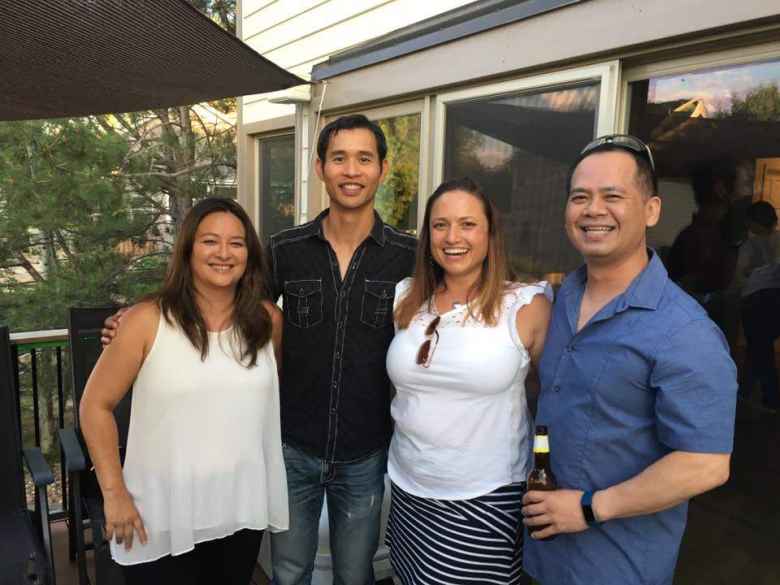 We look like a very multi-cultural group, yes? That is what the United States of America is nowadays, after all.
Afterward, I went home briefly to hop onto a fifth American vehicle of the weekend: my Cannondale F700 mountain bike. I rode over to City Park—where parking for anything but bicycles is notoriously difficult on the night of July Fourth—to meet up with my friend Em. He too had biked over on a Cannondale, which he purchased new only a few days prior.
We then watched a spectacular firework show before parting ways and heading home.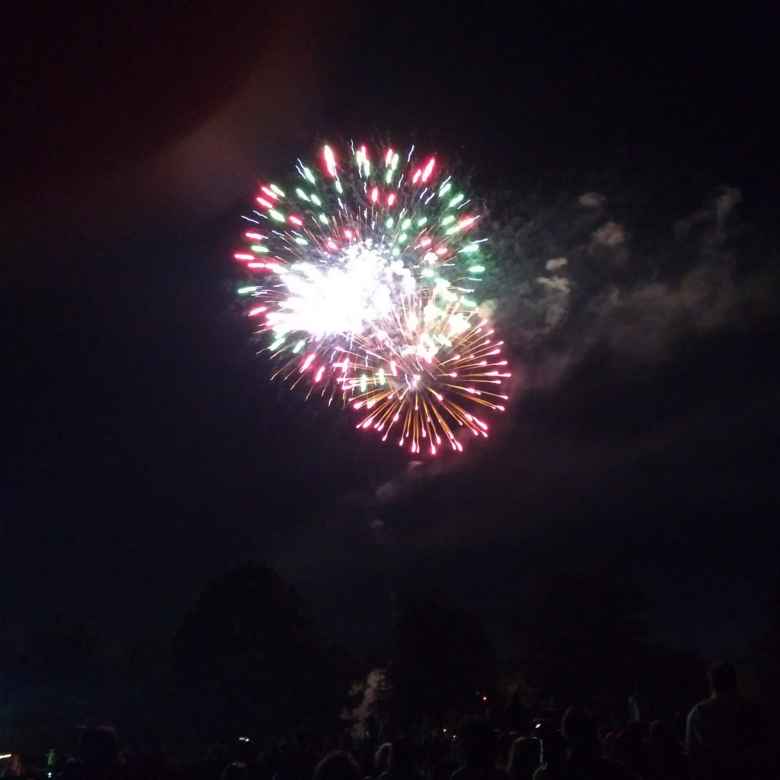 So there you have it: a whole weekend of American machines, American friends, and American traditions. It made me feel like a true patriot.
Never mind that Fat Tire beer is brewed by a (local) company named New Belgium; the Charger was bolted together in Ontario and that the original had two doors, not four; that Buell no longer exists as a company, a victim of the ax by Harley-Davidson during the Great Recession; the PT Cruiser was built in Mexico; and that Cannondale manufactures all their bicycles in Asia nowadays after decades of manufacturing in Pennsylvania. This is as American as it gets, folks.