Mazda MX-5 Miata Turo Rental
"MIATA: Miata Is Always The Answer" is a saying that is often thrown around in sports car circles.
That was on my mind as I heel-toed and throttle-blipped my way up Claremont Ave. in the Oakland Hills a few hours after picking up the jet black 2016 Turo rental from its owner in Hayward, California. I also thought about something the owner said shortly before I drove away from the driveway on which a 2010-ish Porsche 911 was resting on.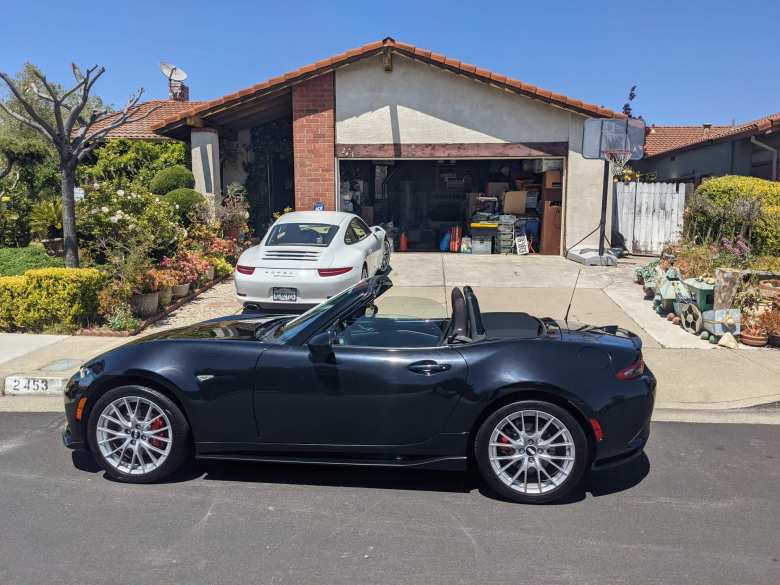 "The Porsche," he confessed, "is more impressive for a date. But in the mountains, I can feel the rear weight. The Miata is more fun to drive."
I've heard similar things over the years from owners of Corvettes, Jaguars, BMWs… basically every car except for the mid-engined Porsche Boxster. Yet, aside from a few short test drives of a first-gen, second-gen, and automatic fourth-gen (top up in stop-and-go traffic outside the Denver Auto Show; not sure if that should even count) MX-5, I've never spent an extended period of time driving what has become the best-selling sports car of all time.
Until now. Fully vaccinated, I went to visit my folks, family and friends in Northern California for the first time in 18 months and just in time for my dad's birthday and Mother's Day. There weren't any other available cars for rent that I'd rather be driving than this pure two-seat sports car with a manual transmission that on the roads I used to drive an MGB, BMW Z3, or Alfa Romeo Spider on.
This is not to say this was going to be an easy test. The last roadster I rented in the Before COVID times was a 2008 Pontiac Solstice GXP, a car which I absolutely adored. The bar, then, was set high. The motivation for the car rental was also not merely for a simple joy ride or to get me from Point A to Point B, but to see if the model was worthy enough to replace my Audi TT Roadster Quattro in the next year or so. I've had that car for 12 years already—a testament to how it's been one of the best cars I've ever owned—but it is getting up there in miles and years.
The first impressions: while the fourth generation MX-5 is undoubtedly more beautiful that any of its bars of soap-shaped predecessors, there are a few better looking roadsters out there. That includes the aforementioned Solstice, TT Roadster, and also the Fiat 124 Spider that happens to be based on the Miata. But nevertheless, I like the styling. It's not the most seductive, but it's shapely enough to put a smile on my face.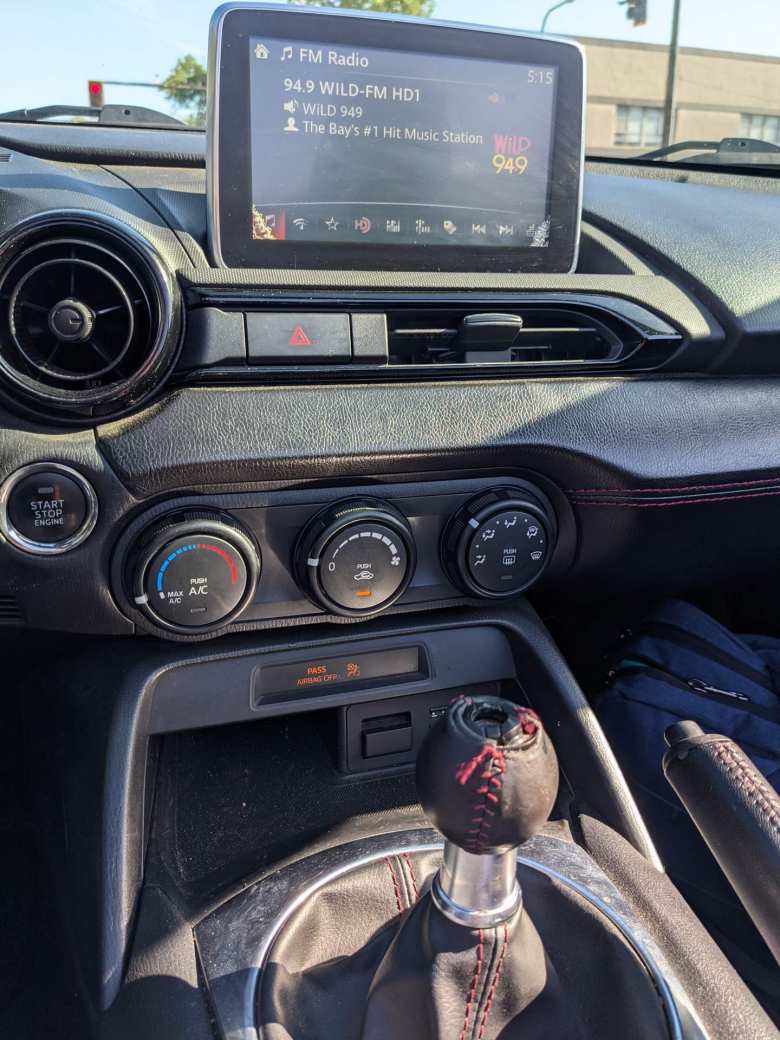 The interior was nearly the same story, just slightly worse. It's definitely the best looking interior of any generation Miata, but it looked worse in person than in photos. Both the sheen and the grain of the black plastic padding on the dash reminded me of the vinyl used on the dashboard of my 1969 MGB. While I have lots of fond memories of that B, that's not good. Nothing in an MG could be considered premium, especially during a year that was so close to the Malaise Era.
Ditto goes for the round, chrome-rimmed speedometer and tachometer. Yes, they sort of evoked the basic Smith gauges of the era and these actually worked, except the gas gauge was digital and was hard to read with the sun out and the top down. But there was no pretense for style and while totally inoffensive, the whole dashboard was kind of meh.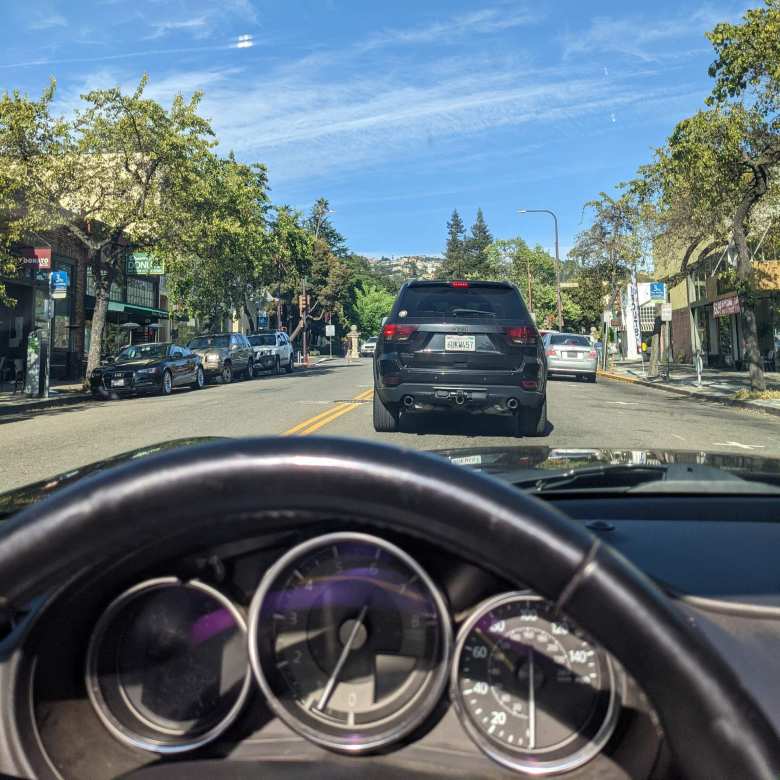 The circular knobs were similarly unflashy and made out of basic black plastic, and the red stitching on the dash and gear shift knob—meant to evoke leather, I guess—on this particular car was badly fraying. OK, it's a five-year-old rental with more than 112K miles. But then again, my Audi is twenty years old with 118K miles and has held up much better.
One thing related to the interior that deserves nothing but accolades is the operation of the soft top. It engages and disengages with one latch, and putting it up or down is a three-second, one-handed affair from the cockpit. It's so easy that you wonder why other roadsters need to have heavy, complicated motors to raise or lower theirs.
Upon pressing the conveniently keyless Start/Stop button, the engine clanked to life. Both at idle and at speed, with top up or down, the aural quality of both the engine and exhaust was markedly worse than the TT Roadster's or Z3's. This was unfortunate considering there was considerably more engine and road noise permeating the cockpit, no doubt due to the relative lack of sound-deadening material that helped contribute to the astonishingly low 2300 pounds.
But that's where my criticism of the engine ends. Otherwise, it is great: torquey with linear, wide powerband, and plenty of get-up and go. It may put out only 164 hp but due to the light weight of the car, it's as quick as any sports car I've owned. The car was able to zip out of lane and go around snail-ish semi-tractors like a slot car with plenty of oomph. I guess this is what Mazda calls zoom zoom.
Not only that, but the engine easily got 36 miles per gallon, even when factoring in some spirited driving. Some of that driving was to take two of my nephews (one at a time, of course) on tour of the orchards and windy roads near where my folks lived. This was the first time that either of them had been in a sports car, a convertible, or vehicle with a stick shift.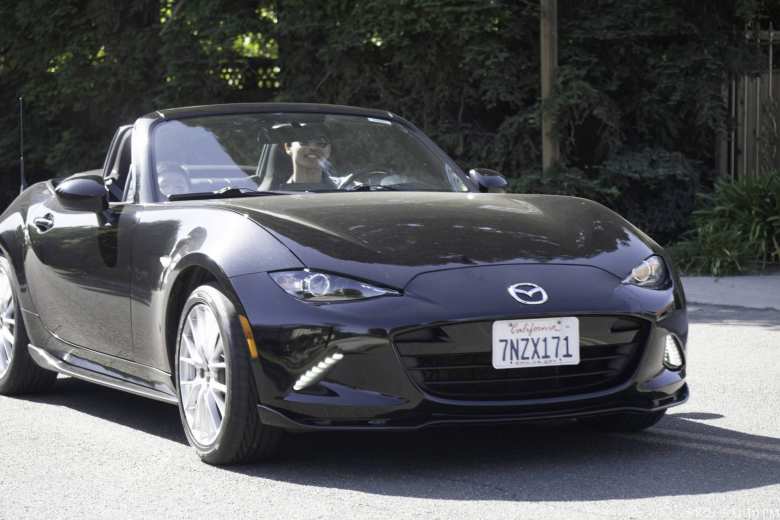 "Do you need a special license to drive a manual transmission?" one of them asked.
"No," I replied, "but many Americans don't know how to drive a stick shift nowadays. The manual is going extinct in this country. Never mind that in other countries, most people still drive a stick."
Speaking of the transmission, this car was on its third. That could mean one of three things: renters are really hard on cars, Americans really don't know have to drive a manual anymore, or the transmission is not as bulletproof as Mazda and the motoring press would lead you to believe.
Actually, a bigger issue with this particular rental was the clutch which would only disengage if you pressed the pedal all the way to the floor. It was touchy enough that even a quarter-inch from the bottom would prevent smooth gear engagement, especially from neutral to first or reverse. It was almost like driving a car from the 1960s with bad synchros. It wasn't a big issue for me because I rev-match, heel-toe and even double-clutch very well, but it would annoy me if I actually owned the car.
Anyhow, it was a problem specific to this car only so I can't hold it against Miatas in general. I've test-driven the earlier generations for only a few minutes but long enough to believe the universal praise for the gearbox in any generation Miata.
To sum up the car, the Miata is a back-to-the-basics roadster that faithfully sticks to the formula of classic British sports cars of yore, except that it has Japanese reliability (and styling) and doesn't leak fluids.
But at many points I felt the car was almost too faithful to that formula: noisy, not luxurious, and kind of raw. Interior and exterior style was fine but nothing special. I decided that in all respects except for gas mileage, maintenance, and trunk space, I preferred both the Pontiac Solstice GXP and my own Audi TT.
The good news is the Fiat 124 Spider—particularly the Abarth edition—supposedly remedies all of my criticisms. The classically Italian exterior is much better looking to my eye, the interior uses higher quality materials, the Abarth uses more interesting red gauges, there is more sound deadening, and the exhaust (at least from YouTube videos) sounds a lot better too. Heck, the 124 Spider even uses the older transmission from the third-generation Miata, which was reportedly more robust and able to handle the Fiat's higher peak torque and power.
So the Miata isn't always the answer, at least not for me. Maybe the "Fiata" is?