"Pursue some path, however narrow and crooked, in which you can walk with love and reverence," advised Henry David Thoreau. Thus I decided to ride my annual double century once again from Fort Collins to Walden, this time on the Super Bike.
There was another reason I wanted to do this ride, aside from my love of cycling and reverence for Mr. Thoreau: I was interested in seeing the aftermath of the Colorado Wildfires that occurred last month. The Poudre Canyon had only been reopened for about three weeks, and even then there were some periods when it was closed to traffic due to flash flooding and mudslides.
As it turned out, when heading out to Walden one would have had to be quite observant to see the charred remains of Colorado's second-most destructive fire in history, the High Park Fire. Two-hundred eighty homes were lost in that conflagration, but as far as I could tell each one along Highway 14 had been saved. Kudos to the firefighters during that difficult month.
Several trails were closed—including Grey Rock, Young's Gulch and Hewlett Gulch, among others— but the hillsides and evergreen trees weren't as blackened as I had expected aside from those near Stove Prairie Rd. That intersection also was the site of some of the most recent mudslides that caused closures along the highway.
I passed by Kelly's mom's house and it looked good too. However, she has been renting and living in an RV situated on the property while the house was being cleaned out. Apparently, the inside of the house still smells like a campfire.
Encouraged that the beloved Poudre Canyon didn't quite look like the war zone I had imagined, I pedaled up and over Cameron Pass and descended to Walden. My legs felt quite non-energetic and hence my pace was decidedly more vapid than rapid, but I stopped along the roadside even less than in previous years.
At a convenience store in Walden, I had my traditional microwaveable frozen burrito—this time a beef & chili one—and loaded up on Pepsi, Gatorade and Twizzlers for the ride back.
Despite the copious amounts of caffeine and high-fructose corn syrup that subsequently entered my bloodstream, my legs never really developed the lively "pop" in them that I had during the 508 last year when I was, frankly, climbing phenomenally. Therefore I was mightily relieved when I crested Cameron Pass for the second time and was left with 70 miles with mostly downhill. The downhill miles proved to be the most enjoyable, and I got a lot of thinking and problem solving done during this time.
"I know of no more encouraging fact than the unquestionable ability of man to elevate his life by a conscious endeavor." (Henry David Thoreau) I felt quite elevated all right.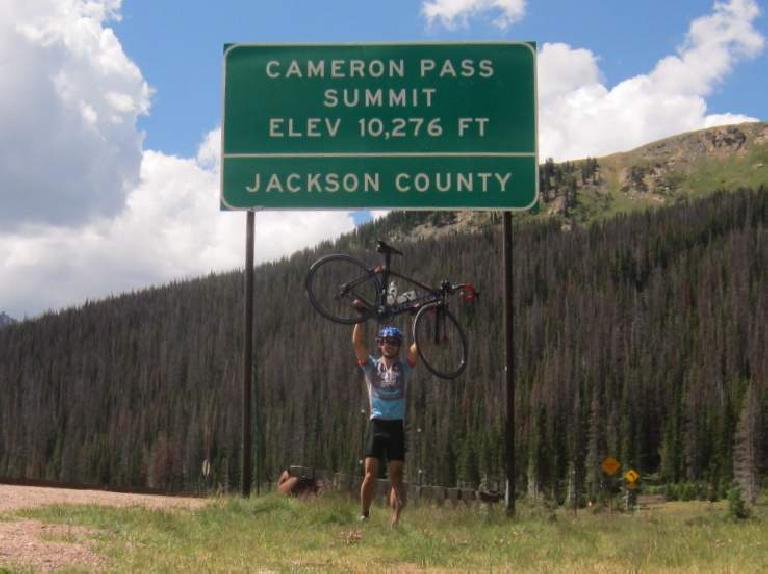 Ride Data
200.8 miles
5:07 a.m. start, 8:17 p.m. finish -> 15.2 hours
Average speed: 13.8 mph rolling, 13.2 mph overall
First half: 5:07 a.m. – 1:15 p.m.
Second half: 1:30 p.m. – 8:17 p.m.
Rating
(Scale of 1-5, 5 = best)
Scenery: 5
Support/Organization: self-supported
Food: self-provided
Weather: 5
Relative Difficulty: 3
Overall Rating: 5
Time Comparison
I've never really "time-trialed" (raced) this course to the fullest extent, always choosing to ride it at a moderate or even easy intensity. But for what it's worth:
Note that last year I was 45 minutes faster on the Gitane than on the Super Bike, even though the classic French bicycle is 7.0 lbs. heavier. However, I was in prime Furnace Creek 508 shape, whereas this year I rode hardly over 200 miles from January 1st to the date of the ride.
Two adages come to mind: "it's not about the bike" and "there's no substitute for fitness."