Five Flat Tires in the Garage
My home gives off a minimalist vibe, which should not be too surprising considering that only an oft-traveling bachelor and his formally dressed landlord tuxedo cat live in it. But one part of the house that is decidedly not Spartan is the garage—a.k.a. the Garage Mahal 2—that has eight vehicles in it. Yes, eight! (Two cars, one motorcycle, and five bicycles.) Or actually, nine if you include the inflatable kayak—which I won't for the purpose of this post, which has to do with flat tires.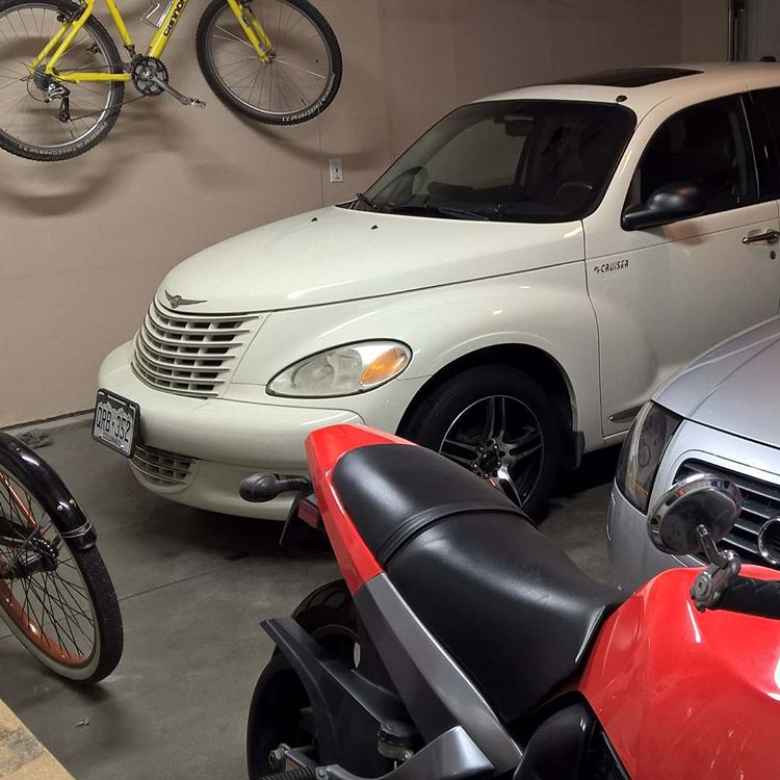 However many you count, it still is pretty ridiculous how many flat tires there were in it at one time. In July 2018, there was a week when there was a total of five:
You might be wondering how (and why) I put off repairing these flat tires for so long. The motorcycle tire leak, as explained above, was a very slow one, and given the hassle of repairing it (ordering a new tire, bringing in the Buell to a motorcycle shop, running home and then running back to fetch the motorcycle), you can sort of understand why I didn't fully address the problem for five years.
The Huffy's flat tire occurred during the seven-month sprint while I was insanely busy. Plus I had another bicycle (the Cannondale MTB) to take over its duties. Ditto with the Cannondale road bike, which had the Litespeed "Super Bike" waiting in the wings.
But the Audi's flat was the last straw. Yes, there was still the Chrysler PT Cruiser available for insulated-from-the-elements, motorized transport, but to not have the convertible sports car out of commission in the middle of summer? For shame. So the morning after I noticed the flat tire on the Audi, I brought it in to Discount Tire, which had mounted its new Hancook tires six years before and had a free flat tire repair policy for doing so.
As it turned out, the TT's tire was not repairable. Apparently I had driven around on the flat tire long enough for there to be internal damage. And that particular Hancook tire was discontinued.
The other three tires were down to their final 3/16″ of tread anyhow, good for maybe another 2-3,000 miles. So I ended up having all four tires replaced with some longer-wearing Pirelli Cinturato Strada AS tires. The one flat tire, then, led to a $700 (minus a $70 rebate Pirelli provided) bill. Ah well, it would have need to happen in a few thousand more miles in any case.
The Buell's flat was also pretty costly: $90 for a new Pirelli Diablo Scooter tire and $67 to mount it. That old front tire still had about 50% of its tread left (or another 5,000 miles), so that was a shame. But at least the bike is safer to ride.
The Huffy and Cannondale MTB needed new tubes, which I subsequently injected with a few ounces of Stan's No Tubes latex sealant. Hopefully it works better at sealing future tube punctures than Slime ever did. (I cannot imagine it being any worse!) Stan's has worked brilliantly for sealing tubeless tires, so there is reason for optimism.
Speaking of tubeless, the flat tire to repair was the Cannondale road bike's. I already had more than 5,000 miles on the Hutchinson Intensive tubeless tire, so I figured it was time for new rubber anyhow. I replaced it with a new Hutchinson Fusion 3 tubeless tire, which won't last as long but is slightly lighter and cost only $30. As it turned out, all the sealant had dried out in the old Intensive, meaning that I probably could have fixed the small leak by replenishing with two ounces of Stan's instead.
As expensive as this all was (about $800), it sure is nice to have all the vehicles back on the road with zero flat tires again.