About the Cannondale 3.0 and My 1992 R500 Road Race Bicycle
As of September 16, 2023, I have had my 1992 Cannondale R500 for exactly 30 years, during which we journeyed together for more than 37,000 miles. This is her story.
As an adolescent in the late 1980s, I frequently found myself engrossed in the pages of Bicycling Magazine that I checked out from the city library on weekends. While the world was captivated by the mountain bike craze, I was more drawn to the sleek, skinny-tired speedsters featured in the bike mag. Among the many bicycle companies showcased in those glossy pages, one name stood out: Cannondale. This American manufacturer's cutting-edge, aluminum frames, meticulously crafted and guaranteed for life, were impossible to ignore.
Cannondale's distinctive oversized tubes promised stiffness that was second to none as tested by Bicycling Magazine's Tarantula frame flex fixture. Yet, these frames managed to be featherweight, even lighter than the emerging bonded carbon fiber frames of rival manufacturers. The attention to detail was evident, with TIG welds meticulously hand-sanded in their Pennsylvania factory and thoughtful features like a replaceable rear derailleur hanger.
My journey with Cannondale began on September 16, 1993, when I purchased my brand-new Cannondale R500. It was a leftover, and hence slightly discounted, 1992 model. I acquired it from Noe Valley Cyclery in San Francisco, utilizing funds earned from a summer job at a fast-food restaurant. The price tag was $599, or $648.42 after accounting for California's sales tax.
When I initially visited Noe Valley Cyclery, I intended to buy the accessible R400 that was offered in an attractive Daytona Blue color.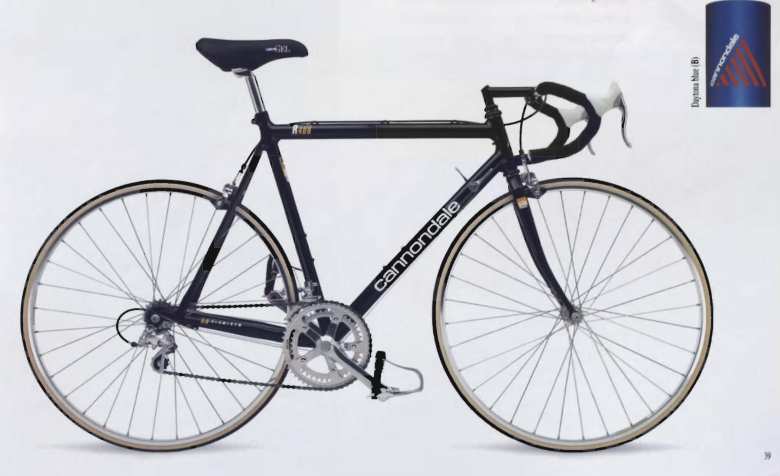 However, an intriguing revelation altered my choice. For a mere $20 more, I could own the R500, which came equipped with seven additional gears, courtesy of a triple chainring. This provided lower gears, which seemed like a wise investment for this flat-lander with literally zero experience riding hills. Moreover, the Formula Red color with white fork added a racier personality that I couldn't resist.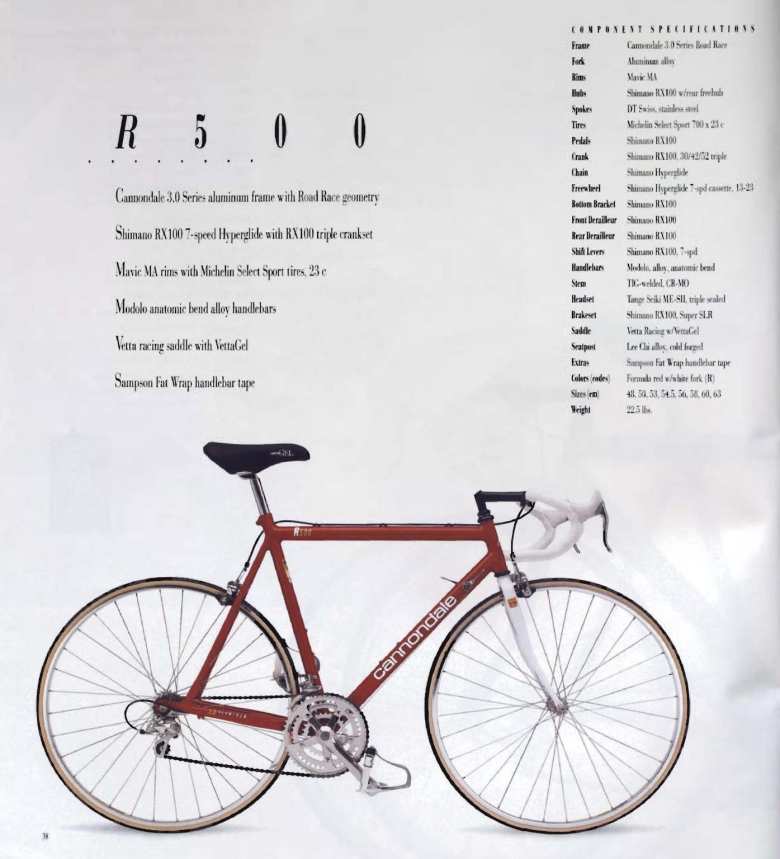 My Cannondale R500 served me spectacularly. It transported me to classes at Stanford University and enabled me to explore the surroundings. The student handbook suggested classic scenic rides, such as a 17-mile, gently rolling loop around Portola Valley, which quickly became a personal favorite. The handbook also mentioned iconic climbs like Old La Honda Road, Kings Mountain Road, and Page Mill Road, all of which I conquered with my trusty Cannondale.
Occasionally, I ventured into town on my bike, whether it was for shopping for school supplies in Mountain View or for memorable visits to Wheelsmith Bicycles in Palo Alto, where I once had the chance to meet a rising star named Lance Armstrong. On a couple of occasions, I embarked on longer rides on El Camino Real to Santa Clara University to visit my friend Jay, a friend from high school.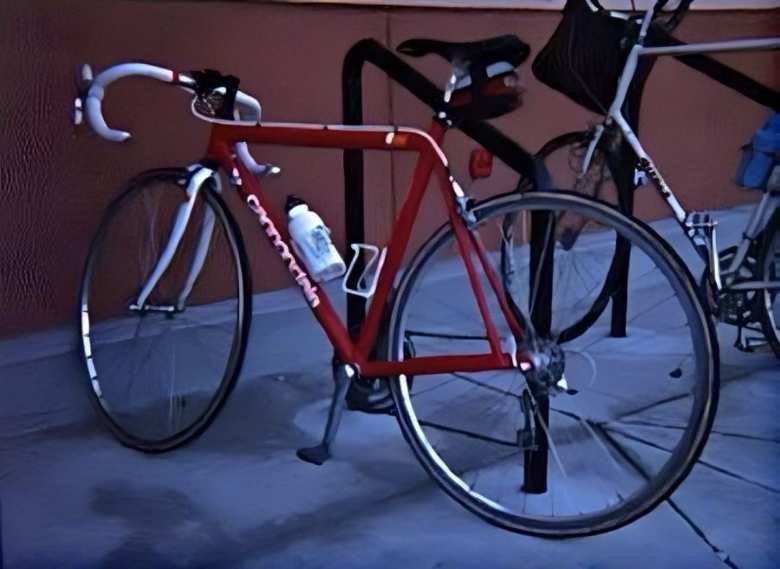 Security was a priority given that the bike was my daily transportation. I invested in a substantial, pick-proof Kryptonite Evolution U-lock. Each time I parked the bike, I would dismount the front wheel, position it near the rear, and secure both wheels and the frame to a stationary object. Even inside my dorm room, the bike was tethered to my bed, a stark contrast to most students who left their bicycles outside.
In the spirit of personalization, I bestowed the bike with the moniker "Canny," a convenient abbreviation of "Cannondale." While perhaps not the most imaginative name, my freshman roommate Clay, an English major, amusingly suggested "Uncanny," which seemed a fitting tribute to my remarkable bike.
As summer approached, I embarked on century rides across northern California with my friend Ken. Ken eventually purchased a bike based on the successor to the 3.0 Series, the 2.8 Series, which added another layer of shared enthusiasm to our rides.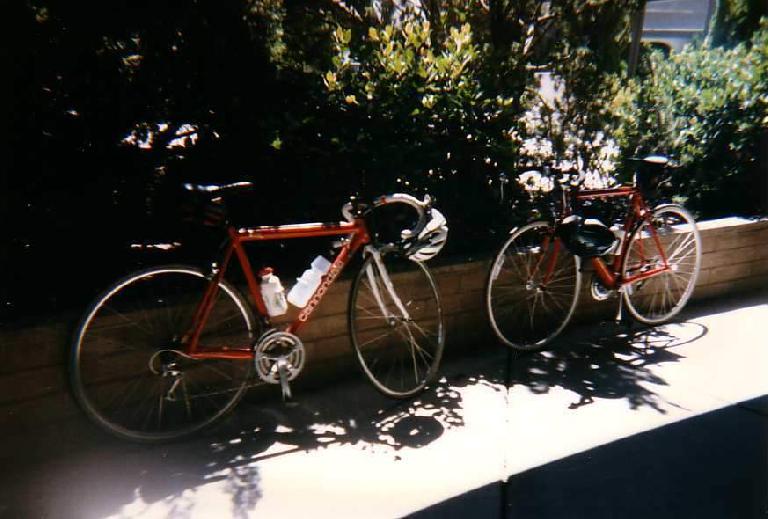 In 1996, I accomplished my first double century on Canny. This milestone marked the beginning of Canny's participation in California Triple Crown 200-mile bike rides, a journey that would span the next decade. We even explored the realm of ultra-marathons, culminating in the triumphant completion of the 2003 Paris-Brest-Paris, an epic ride etched in Canny's history.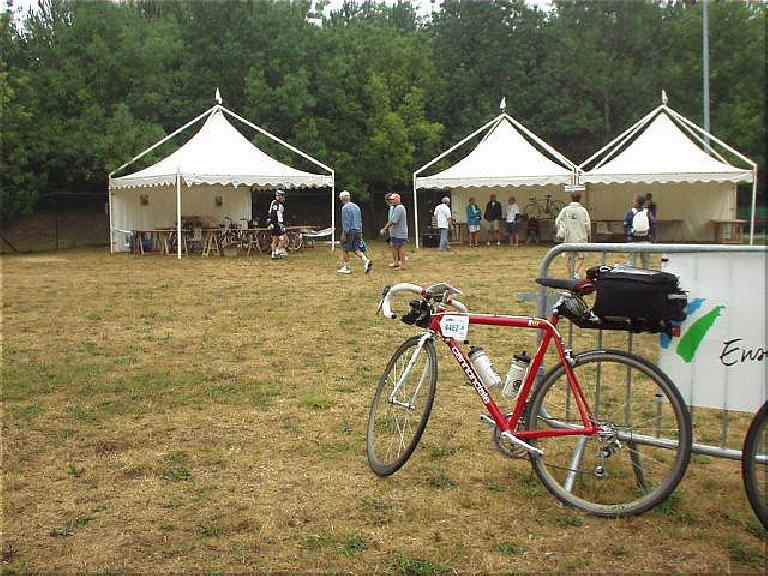 Triathlons also became a part of our repertoire, including three Ironman events. All it took was some clip-on aerbars to turn her into a lean, mean, time-trial machine.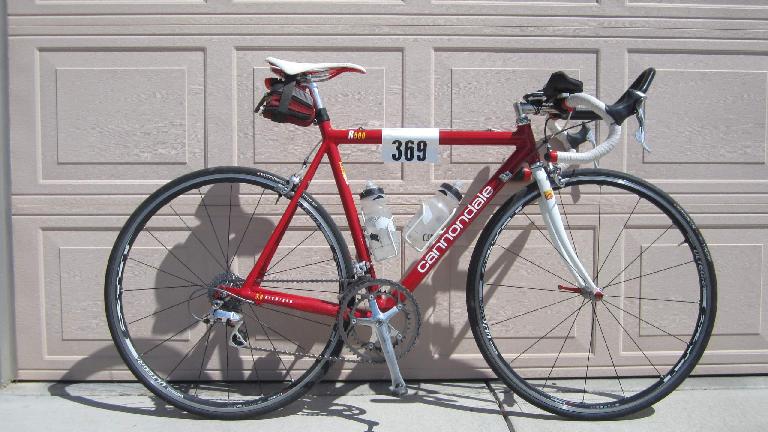 When I relocated to Colorado in 2005, Canny remained my primary ride until I constructed the Litespeed "Super Bike" in 2011. Thereafter, Canny transitioned into a reliable training bike, still completing the occasional century or double century.
With the Super Bike now residing in Spain, Canny has reassumed her role as my primary road bike in Colorado whenever I'm in Fort Collins. Throughout these years, I've adhered to a minimalistic, non-materialistic lifestyle, but if there's one possession I cherish, it's Canny. After all, she's one constant I've had over the decades, and together we've traversed more miles of open roads than I have in most of my cars.
In my world, where objects hold little sentimental value, my Cannondale 3.0 Series road bike stands as the most prized of possessions. It's not just a bicycle; it's a companion on a remarkable journey through life, and I'm grateful for every kilometer we've shared.
Here's to at least another 30 years of adventure with Canny the uncanny Cannondale. Hopefully more.
History & Legacy of the Cannondale 3.0
From Cannondale's 1992 catalog:
Three years ago we broke new ground in light weight, comfort and handling with our 3.0 Series racing frames. Designed with CAD (computer-aided design) technology and finite element analysis software, the frames combined the best aspects of hundreds of computer-generated prototypes.

Page 28 of 1992 Cannondale Catalog (PDF posted on VintageCannondale.com)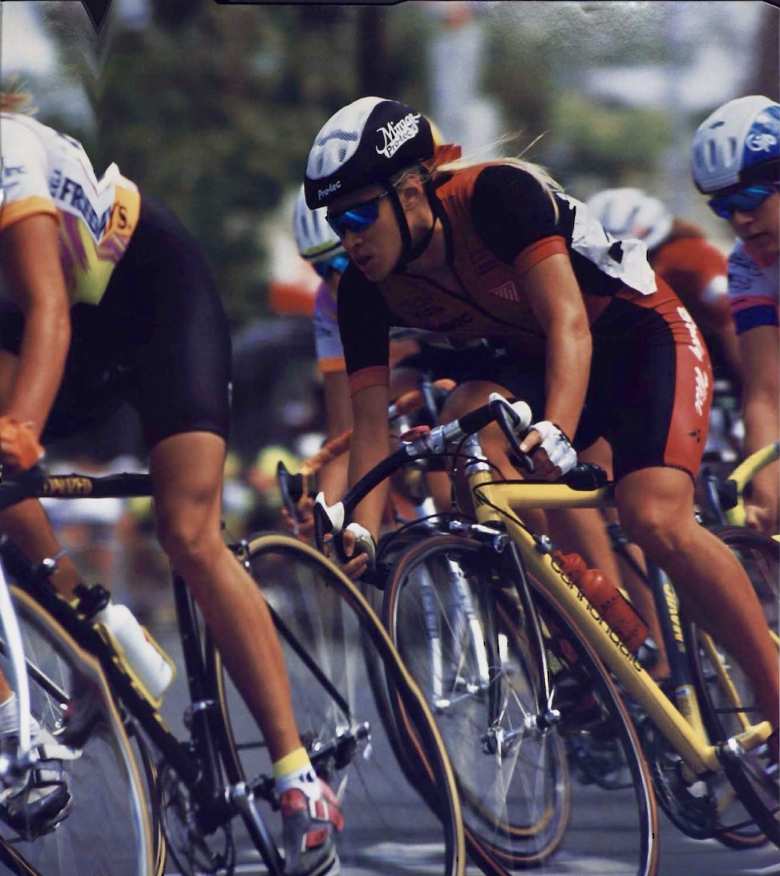 We introduced our 3.0 Series racing frames in 1989. Named for their three key attributes – exceptionally light weight, vibration-dampening comfort and responsive handling – the 3.0 Series frames have become a favorite of racers, triathletes and other aggressive riders who insist on superior performance.

Like all our frames, the 3.0 Series racing frames are hand-built of large diameter 6061 T-6 aluminum tubing. These mammoth tubes are far more resistant to flexing than standard or mid-size tubes, so they squeeze the maximum performance out of every pedal stroke; with less frame flex wasting pedaling energy, more of your effort is used to push you forward.

The 3.0 Series racing frames feature our exclusive double-offset bottom bracket cluster, which joins the seat tube to the bottom bracket shell forward of its centerline. This innovative approach lets us use shorter, lighter, and more flex-resistant chainstays. It also allows the seat tube to intersect the down tube before it reaches the bottom bracket shell, reducing the effective length and the flex of the down tube.

We've outfitted the 3.0 Series frames with a weight-saving butted seat tube. Tapered chainstays put the meat of the tubes where it's needed (near the bottom bracket shell), and save weight by using less material where they join the cantilever dropouts. Finally, every 3.0 Series racing frame comes equipped with a replaceable rear derailleur hanger that can be replaced in minutes should it snap off in a crash.

The 3.0 Series frames are available on your choice of four complete bicycles. Three of the four, the R600, R500 and R400, feature our Road Race geometry. Known for its blend of speed and comfort, the Road Race frame's stable head angle and 16-inch chainstays make it perfect for fast, long distance cruising. The fourth model, the C600, features our ultra-nimble, ultra-fast Criterium geometry. With a steeper head angle, immense down tube, and shorter chainstays, the Criterium is a monster through the curves and in sprints.

* 3.2 Ibs. on a 56 cm. Criterium geometry

from Page 34 of 1992 Cannondale Catalog (PDF posted on VintageCannondale.com)
Cannondale 3.0 Series Geometry
Cannondale employed a unique method for measuring their frames, differing from the practices of other manufacturers. Typically, companies determined frame size from the center of the bottom bracket to the center of the junction of the top and seat tubes, referred to as 'center-to-center,' or to the top of the junction of the top and seat tubes, known as 'center-to-top.'
In the case of Cannondale's 3.0 Series frames, there was a distinctive portion of the seat tube extending above the top tube. Cannondale's frame sizes were calculated as the distance from the center of the bottom bracket to an imaginary point on this additional seat tube section. This point was positioned roughly midway between the bottom of the seatpost collar and the top of the top tube. Likewise, top tube lengths were measured horizontally to this same imaginary reference point.
| Size (cm) | 48 | 50 | 53 | 54.5 | 56 | 58 | 60 | 63 |
| --- | --- | --- | --- | --- | --- | --- | --- | --- |
| Seat Tube Angle (degrees) | 73.00 | 73.00 | 73.00 | 73.00 | 73.00 | 73.00 | 73.00 | 73.00 |
| Head Tube Angle (degrees) | 70.50 | 71.50 | 73.00 | 73.00 | 73.00 | 73.00 | 73.00 | 73.50 |
| Top Tube Length (cm) | 49.78 | 51.56 | 53.98 | 55.58 | 55.88 | 56.21 | 56.72 | 58.72 |
| Chainstay Length (cm) | 40.54 | 40.54 | 40.54 | 40.54 | 40.54 | 40.54 | 40.54 | 40.54 |
| Fork Rake (cm) | 5.40 | 5.40 | 4.57 | 3.81 | 3.81 | 3.81 | 3.81 | 3.51 |
| Bottom Bracket Height (cm) | 27.31 | 27.31 | 27.31 | 27.31 | 27.31 | 27.31 | 27.31 | 27.31 |
| Wheelbase (cm) | 96.04 | 97.19 | 97.46 | 98.35 | 98.38 | 98.07 | 98.43 | 99.57 |
| Trail (cm) | 6.35 | 5.66 | 5.59 | 6.35 | 6.35 | 6.35 | 6.35 | 6.35 |
| Ground to Top of Top Tube (cm) | 72.80 | 74.00 | 77.00 | 78.90 | 80.10 | 81.60 | 83.00 | 86.80 |
Geometry chart applies to Cannondale R1000, R900, R800, R700, R600, R500, R400, and Series 3.0 Road Race frames.
1992 Cannondale R500 Original Specifications
The 1992 Cannondale R500 shared its frame with the previous year's top-of-the-line, 21.5-pound, $2240 SR2000 model. The primary distinction lay in the components; while the R2000 featured Shimano Dura-Ace, the R500 was equipped with Shimano RX100 components. Interestingly, RX100 was nearly identical to Shimano 105, which occupied a higher tier in terms of pricing. The sole visual difference was that RX100 parts were clear-coated, while Shimano 105 components were epoxy-coated in gray. Personally, I had a preference for the clean and clear finish of the RX100 components.
| Item | Component | Weight, grams | Comments |
| --- | --- | --- | --- |
| Frame | Cannondale 3.0 Series Road Race | 1374 (3.0 lbs.) | Measured, 53 cm frame, without 28-gram seatpost collar |
| Fork | Cannondale aluminum alloy | 538 (1.2 lbs.) | |
| Rims | Mavic MA | | Like the Mavic MA40 but without anodization. Front one cracked after a couple years near the spoke holes. |
| Front hub | Shimano RX100 | 212* | |
| Rear hub | Shimano RX100 | 410* | |
| Spokes | DT Swiss, stainless steel | 484* | 32 spokes per wheel, 3-cross. I think the spokes were 14 gauge. |
| Spoke nipples | DT Swiss, stainless steel | 60* | |
| Tires | Michelin Select Sport 700x23c | | They retailed for $7 at the time; had a steel wire bead, yellow/tan "white walls" as was typical of the times and low thread count; rode poorly and did not last long. |
| Crank | Shimano RX100, 30/42/52 triple | | |
| Chain | Shimano Hyperglide | | Black color |
| Freewheel | Shimano Hyperglide 7-speed cassette, 13-23 | | |
| Bottom Bracket | Shimano RX100 | | |
| Front Derailleur | OEM spec was Shimano RX100. But mine was a Suntour one. | | Definitely was a Suntour stainless-steel derailleur. I think it was Suntour Blaze. I've seen other Cannondale R500s with this same derailleur. |
| Rear Derailleur | Shimano RX100 | | |
| Shift Levers | Shimano RX100, 7-speed | | The levers were indexed and on the downtube. |
| Handlebars | Modolo Brevetato | 372 | Alloy, anatomic bend, 38 cm width; 25.4 mm clamp diameter |
| Stem | TIG-welded, CR-MO | | Quill stem, negative rise, 11 cm; black color with no logos. |
| Headset | Tange Seiki ME-SII, triple sealed | | Black cups. Became notchy after 4-5 years. |
| Front Brake | Shimano RX100, Super SLR | 200 | |
| Rear Brake | Shimano RX100, Super SLR | 185 | |
| Brake Levers | Shimano RX100 | | White hoods |
| Seat Post | Lee Chi alloy, cold forged | | |
| Saddle | Vetta Racing w/ VettaGel | | Black; tore quite easily |
| Handlebar tape | Sampson Fat Wrap | | White |
| Pedals | Shimano RX100 with toe-clips and straps; made for cleats | | |
| Total Weight | | 10.2 kg (22.5 lbs.)* | I am unsure if this was the total weight with or without pedals. I would not be surprised if it was with pedals, unlike how bicycle manufacturers advertise their bike weights today. Presumably, this weight was for a 56-cm bike. |
Components table for a stock 1992 Cannondale R500 road racing bicycle. An asterisk (*) indicates weight from literature or other sources. No asterisk = measured weight from my scales.
Canny's component changes over the years
1993: Blackburn alloy water bottle cages (white), Bushwhacker saddle bag, Vetta C-20 cyclometer with wired cadence and speed sensors, Vistalight 5-LED rear tail light
1994: Sampson Stratics clipless pedals, Michelin Hi-Lite Supercomp HD 700x23c tires, 13-cm stem purchased from Stanford grad student
1995: Selle Italia Flite Vanadium saddle (black)
1997: Shimano 105SC STI shift/brake levers, Shimano 8-speed rear cassette, Mavic CXP-30 wheelset with Ultegra hubs, Italmanubri 12-cm stem
1999: Campagnolo Chorus Ergopower shift/brake levers, Campagnolo Racing T triple crankset (32/42/52T), Campagnolo Mirage bottom bracket, Campagnolo Mirage front derailleur, Campagnolo Veloce 9-speed rear derailleur, Shimano Ultegra 9-speed cassette (kluged to work with Campagnolo), Campagnolo Athena headset (installed by bicycle shop), Avocet 35 cyclometer. Weight: 20.3 pounds with pedals but without accessories.
2002: Speedplay X/3 pedals, Specialized Body Geometry Comp saddle (black/red), Michelin Pro Race tires
2010: Shimano Dura-Ace 7700 9-speed shift/brake levers, derailleurs, 53/39T 170-mm crankset, bottom bracket; Shimano Ultegra 6500 brakes; SRAM 9-speed 12-26T cassette. See Canny Goes on a Diet post. Weight: 19.0 pounds with pedals but without accessories.
2011: Italian Road Bike Mirror
2013: Cateye Rapid 3 taillight with saddle mount bracket
2014: Shimano Ultegra 6700 tubeless wheelset, Hutchinson Fusion 3 tubeless tires, Specialized Romin Evo Pro 143mm saddle (white). Weight: 17.9 pounds with pedals but without accessories. See Canny Goes on a Diet again post.
2015: Profile Aerostryke aerobars with flip-up armrests (cut length and at least 12 years old), Shimano PD-M520 MTB SPD pedals. 19.5 pounds with pedals but without accessories.
2017: Shimano 105 (5700) right shift/brake lever, Shimano 105SC left brake lever, original Shimano RX100 left downtube shift lever, Shimano 12x28T 10-speed cassette (used), ebuyfire saddle-mounted rear taillight. 19.7 pounds with pedals but without accessories. See Why I Upgraded to 2×10 Speed and not 2×11 or 1×11 post.
2020: Shimano 105 (5700) left shift/brake lever in which I gutted the shifter parts; removed some excess metal from the Profile Aerostryke aerobars. 19.7 pounds with pedals but without accessories.
2022: Back to old Speedplay X/3 pedals. 19.4 pounds with pedals but without accessories.
2023: 1×11 speed, including Shimano 105 (5800) shift/brake levers (removed the shifter parts from left unit), Shimano Ultegra RD-RX800-GS clutched rear derailleur, JFOYH 11-34 cassette, YBEKI 46T narrow-wide chainring, Shimano 105 11-speed chain; Reynolds Solitude wheelset; Schwalbe Pro One 700x25c tires; BNVB 38-cm handlebars (black); Venzo 82x55mm SPD pedals; new Shimano brake shoes; new cables and housing; Cannondale KnurlCork handlebar tape (white). Weight: 17.4 pounds with pedals but without accessories. See My Cannondale 3.0's 30th Anniversary: How to Turn a Classic Into a Near-Super Bike article.
Over the span of 1993 to 2023, Canny transitioned from a 3×7 to a 1×11-speed setup and shed an impressive 5 pounds!