Fort Collins-Walden 200: Riding a Double Century on a 1-Speed Huffy Cruiser
Like a prizefighter doing a weigh-in the day before a boxing match, I stepped on a digital scale: first clutching my hefty—er, "robust"—one-speed Huffy Cranbrook cruiser, then without it. I then subtracted the difference in my head, and just in case my mathematical skills had severely declined in the decades since winning math contests in third grade, I busted out the smartphone and its calculator app.
"Forty-five pounds," I finally concluded. That was the weight of the vehicle that would take me from Fort Collins to Walden and back the next day. The figure did not include food, water, tools, and clothing, but did account for accessories like an LED motorcycle headlight, blinding rear taillight, un-aerodynamic front basket, bell, GoPro and bike lock that pimped out my ride. The nourishment, clothes, and emergency equipment would be kept in a couple bags that I'd later bungee into the said basket, adding an additional 10 pounds. What's an extra imperial stone here or there? (Never mind that I later determined the actual weight of the bike to be 44.0 lbs.)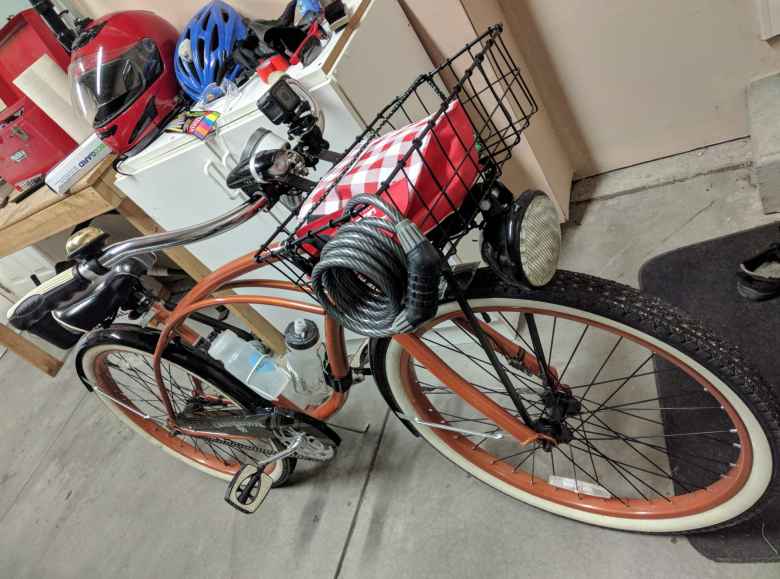 "Hmmm, maybe going to Walden and back on this thing was not one of my brightest ideas." That thought came with the realization that the Huffster weighed about three times the amount as my lightest bicycle, and had the air and rolling resistance of the Bigfoot Monster Truck.
Nevertheless, this was one adventure I was really pumped about, one that I had been hyping up to a select few for years despite normally practicing the habit of "do first, talk later." The motivation? All my other bicycles had already done the journey. And of course, challenge! But maybe eagerness was one reason I only managed to sleep 1 hour, 15 minutes the night before setting off from home at 12:30 a.m. Another was my night owl-ness simply made it impossible to fall asleep early despite tucking into bed at 8:30 p.m.
Wearing glowsticks on the neck and wrists and reflective orange bands on the calves, I set out onto dark roads illuminated only by the super-bright headlight of the cruiser. One great thing about setting out at this cricket-chirping hour was that there were very few cars on the road.
Upon entering the Poudre Canyon at Mile 12, I looked up and noticed the only asterism in the sky that I can identify, one that my dad had taught me decades ago: the Big Dipper. Another hour later, a dude on a rumbling Harley passed me—one of the last vehicles to do so until daylight appeared. What is this rider doing out here at 2:30 a.m.?, I wondered. Then I realized that he was probably thinking precisely the same thing about me!
When dawn broke you would think I would be newly energized, but instead I found it very hard to stay awake, no doubt due to the dearth of sleep. Finally, at 5:30 a.m., I pulled over to take a nap in the weeds. I fell asleep right away and resumed riding another 20 minutes later. As in the Furnace Creek 508, this power nap was all I needed for the rest of the ride.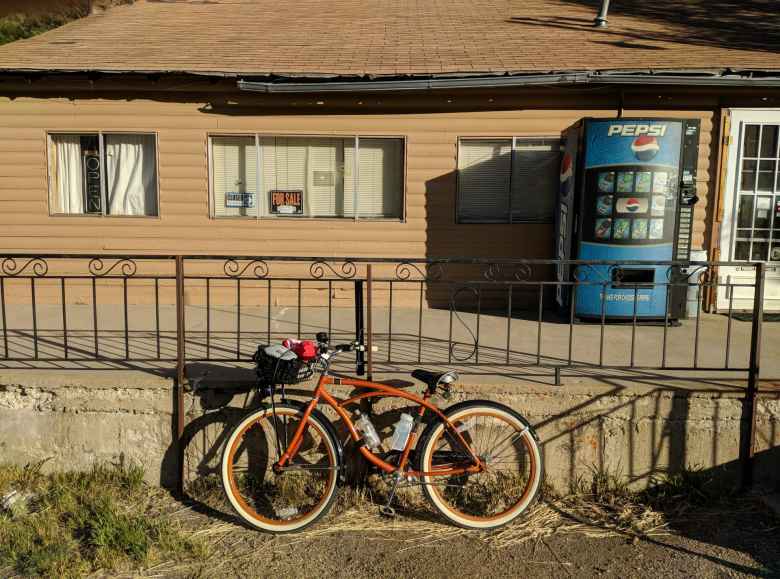 Good thing, because it was already 9:30 a.m. by the time I got to the top of Cameron Pass. In other words, I needed nine hours to do the first 70 miles, most of which was a gradual uphill except for the last 10 miles to the top which were steep enough to drop the speed on the odometer to four miles per hour. Eventually I tried hopping off the bike three times to try walking for about 30 seconds to see if that was any faster or easier. Negative on both counts—the Huffster was still more efficient than street shoes. What was more irritating were the horse flies that kept swarming and attacking and were impossible to ride away from at such languishing speeds.
You can bet I was most relieved to see the sign below—definitely the climax of the entire ride.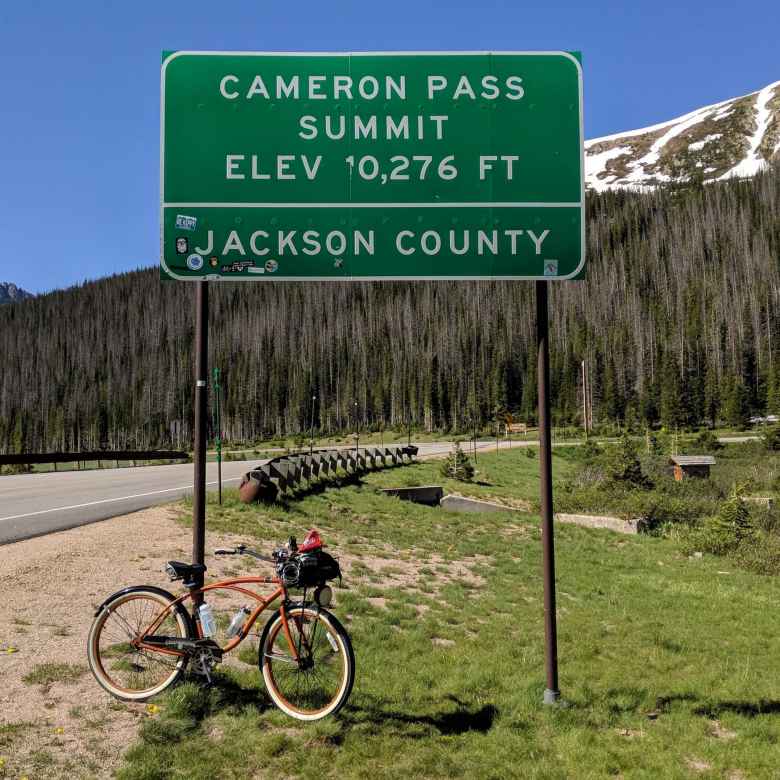 "It's possible!" I later reported on social media. "A real grind but the $88 one-speed Huffy cruiser made it up the 70-mile climb!"
I'm glad I posted that because it alerted my friend Zack that I was out there. Apparently, so was he.
"Felix, I think we drove by you!" he replied on Facebook. "We just got to Steamboat."
We later had some laughs about it. The way he told it, his first thought when he saw me was "what is that guy doing riding out here so many miles away from civilization and services." His second thought was "and why is he riding that bike?" It was not until he arrived in Steamboat Springs and after checking Facebook that he realized it was me. "I laughed and told Sydnie that was you!" he said.
After making a stop at Gould to resupply with water and buy a can of Coke and mini-donuts—the ultimate anti-bonking combo—it was smooth sailing down to Walden. Despite warnings from friends to be careful descending down the backside of Cameron Pass because of the Huffster's sole, ineffective coaster brake, doing so was less of a hair-raising experience than, say, jumping off your home's roof. This was because all the aerodynamic drag from the upright cruiser position and rolling resistance from the bike's beach tires acted as a second and third brake.
Indeed, on the steepest downhill stretches, I crouched as low as possible to futilely try to eek out the maximum amount of speed from the Huffster. Strava later revealed that the maximum velocity attained was a mere 35.8 mph, or less than what Peter Sagan would casually crank up to in a flat sprint finish in the Tour de France.
Nevertheless, I felt as victorious as a Giro d'Italia stage winner when seeing the Walden city sign. I even raised my arms over head in a mock victory salute. Halfway to a double century!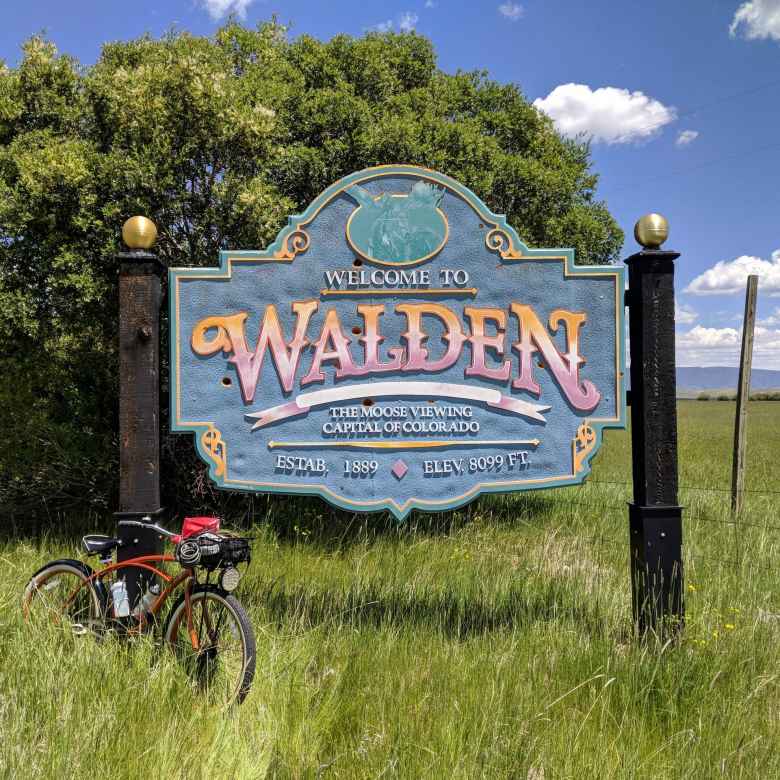 The jubilation was short-lived. Only two blocks away from Walden's Shell gas station—the official turnaround point of the ride—I rode by three guys having a chit chat in front of someone's garage when there was a loud bang. It sounded like a gunshot but I instantly realized exactly what it was when it happened. My butt knew from the way the rear of the bicycle was squirming around.
"Oh crap," I muttered.
"WOAH!" exclaimed one of the gentlemen on the driveway. "Sh*t just got real."
The rear tire had literally exploded. Or, more precisely, the rear tube. I've experienced this before, a result of over-inflating the Huffy's tires. The rims on this bike were not exactly machined to military precision and don't seem to "grab" onto the tires' wire beads very securely. If the tire pressure is too high, the tires unseat from the wheels, allowing the tube to escape and pop like a balloon. So the night before I inflated the tires right up to what I thought was the "safe threshold," which experience told me was 40 PSI on this bike (still 15 PSI under the maximum pressure labeled on the sidewalls). I wanted to have the lowest possible rolling resistance for this ride, after all.
It seems, however, that the sun-baked asphalt and 95-degree temperatures in Walden were enough to increase the tire pressure just enough to cause the tire explosion. Kind of like the reverse of Bill Belichick's scientific explanation for Deflategate, if you will.
Whatever the case, my wish for a relaxed, sit-down lunch stop at the Shell Station was now shot to pieces. I would have to bust out the wrenches and Phillips screwdriver to disconnect the rear coaster brake and undo the rear axle due to the lack of quick releases. More unnerving was the realization that the ruptured tube was not salvageable and that I'd have to use the only spare tube in my emergency kit to replace it. I had patches for punctures, but it didn't occur to me earlier that split tubes were a real possibility with this bike. I should have brought at least two spares to have a higher margin of safety.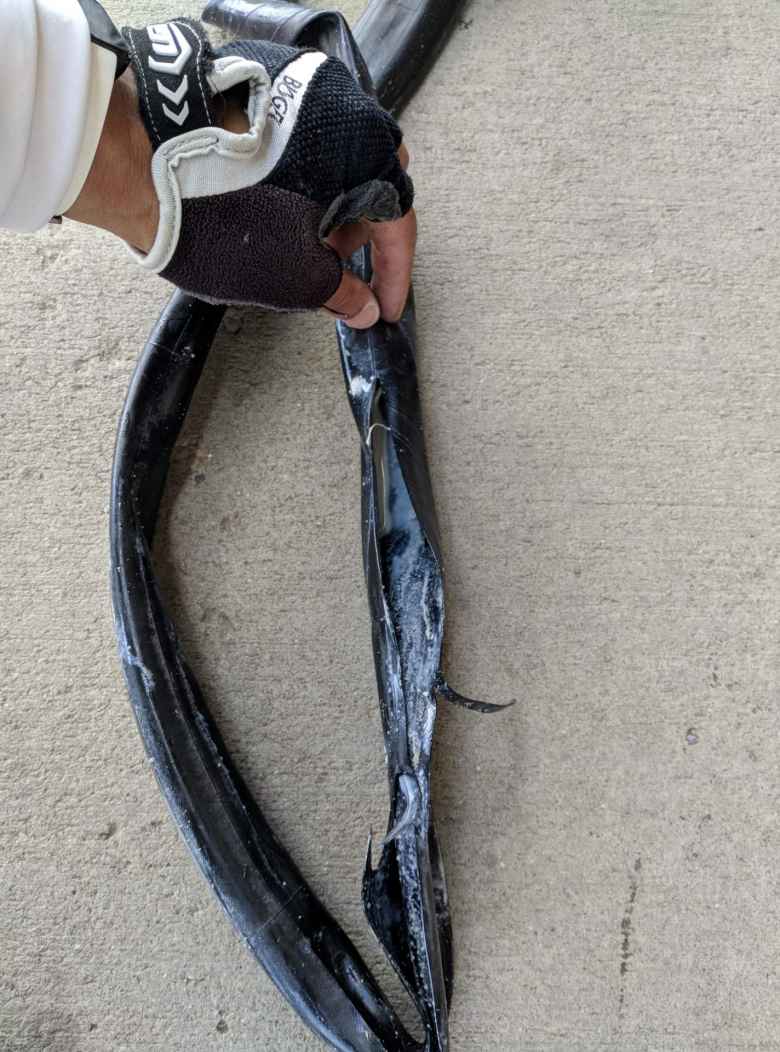 "Hey," I asked the cashier at the Shell station, "is there a bike shop in town?" The hope was I might be able to pick up another tube before heading back to Fort Collins.
"Nope, the nearest one is in Steamboat Springs," he replied.
After that, I decided it was a good idea to let some air out of the front tire to obviate the risk of that one popping too. I also alerted some friends as to my whereabouts and estimated time of arrival in Fort Collins—which I was now pegging at after midnight—and a couple of them kindly offered to be a rescue if needed (and if I could somehow make a phone call in the Poudre Canyon, where there is poor-to-nonexistent cell phone service). Thanks, friends.
About 45 minutes later, I was back on the road on un-flat tires and with another Coke and package of mini-donuts. I was also now resolute about stopping as little as possible. In fact, the only significant break on the way back was a pit stop at the same store in Gould that I resupplied at earlier in the morning.
There were much more cars on the road in the afternoon than during the wee hours of the day. A funny thing was that motorcyclists kept waving as I was crawling back up the pass. This has never happened to me before when I was not riding a motorcycle. Maybe they thought a cruiser bicycle with a round honking headlight was "close enough" to being a Harley-Davidson's brethren? Whatever the case, I waved back.
Traffic got even heavier between the Mishawaka Amphitheater (Mile 170) and Ted's Place (Mile 189), and I was thankful for lights and reflective gear while on this narrow-shoulder highway. For about 20 minutes during this stretch, raindrops were tapping the helmet—curious considering the weather apps had claimed a 0% chance of rain. Indeed, there seemed to be plenty of blue sky ahead and to the south. Nevertheless, the precipitation felt refreshing.
It was a particular relief to make it out of the Poudre Canyon shortly after the last remnants of daylight disappeared. I was now less than a half-marathon away and could feasibly jog back home were an ill-fated mishap happen to the iron steed now, like another tire explosion.
Fortunately, I never had to resort to hoofing it and the last five miles of the ride were some of the best, providing a nice tranquil opportunity to reflect upon the day's adventure. The bike and I rolled into the garage at around 10:45 p.m., or over 201 miles and 22 hours after it started. Probably some sort of record for a pimped-out, one-speed Huffy cruiser, who knows.
And like a heavyweight fighter who had just won the world champion belt after 15 rounds, the Huffster immediately retired for the night. Maybe for the month. Its work was done.
I, too, went to sleep—at least for the next seven hours. It wasn't nearly enough to wipe out the sleep debt from the night before, but at least the bed was more comfortable than the weeds.
Video
Ride Data
Distance: 201.1 miles
Elevation gain: 9423 feet
Moving time: 20h29m (9.8 mph average)
Total time: 22h17m
Comparison to the Other Bikes for This Ride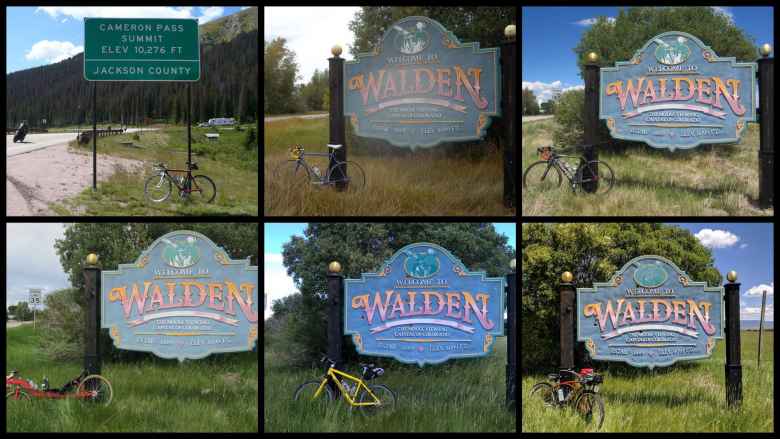 The Buell (not included in the list above because it has an internal combustion engine) also made the trek in June 2016. So now all seven of my two-wheeled vehicles has made it to Walden and back!